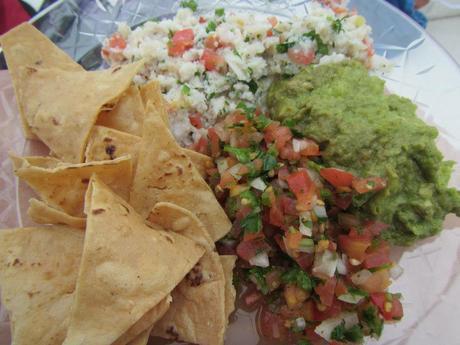 When you think about all-inclusive resorts, the first thing that comes to mind is probably not 'awesome food.' If you're looking for quantity food you're probably in the right place, but quality food, not so much. However, my tummy and taste buds were overjoyed on my recent trip to Villa del Palmar at the Islands of Loreto, where I noshed a wide variety of mouth-watering food.  So much delicious food, in fact, that it caused me to change my opinion of all-inclusive dining options altogether.  Clearly there has been something I've been missing all this time!
The First Meal - Blown Away
My first meal there was a tantalizing 5-course, gourmet dinner that began with a plate of the most beautiful shrimp I've seen in a long time.  Truly, they started us off right.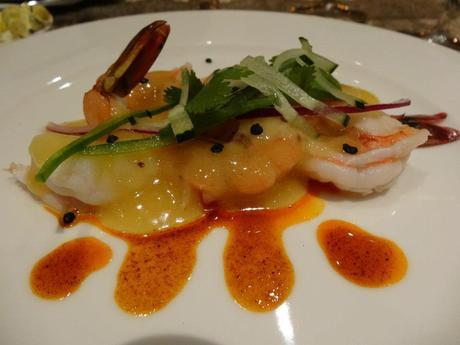 The shrimp was covered in a spicy mango sauce that left me wanting a few more bites because it was so perfectly sweet yet spicy. Next came a heavenly roasted poblano cream soup served in a bread bowl. This soup was the perfect balance of spicy and creamy; it was so good that we tried recreating it at home for The International Food Project (full recipe here)!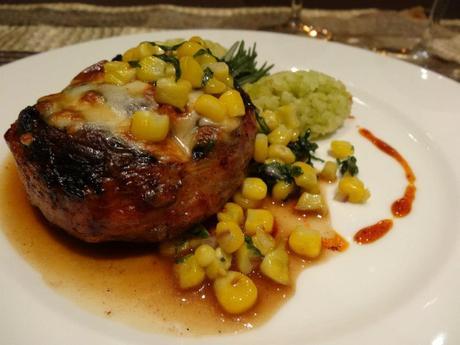 Next came the bacon-wrapped filet topped with a corn salsa and cheese. The filet was excellently cooked and the accompanying cilantro risotto was a nice Mexican twist. Luckily I am a slow eater, because about halfway through my filet everyone started pointing and shouting and making a commotion about something that was behind me, an entire salt baked fish!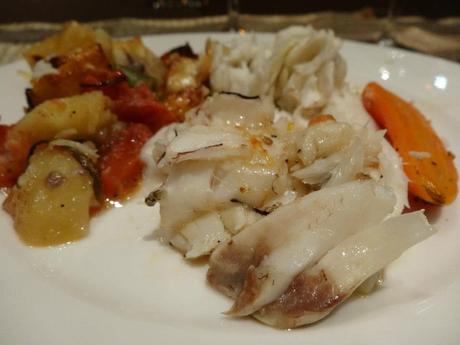 Wait a minute, was that fish for us? Yes, yes, it was. I promptly stopped eating my filet, not because it was bad but because I had a feeling the fish was going to be even better. As I took a bite of the fish and it literally melted in my mouth, I felt incredibly sorry for those who were too full to try it (but yet secretly happy that I was let in on this piece of heaven). It was by far the most outstanding thing in the meal: this whole fish was encased in a salt crust before being roasted, locking all the moisture in.  And of course, the fish was caught that day near the resort. I don't think I've ever had fish quite that fresh!
...and that was just the first meal.
Lets Talk About Breakfast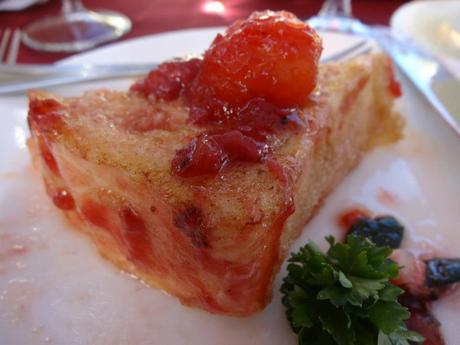 The breakfasts were just as unique, consisting of refreshing fruit, sweet rolls and other breads, french toast (pictured above right), and some fantastic freshly squeezed juices. I absolutely loved the papaya juice- not sweetened, just fresh! Just when I thought my stomach was content and I started to sit back and enjoy the view, BAM: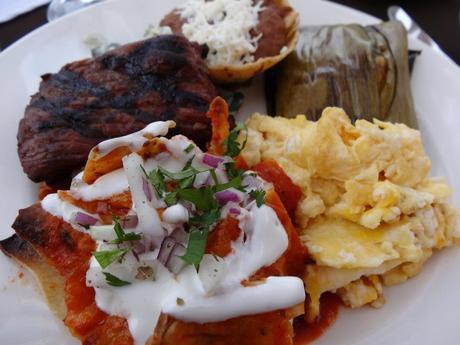 A huge plate of steak, chilaquiles, refried beans, scrambled eggs, and a tamale appeared before me. You would have thought I'd have learned my lesson the night before with the salted fish incident, but no. There was always food appearing before me and I was always taken aback. I would tell myself I'd just take a bite, and, well, that bite was so good that I just had to finish it.
The Food of Loreto
We also got to try some local cuisine when we went whale watching the following day. We stopped at a restaurant near the port and got to try fried fish and shrimp in a sweet and tangy sauce. Normally I'm not one for fried fish, but when you can look out the restaurant window and see the ocean, you know it's going to be good. I washed it all down with a Pacifico beer, which of course tastes better when you're in Mexico.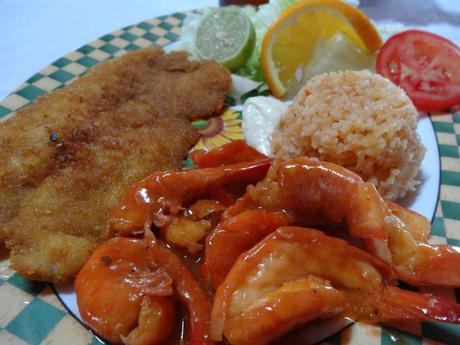 We also had several opportunities to try the buffet at the resort, once for dinner and once for breakfast. The buffet had cuisine from all around the world, but if you're smart you'll go for the traditional Mexican fare, preferably seafood. Every kind of seafood I had at the resort was excellent, even fish that was from the buffet. There is something to be said about catching, cooking, and eating all within the same day that preserves the freshness of a fish.  Not to mention that the chef is quite frequently the one who goes out and does the catching too!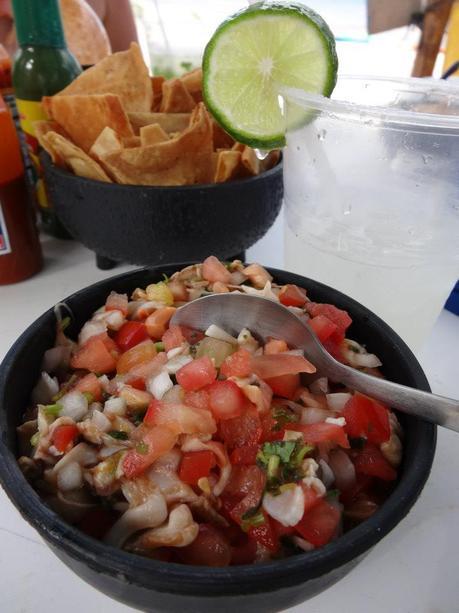 On my last day there I wandered over to the beach bar, which is owned by Wild Loreto and is a short walk down the beach from the resort. The bar is situated in the back of an old boat. The whole place has a great casual, fun vibe. But the real reason that I made my way over there was for the chocolate clam ceviche. Mmmmm. Chocolate clams are apparently really abundant in the waters right by the resort, and are called 'chocolate' for their darkly colored shells. The ceviche was nice and fresh, and the chocolate clams had a hint of sweetness.
All in all, I was very impressed with the food at Villa del Palmar at the Islands of Loreto. Most of the food was simple, but executed so well and presented with excellent service. If you go, make sure to try the gourmet steak and seafood restaurant at the resort (where our 5-course meal was the first evening). And of course, eat a ton of seafood- it was most likely caught that day!
Thanks to our friends at Villa del Palmar at the Islands of Loreto for sponsoring my stay in Mexico.  To read our full review of the resort and start planning your own trip, click here!  All opinions expressed within this post and photos are my own.