Many times we are far away and yet want to ensure the best safety for our near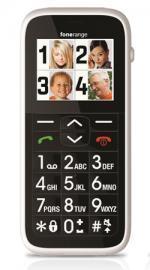 ones. You can now provide the best safety via phone. That's not insane at all.
Fonerange, UK based mobile company launched Big Button Mobile Phone for the elderly and disabled very recently. Phone has a solid body with a desktop charger facility. Phone has a color screen unlike other Big Button Handsets. Full color screen enables you to dial against an image of a person rather than just the name of the person. This is a great feature especially for the visually impaired.
Top 5 Descriptions of Big Button Mobile Phone:-
1. Model – UKEZ838
2. Simple and lightweight mobile phone
3. Big buttons with large print font – ideal for the elderly or visually impaired
4. SOS Emergency function
5. Integrated torch and radio functions
6. Standard Micro USB B charger.
Torch facility provides the user with a great 2 led designed torch for extra brightness. While your health checkups are due or a time to take your insulin, this phone can remind you of every small task you wish to skip bothering about. The reminder can even be set by spouse or someone else from across the globe. There is even a note facility associated with each of these reminders. This will help you to be well prepared with all your blood pressure results or heart rates, or whatever you have been monitoring when you visit the doctor next.
Emergency texting facility is one of a kind. SOS button on the back of the phone can text up to 5 people in an emergency with just one click along with a GPRS location. This can help the concerned people track your location and reach out to you with ease. Not only this, in case if you have turned the phone off and person on the SOS number wants to reach you, he or she still can with instant on facility. Isn't it amazing?
Don't want to be disturbed during the night? You can even set privacy times when you don't want you phone ringing, again you can set it so that SOS contacts can still get hold of you. Over and above there is an inbuilt weather reporting facility to track the weather and gear up your woolens.
The Bang on feature: Conceive of a scenario where you have bought this phone for your grandma, she doesn't understand how to set these features up Not a problem each phone has a unique pin code you as a relative or friend (If you have the pin) can go online and set up all the contacts, alarm settings etc on the web and providing again you are part of the SOS group you can send the phone a text message telling it to sync and it will automatically re sync with the information you have put in the cloud, So next time you change your telephone number you don't have to worry about your grandmother editing the contact on the phone you can do it on line for her and just send a text to the phone to re sync, Whats more, if blood pressure results or heart rate results have been put into the handset, they automatically will sync with the cloud and you will be able to see remotely the results. Your grandmother needs to get up early tomorrow but has no idea how to set the alarm not a problem you can do it remotely.
Amazing phone with amazing features and a must buy for elderly parents, special people and differently able individuals.
Physical Features
Connectivity
Dimension: H 110 W 47.5 D 15.5 mm
Display : 1.77 inch Mono-LCD
Weight: 98 grams
Camera
Memory
Phonebook: 200 + SIM card (32K): 250
General Features
Battery
Big Button, standard keypad
3.5mm Audio Jack
One Touch To Call
SOS function
Middle Age and Elder People
Torch
Key lock
Alarm
Calculator
Memo
Birthday Reminder
Battery: 600 mAh Li-ion Battery
Standby: 288hrs