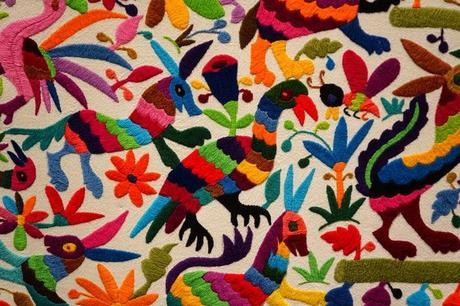 Embroidered tablecloth from Mexico
From masks to nativities, hats to tablecloths, musical instruments to carved wooden chests, more than 1200 works of the
Great Masters of Iberoamerican Folk Art
are currently on exhibit at the
Natural History Museum of Los Angeles County.
  Glowing with colors that are a feast for the eyes,  they fill four large rooms. The artists come from all the Spanish and Portuguese speaking countries of Central and South America plus Spain and Portugal.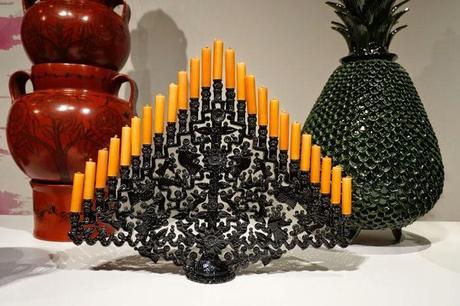 In the clay section is this wonderful tree of life candelabra with the pineapple jar behind it.
As a member of the museum, I had a chance to view the exhibit on the day before it opened to the public.  The rooms are organized by the materials of which the objects are made: clay, wood, metal, natural fibers, textiles.  Within each room the objects are clustered in groups, with a touch screen video adjacent to each area with identifying information about each object. I had many favorites, including the giant clay jaguars greeting visitors at the entrance to the exhibit.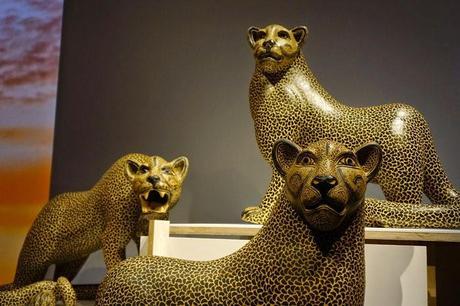 Nearly life size clay jaguars
I especially liked this painted Peruvian drum with its lively village scene in the section of musical instruments.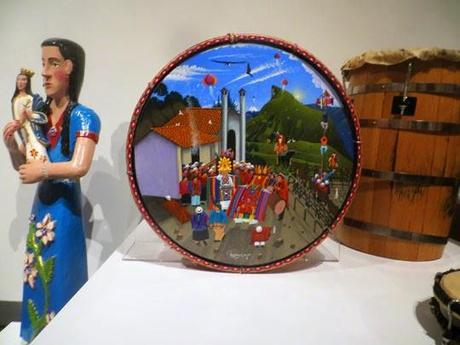 Two Andean condors fly overhead in the scene painted on this drum.
Many of the items, like these Mexican skulls, are associated with the celebration of the Day of the Dead. (You can read more about the Day of the Dead in Ann Stalcup's guest post on this blog 10/27/14.)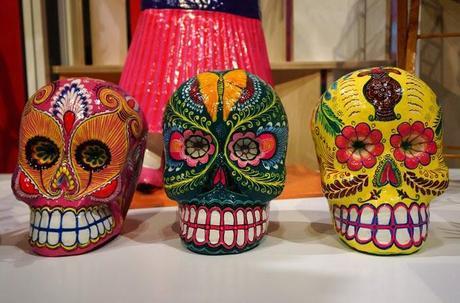 Clay skulls
This diorama from Brazil made of painted wood depicts a June fiesta.  The artist is Tarcisio Jose Albuquerque de Andrade.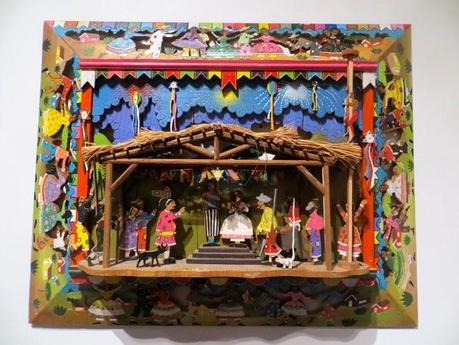 Diorama from Brazil
The pieces in the exhibit are from the collection of Fomento Cultural Banamex.  The exhibit will be at the Natural History Museum in Los Angeles from
November 9, 2014 through September 13, 2015
. It requires tickets for reserved time entries.
With more than a thousand pieces in the exhibit, my pictures are just a sampling. For more photos of some of the amazing pieces in this exhibit, click
HERE
.