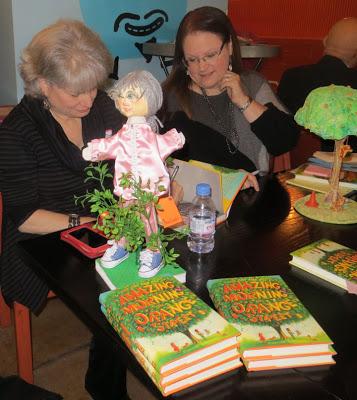 Joanne Rocklin autographing books at the FOCAL luncheon
Last Saturday, January 12th, was the luncheon to honor the winner of the FOCAL Award, presented annually to the author of a "book of merit featuring some aspect of California history and/or geography."  What could be more central to the history of California than the orange?  This year's winning book was
One Day and One Amazing Morning on Orange Street
, an amazing middle-grade novel, beautifully written by
Joanne Rocklin
, who gave an inspiring talk about the origins of the book and its personal connection to the Valencia orange tree growing in her back yard when she lived in Los Angeles. (She recently moved to Oakland.)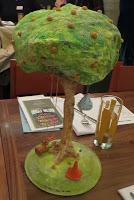 Orange tree centerpiece
As always, the luncheon was a festive event with delicious food (we were at the Border Grill in downtown Los Angeles), a room full of teachers, librarians, friends, family and book lovers young and old, and tables decorated with charming centerpieces made by Ray Moszkowicz's students at Palms Middle School.  The centerpieces featured the old Valencia orange tree in the book, which truly is the main character and the thread that connects the lives and stories of the other characters.  A child's swing, a dog, a traffic cone, and a birdhouse represent some key elements in the story.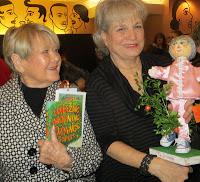 Carol Onofrio and Joanne Rocklin
The luncheon program also included two young students reading their winning essays about the book and why they wanted to meet the author. (They got to sit at the author's table during lunch.)  And as always, there was the presentation of a puppet made by Carol Onofrio of one of the characters in the book. She chose to depict Ms. Snoops (whose actual name was Ethel Finneymaker), a perfect choice as the character who had the longest history on Orange Street.  (Another copy of the puppet goes to the permanent collection on display at the library of puppets made through the years.)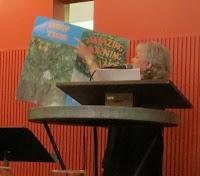 Joanne with poster
I was pleased to be on the committee that selected this year's award and couldn't be happier with our choice.  I loved reading
One Day and One Amazing Morning on Orange Street
. When you close the book you can practically smell the sweet perfume of orange blossoms and you feel as if you know each of the characters personally.  The book ends with the recipe for Ethel Finneymaker's Ambrosia: "Slice your sweetest oranges. Layer dried coconut and sugar between them. Let the whole thing sit for a while, so all the tastes come together, infrangibly.  If you feel especially celebratory, add some whipped cream.  Enjoy!"  We were definitely feeling celebratory on Saturday.  It was a very special event honoring a very talented author who is also my friend.
FOCAL (Friends of Children and Libraries) is the support group of the Children's Literature Department of the Los Angeles Public Library (
LAPL
).  Caroline Gill, President of FOCAL, and the members of the FOCAL Board did a terrific job of organizing the luncheon, as they do every year.  Thank you!