Flying high with three different airlines during December 2018 had me crossing continents effortlessly, from Beijing to New Delhi via Guangzhou then I flew onto the United Kingdom before returning to Beijing for work. Served by China Southern Airlines, Air India and finally Hainan Airlines allowed me to clock up some serious air miles! Long haul flight are my favourite!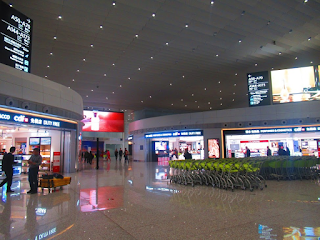 China Southern Airlines was an airline that I had only flown with domestically throughout China before their international fares had me booking up to New Delhi, India! Cruising down from Beijing to Guangzhou with CZ on-time was a blessing, the transfer from the domestic gates to the international departures within Terminal 2 was easy breezy! Beijing's Capital International Airport had me speaking all kinds of Chinese, the airport staff in all areas were not bilingual, once in Guangzhou Baiyun International Airport that all changed! Boarded without any issues, the super-size modern terminal had me looking at something shiny and new! The China Southern Airlines ground staff spoke English fluently with announcements made in both Chinese then English, I didn't need to speak Chinese because I understood the boarding call through the tannoy system! Yes, in Beijing other airlines tend to shout the boarding call! Oh! 
Flying away from the Chinese Mainland with China Southern Airlines switched things up for me, before that point I hadn't flown with a Chinese airline outside of the mainland. The crew were friendly and spoke English with hardly any accent, for that reason I made the effort to speak Chinese with them to order my drinks and when I chose my dining option throughout the flight. The in-flight entertainment boasted much choice, with Chinese and Indian titles to suit the flights origin and destination. The food served to me was edible and had much flavour, I went for the chicken curry option because I was on my way to New Delhi. I found that the crew were quite reserved when I asked them how was remaining until we landed, making up for the lack in conversation made the crew were professional throughout the flight with the company uniform standards being observed. Without any delay, I was impressed with my smooth Guangzhou transfer, CZ sure impressed me! I'll fly again!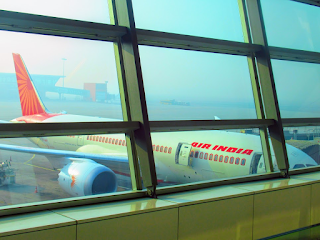 Bridging the gap between New Delhi, India and my British hometown in the West Midlands was made somewhat easy with Air India. Boasting a direct flight from New Delhi Indira Gandhi International Airport to Birmingham Airport got me home with a stop in Amritsar. Out of nowhere my Brum bound flight was pushed forward one day later without any explanation given. Making the necessary plans I was able to turn that mishap onto its head, I was back on track! Suffering from an epic case of 'Delhi Belly' I boarded my Air India Dreamliner that flew me the short way up to Amritsar to allow for some serious things to unfold. Uzbekistan had started playing games with the airspace, the route from Amritsar to Birmingham needed to be precise because certain warring countries couldn't be in our flight plan! After about two hours at the gate I longed for take-off but the doors remained closed and armed in Amritsar! Jesus! 
The main meal was served during our gate side wait, the curry option was the one to go for! I tried to watch a little bit of a Bollywood film but my mind was all on the moment for when the Dreamliner would start its long haul journey to Birmingham. By hook or by crook the all important flight plan has been handed over, my 787-800 made its accelerations on the runway as it made its way closer to Birmingham. The flight was generally smooth, the crew kept their cool throughout the flight and so did the other passengers. Nobody on the flight knew whether we had to fly over Afghanistan and Iran? It was an experience like no other I had seen on a flight before that Air India experience! Adding the two hours ground delay, also the overall flight time to Birmingham had been extended slightly due to the routing. Like a miracle, my Dreamliner touched down into Birmingham Airport, the relief that I felt was unreal! Air India got me to BHX! I was not impressed with Uzbekistan! B, I was home at last!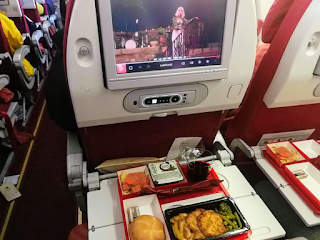 Being my first long haul multi-flight holiday from China, my flight planning skills could have been better because those funds weren't going to allow me to cover the rent, I had to learn! For my Christmas present my parents bought my flight back from Manchester to Beijing, China. Flying direct with Hainan Airlines from Manchester Airport to Beijing Capital International Airport was seamless, I didn't need to make any changes in any connecting airport! Bussed to a remote stand during that early morning hour allowed me to see the Hainan Airlines A330-300 in all of its Manchester raining morning glory! Bound for Beijing I was relaxed onboard my first international flight with Hainan, I had already flown with the airline from Beijing to Shenzhen during the previous Chinese New Year holiday. Yes, I loved my simple in-flight amenity pack! Ooh, the Chinese male cabin crew were looking mighty, mighty fine! 太帅了! Yes!
Breaking boundaries for a Chinese airline, it was great to see non-Chinese cabin crew pass through the cabin who spoke multiple languages. Most western airlines employe Chinese cabin crew due many Chinese passengers not being able to speak English, Hainan flipped that format 360 degrees! My meal was flavoursome, I went for the British option. I enjoyed the varied selection that was available on my in-flight entertainment system, I loved watching Mamma Mia 2! I made my way to the back of the cabin to find some more red wine, the crew that I interacted with in the galley were friendly and attentive. I was impressed with the snack selection that had been set out in the galley, something that China Southern Airlines could introduce, maybe? The ten hour direct flight soon arrived into Beijing Capital International Airport with time to spare. Without any connections I was able to disembark in Beijing, clear immigration and get home quickly. Xmas flights done right!
是, 我会中文!
Joseph Harrison