How can a nail polish junkie pass up a new brand of nail polishes? Easy! She can't!
J
Of course I had to pick up some of the new Nail'd It Nail Lacquer's from Drew Barrymore's new line, Flower Beauty. I believe there are 16 different shades in the line that range from pale nudes to the deepest of deeps. A casual glance doesn't reveal colors that are terribly dissimilar to other high-end brands, but these all retail for only $4.98! So let's get on to my thoughts about the polish!!!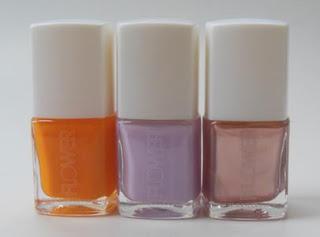 I like the look of the packaging of the Flower nail polishes. They stack together nicely, which is nice if, like me, you keep your polishes in boxes. However, you won't be able to see each color beyond the white lids if this is your method of storing polish. The caps are made from a very lightweight plastic which makes them feel kind of inexpensive, and the lids/handles are rather bulky, which can make them a little difficult to hold while painting your nails. All of that does not bother me in the least though because I really only care about the formula and the brush itself.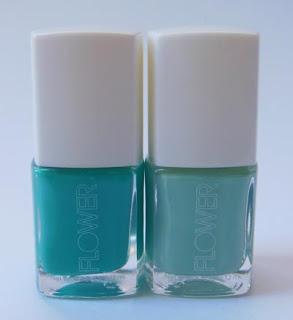 The brush is a standard-looking brush that is easy to control, so that's a check in the good box! The formula may vary from shade to shade, like any other brand of polish, but the colors I have used so far have been superb!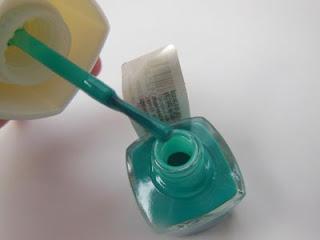 The first polish I tried was "Fanatical Botanical." I picked this up because it looked like a really pretty metallic shade unlike any other colors I had in my vast arsenal of nail dressings. I am so glad I did because it is a beautiful metallic nude that looks anything but boring! The formula itself is pretty impressive. It is a metallic polish and, like with most metallics, it
did
show the imperfections in my nails. I haven't met a metallic that didn't though, so I wouldn't hold that against this polish. Any brush strokes became invisible once the polish dried, and it was even in one coat. I did add a second coat to deepen the color a bit. It dried nicely in a comparable time to other polishes. The finish is definitely metallic and quite reflective and shiny. I am quite impressed with this color and would definitely recommend it because, not only is it pretty and a great formula, but it can be worn for any occasion!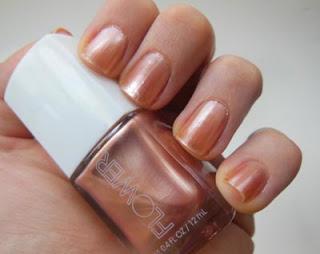 My next test was "I Lavendare You!" which is a light pastel lavender with a very subtle hint of a bluish sparkle. I wanted to try a pastel because they are often really tricky formulas. Not so with Flower Beauty's formulas! The color itself is a light, pinky-lavender that is subtle. The subtle blue shimmer that you can barely see in the bottle did not really show up on the nails. The first coat of polish was streaky, but the second coat remedied pretty much all of the streakiness. I
did
add a third coat to ensure each nail was even, but had I been more careful, I think it would have been fine with two coats. It dried to a nice shiny finish and was
very
chip-resistant! I even put together my new cat tree the same day as applying this polish without a single chip! I am
very
impressed with the formula of this polish!!!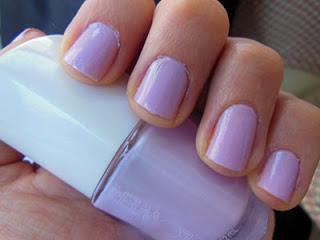 Finally, I tried out "Thistle or That?" which I guess I'm going to call a sea-foam green. I didn't pick this color up initially even though I instantly fell in love with it. I just have a lot of polishes that are similar and thought it might be identical to Zoya's Wednesday, which is probably one of my favorite polishes. "Thistle or That?" is actually a little bit lighter than the Zoya polish, but not terribly dissimilar. I
love
this color. It's so pretty, and next to Flower's "Good Bud-dy", it looks like it would make for the perfect combination of shades – of course I picked up "Good Bud-dy" too!
J
The formula of this shade is pretty much the same as "I Lavendare You!", so it's a great polish! I hate to say this because I love my Zoya polishes so much, but I think the Flower polishes have a less-likely-to-chip formula.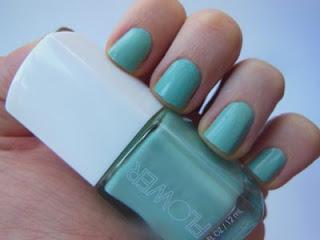 The verdict? Definitely pick up at least one Flower Beauty Nail'd It Nail Lacquer because I am truly surprised by how well they wear! The formula is really good and the color selection, though not terribly wide yet, is full of pretty colors. My only complaint is the thick handle of the brush, but that's a small price to pay for the wonderful polish inside! Well done Flower Beauty!!!
J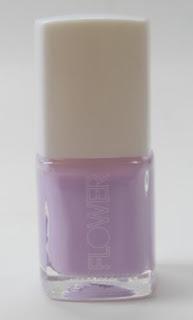 Flower Beauty Nail'd It Nail Lacquer's are 3-Free (no DBP, toluene, or camphor) and are available exclusively at Walmart stores and
Walmart.com
. They retail for $4.98 each and there are currently 16 shades available.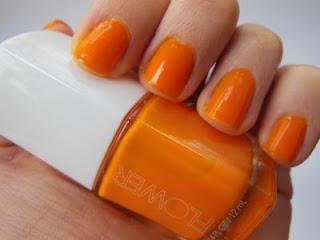 Eye of the Tiger Lily - no top coat!
Disclaimer: I am not affiliated with Flower Beauty in any way, nor have I been compensated for this review.