The time finally came for us to kiss the USA goodbye and take our Florida to Alaska road trip across the border to visit our neighbors to the North in Canada! We clocked over 2020 miles as we drove across 3 Provinces and two US states. Our drive took us through Banff, AB, along the Alaska Highway, and ended in Tok, AK.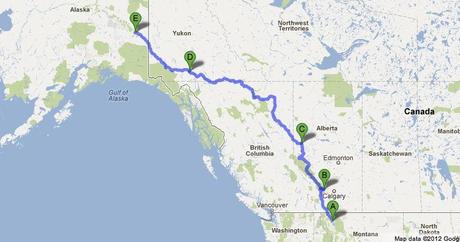 Kalispel, MT Banff, AB, Grande Prairie, AB Whitehorse, YK Tok, AK
We left early from Kalispel, MT and followed the highway to the border crossing. We made sure to fill up our gas tank right before we crossed and save a bunch of money on fuel. I must say the whole border process was so quick and easy it ended up being anti-climactic. There is one thing that bears mentioning though, don't wait until you cross the border to buy a cup of coffee! This is a warning to all of you fellow coffee addicts! If you do, you will be sorely disappointed.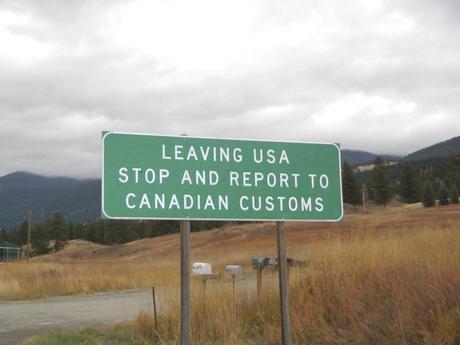 Crossing the USA – Canada Border
Our first stop in Canada was for two nights in the small ski town of Banff, Alberta. The city is located just West of Calgary and is in the heart of a national forest. You'll have to pay a national park usage fee to drive there and for each day of your stay , but it is absolutely worth it.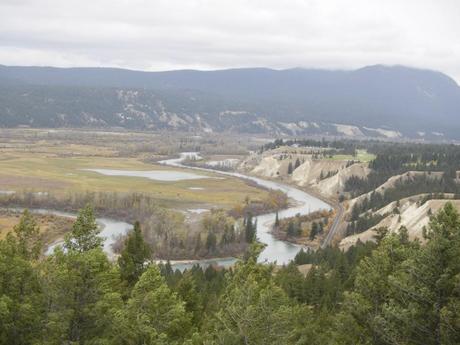 Kootenay National Park, Canada
We spent our first evening in Banff walking through the downtown area. There are lots of restaurants and gift shops to occupy your time for an evening. Once we had our fill of downtown we decided to stop at the Banff Avenue Brewing Company for dinner. We had a great meal and throughly enjoyed our beer sampler!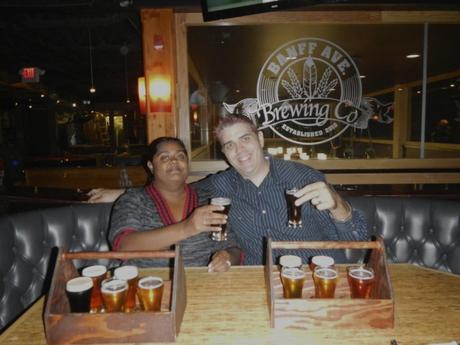 Want a beer? How about Six?
The next day we eagerly set out to explore the national park! Banff is rife with hiking trails and it was difficult to choose where to begin. We decided to hike up Cascade Mountain and it was well worth it! The views were absolutely breathtaking, and we got to stop and have a picnic off trail on the mountainside.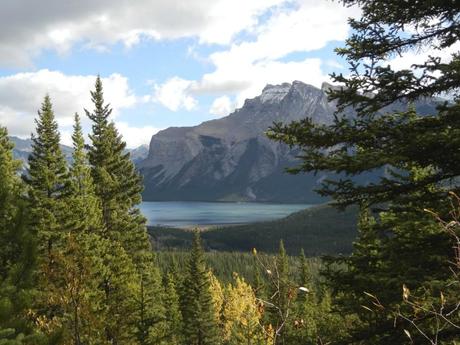 Once we finished up our hike we spent some time driving thought he park and took a minute to drive up Mount Norquay. It offered an awesome viewpoint and photo op of Banff.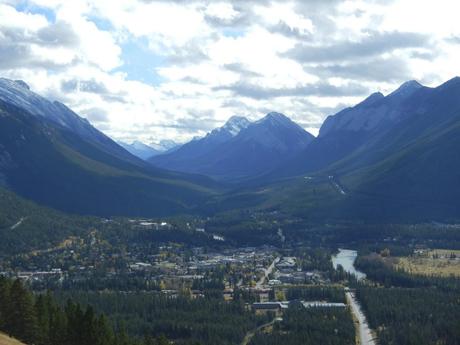 View of Banff from Mount Norquay
We finished up our day in Banff with a unique experience at the Banff Grizzly House fondue restaurant. We enjoyed a delectable 4-course fondue meal and were able to try Bison, Elk, Venison, and Wild Boar meat!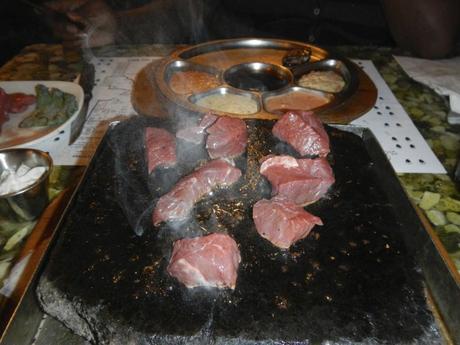 Elk Fondue at the Banff Grizzly House
The next day we left Banff early and continued North through the Rockies towards the town of Grande Prairie, AB. It was an incredible drive that took us through a bunch of elevation and climate changes. This gave us the opportunity to see the ice fields, which are an amazing sight.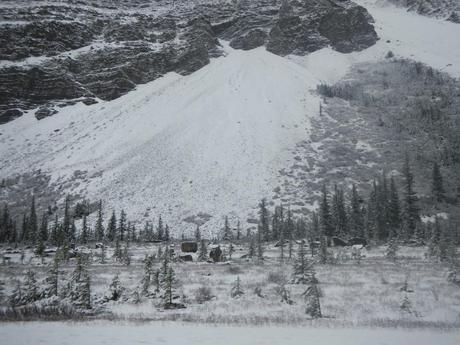 We also had the opportunity to check out this amazing waterfall of the in the Athabasca Pass!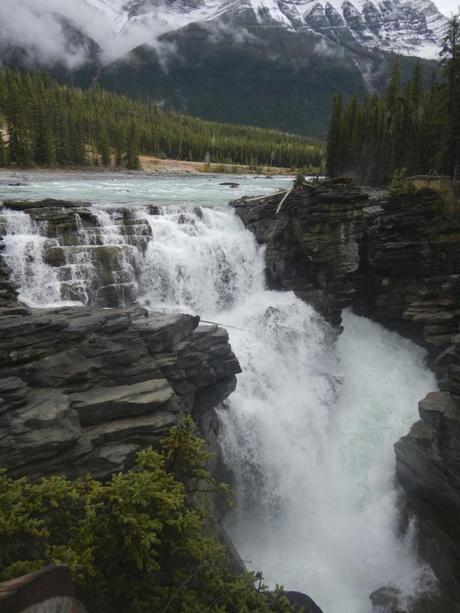 Waterfall in Athabasca Pass
After getting through the national parks the landscape changed once again and reminded it reminded us of the rural Midwest in America. Our arrival and stay in Grand Prairie was rather uneventful, as it's an industrial town that supports the oil and logging industries.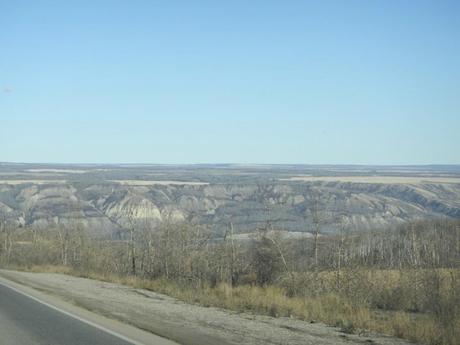 The next morning we set out on a two-day journey from Grande Prairie,AB to Whitehorse, YK. We would be spending two days in the car, because there was no hotel availability this time of the season. It's not that the were all booked, they were mostly closed! Our trip along the Alaska Highway officially began in Dawson Creek at Mile Zero.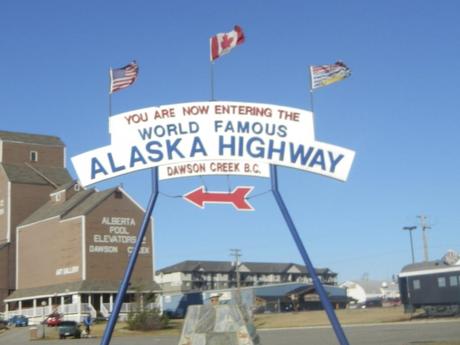 Alaska Highway Mile Zero in Dawson Creek
The drive was about 20 hours so we planned on sleeping on the road at a half way point. The landscape was absolutely breathtaking along the way.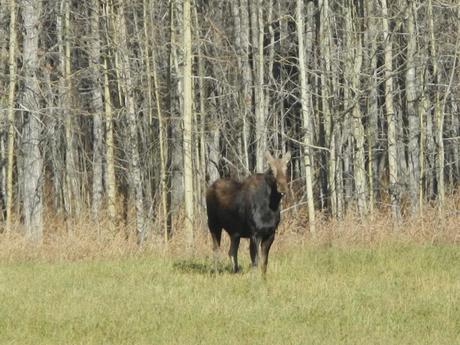 Our favorite part through was all the wildlife we were able to see after the sun set. It makes for dangerous driving conditions, so we drove slowly along the highway and were able to see herds of elk, bison, wild horses, moose, and even a mountain goat!
Bison Grazing along the Alaskan Highway
There was even some animal activity the nest morning right after sun rise!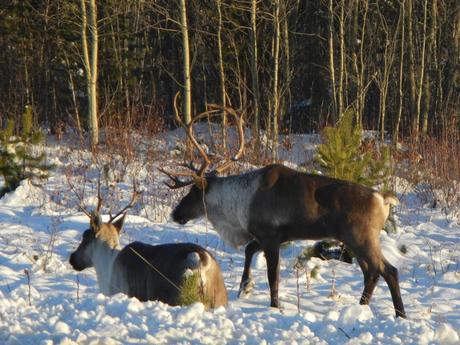 After our long haul and being in the car for about 28 hours straight we found ourselves a pet friendly hotel in Whitehorse, YK and hit the hay early. We had one more long drive ahead to Tok, AK and we needed to rest up. The following morning we finally had our first decent cup of Canadian coffee at a Tim Hortons before we set back out on the road.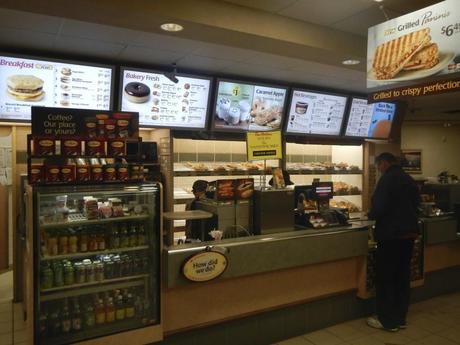 The only decent cup of coffee we had in Canada
There is a most spectacular sight to see when you leave Whitehorse and you should plan on adding about an hour to your drive. Plan on stopping several times along Lake Kluane to enjoy one of the most spectacular lakes we've ever seen.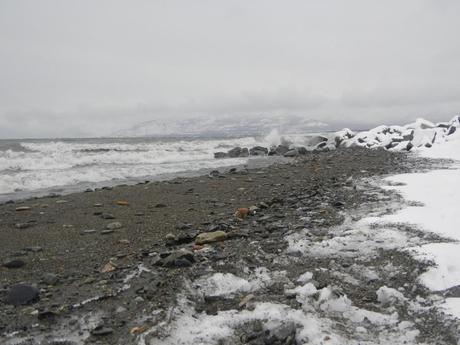 We made our way back across the American border (yet again no fanfare or ticker tape parade) along the Alaska Highway.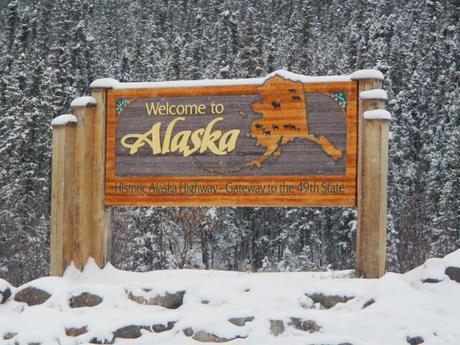 Welcome to Alaska Sign
Lauren found a great little B&B called the Mooseberry Inn in Tok, AK and the went about finding dinner. We found a place called Fast Eddie's (one of three places open this time of year) and chowed down on some good ole American comfort food: Burgers!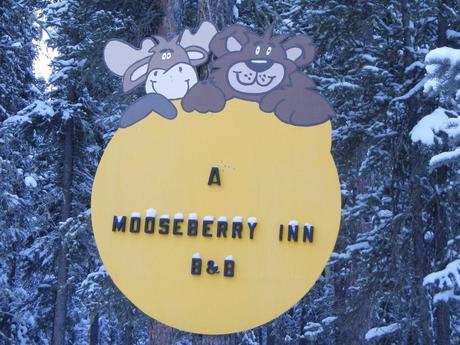 We settled in for the night and spent the evening talking about all the great sights we saw from Banff, CA and all along the AK highway.
Enjoy our Road Trip Gallery below and feel free to leave lots of comments

Kalispet, MT Banff, AB, Grande Prairie, AB Whitehorse, YK Tok, AK
Crossing the USA – Canada Border
Welcome to British Columbia
Rural BC
Rural BC along Highway 93

Highway Warning Signs in Canada Steep Grades
Ready for some down hill driving in Canada
Crossing the Continental Divide in Canada
Road Markers in Banff Canada
Want a beer? How about Six?
The mountains surrounding Banff
Artwork on an old mining house along the hiking trail
Old Mining Shaft along the hiking trail

Warning sign on mine shafts


View of Banff from Mount Norquay
Elk Fondue at the Banff Grizzly House

River running along the highway


Ice Fields in the Canadian Rockies


a herd of wild horses along the Alaska Highway
Roadside Elk along the Alaska Highway
Bison Grazing along the Alaskan Highway
Sign Post Forest in Watson Lake



The only decent cup of coffee we had in Canada








Yet another Time Zone change!

Alaska Highway Mile Zero in Dawson Creek
Waterfall in Athabasca Pass
Welcome to Alaska Sign
Welcome to Yukon Sign