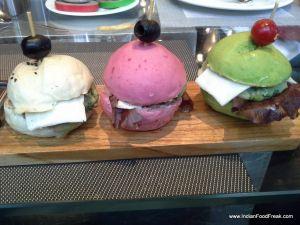 "The variations in food have been invented by accident" said an intelligent guy, but what I see these days is an increasing trend on planned creation of newer dishes. The Chefs are making painstaking efforts to dole out newer recipes through amalgamation of various cuisines. Termed as fusion or progressive cuisine, these creations are meeting the objective of suiting the ever increasing experimental palate of globally traveled Indian foodies.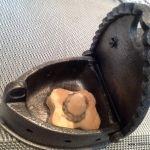 A similar effort has been made by Flluid, located in Mosaic Hotel, Noida. I am pleased to note that the experiments done by the Chefs have met the expectations. It is not only the new menu with good taste but the presentation and plating that makes the whole dining experience even better. The welcome drink getting served in Hip Flask and amuse-bouche being presented in a small Iron draws interest. The hip flask had a mixture of orange juice and soda and the amuse-bouche was a small mushroom patty. The flaky and crisp patty with a slight cheese taste in the end made it enjoyable.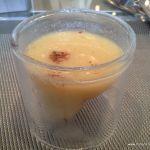 Getting soup served in a hop side down glass was indeed a novelty. The American Corn Chowder Soup with a hint of south India's modest gun powder was a good fusion of east and west. The PaneerKhurchan Tart had filling of a mildly spiced cottage cheese cubes with a mix of diced onion and fresh coriander. The Amritsari Masala Baked Fish needs a special mention. Use of Basa fish as against Surmai that is commonly used and baking it rather than deep frying was an experiment that came out well while preserving the unique taste of strong herbs; chilly, carom seeds (ajwain) and ginger garlic.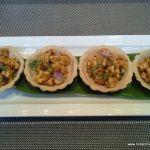 The Mattar Mushroom Ke Tacos were simply superb. The filling had that spicy touch of Indian preparation that generally gets served at home. While, the tacos gave look closer to laccha paranthas (and even tasted somewhat similar) the rather the soft tacos, it was a unique preparation.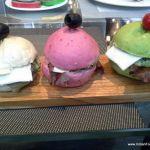 Another dish that needs special mention is Chicken Burger. The conceptualization, taste and presentation; everything was incredible. I know I use this very term (incredible) sparingly, but feel that it deserves it. Bringing variation by baking different buns was a novel thought. Red (by use of beetroot), Green (by using spinach) and White (baking Kulchain a burger bun style) made the plating very attractive. The taste of Kulcha bun was fantastic.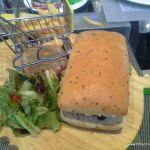 Then we had Mint Mayo Mozzarella &Tamota Panini, KhaasSeekhKa Hot Dog and Caesar Salad. Served in a scooped out crisp bun, the plating looked good. Where the mint mayo added to Indian hint in Panini, the succulent seekh tasted excellent in the hot dog.
While all the dishes tasted awesome, the food should have been warmer. This would have ensured enhancement of flavors even further. If the food temperature on an invited review was low then this is needs to be watched out by the restaurant since it may not get well appreciated by the guests.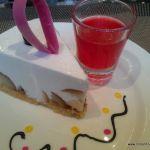 We wrapped up with phenomenal Gulab Jamun Cheese Cake. With GulabJamun in the base, the cheese cake tasted amazing. Had never imagined on Gulab Jamun and Cheese Cake shall go along so well in a single dish.
Apart from good food with good presentation and good ambience, there is another big reason that can be a motivator for trying out the new menu. It is the cost. The pricing is absolutely affordable with maximum price for any dish is Rs 399 that makes it highly cost effective. And the portions for any of the dishes that come in a pre-plated format, is good enough for one person.
If one is looking at having global cuisine with the soul of Indian flavors then heading out to Flluid can be a good idea.
Ratings (Out of 5)
Food: 4.0 | Service: 3.5 | Ambience: 4.0 | Overall: 4.0
Category: casual dining/progressive cuisine
Address: Flluid, Mosaic Hotel, C-1, Sector 18, Noida| Tel: 0120 – 402 5000
Timings: Restaurant: Round the clock | Meal for two without alcohol: Rs1400 | Credit Card: Yes | Wheel Chair Friendly: Yes | Alcohol: Yes
Disclosure: This review was done on the invitation of the restaurant. Due diligence has been observed to keep the review as objective as possible. However readers' discretion is advised.