Mos
t of my earnings, say about a half goes on for buying clothes, makeup, shoes, etc. Although we don't actually need them but we can't ignore either. Thus, the concept of saving while online shopping via 
ShopBack.in
 is something I love to do because of the huge variety of tempting discounts codes / coupons they offer on apparels, footwear, electronics, restaurant and even travel for various shopping sites! Their easy navigational layout sets them apart from all other shopping websites.

I'm always aware when shopping online, because I compare prices, always take advantage of offers and get some money saved via ShopBack.in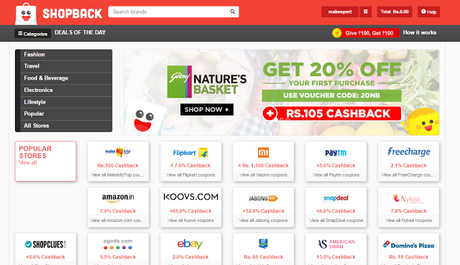 Flipkart Online Shopping just got Better with Cashback from ShopBack



When you visit ShopBack.in, you will be welcomed by their plethora of coupons, deal of the day coupons as well as the latest deals from various shopping sites. You can also search for your preferred category, like fashion, beauty, travel, electronics, etc or just use the search bar at the top of the page.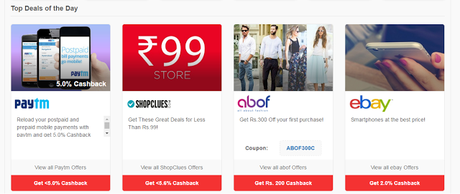 Top Deals of the Day Coupons


How does the Cashback on ShopBack work?
The cashback is listed just below the name of the websites. All you have to do is click on any store that you wish to shop from on ShopBack and it will redirect you to the shopping website, except that this time when you shop, you will actually end up saving amount too.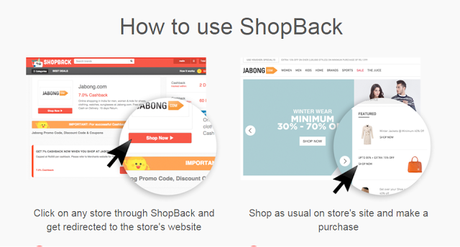 How to earn cashback from Shopback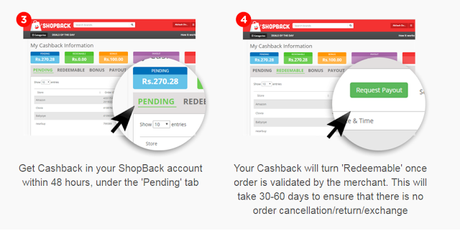 How to earn cashback from Shopback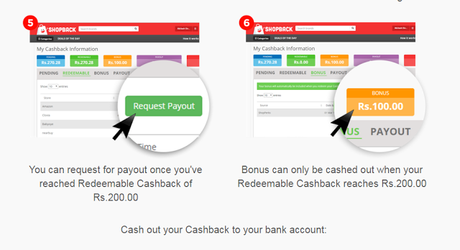 How to earn cashback from Shopback
How I shopped from Flipkart via ShopBack?
I decided to give ShopBack a shot and zeroed on the most popular website for beauty products, i.e. Flipkart and get myself some new beauty products. ShopBack gives 7% cashback for shopping from Flipkart, including Flipkart offers and Flipkart sales. The whole process of visiting the site and ordering things were so easy-peasy that I completely forgot that I was shopping through ShopBack.

I just clicked on Flipkart's link on ShopBack.in and all the possible ways through which I can save some money was shown.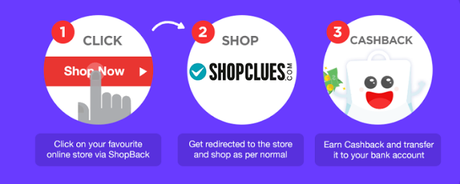 How to earn cashback from Shopback



Things I liked about ShopBack
1. Clean, navigational interface and no ads in between to confuse us.2. Comprehensive listing of all coupon codes for various e-commerce sites
3. Quick and easy cashback
4. Get deals and discounts on over 300+ stores5. If you spend Rs 100 on a website with 7% cash back you get Rs 70 back.

For crazy online shoppers like me, ShopBack.in is a blessing. If I am going to spend some money, then why not through ShopBack and get cashback in return. Now you can pay your bills, recharge your number and dish TV's, shop from various online shopping websites, buy groceries, etc and save while you shop.