My second flight on business class was the return leg of my Manila-Bangkok-Manila journey on Philippine Airlines. While it was indicated on my ticket that I'd be riding flight PR731 on the Airbus 330, I was surprised that I was taking their Airbus 340 instead. Read more…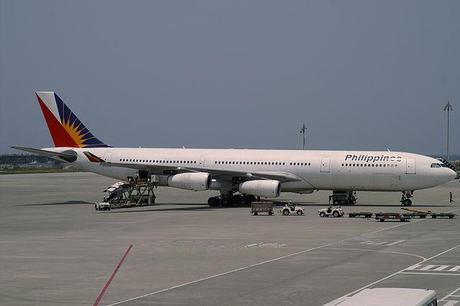 Photo credit: Wikimedia Commons
FLIGHT DETAILS
Airline/Operator Philippine Airlines (PR)
Route Bangkok-Suvarnabhumi, Thailand (BKK) to Manila, Philippines (MNL)
Flight Details PR731 / Departure: 1:30 PM / Arrival: 6:00 PM / 1361 miles
Aircraft/Seats Airbus 340-300 / 44 Mabuhay (Business) / 220 Fiesta (Economy)
BOOKING
Even a few days before departure, Philippine Airlines sells business class promo seats for the Manila-Bangkok-Manila route starting at 371 USD one-way (742 USD round trip). The fare includes 125% mileage accrual, as well as a generous 30kg baggage allowance.

CHECK-IN
At Suvarnabhumi Airport (IATA: BKK), Philippine Airlines employs THAI Ground Services (TGGS), which is allied with Thai Airways International (THAI). Exactly three hours before departure, they open up three counters to serve Philippine Airlines flights, one of which, rolled with a carpet, is exclusive for Business Class and Mabuhay Miles upper-tier members.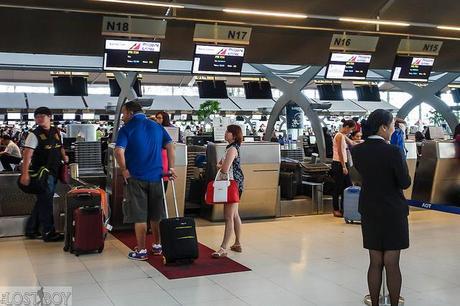 Business Class passengers are free to select whichever allotted seat is available online in advance or at the check-in counter. I requested for seat 1A, and it was luckily still available.
After my suitcase was tagged for priority handling, I received my boarding pass, along with an invitation to the THAI Royal Orchid Lounge and a Premium Lane pass that enabled me to be processed faster at a dedicated security check and immigration counters. At the huge Suvarnabhumi Airport, it was a welcome benefit because clearance can take some time with the sheer number of people taking widebody flights to parts of the world.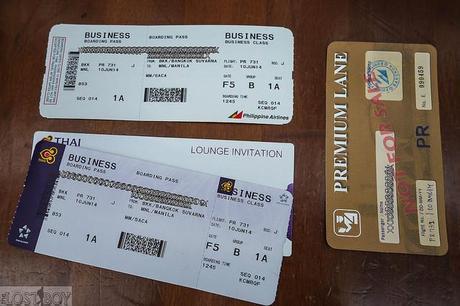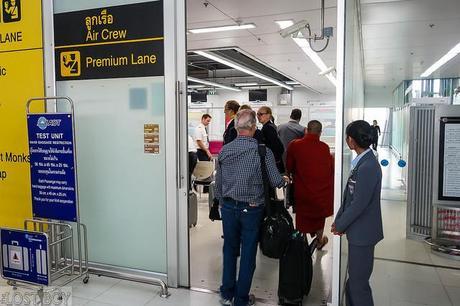 AIRPORT
One of the two airports serving Bangkok, Suvarnabhumi Airport is among the world's largest by area and number of passengers. It has well-maintained facilities and a good number of food and beverage outlets, but what it really does go strongly on is on duty free shopping.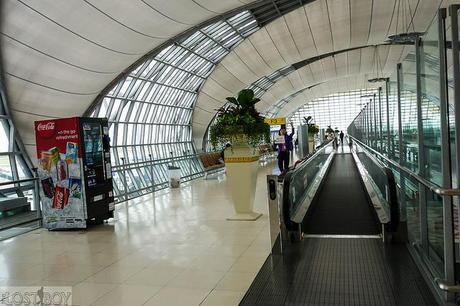 AIRPORT LOUNGE
Philippine Airlines Business Class passengers are let into either THAI's Royal Silk Lounge or Royal Orchid Lounge, along with passengers from THAI and Star Alliance carriers. I asked the lady at the reception for access to both lounges that are just in front of each other.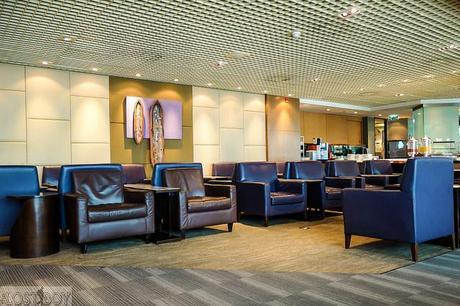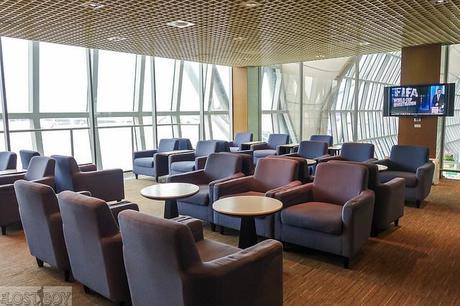 The sleek design and elegant theme of the two lounges may be somewhat different, but their layouts are practically the same—lots of comfortable seating with a buffet of light meals and snacks, an open bar, a fridge for beverages, a coffee machine, comfort rooms, and a shower. The only difference I noticed was that the Royal Orchid Lounge has small napping rooms, and a small office with desktop computer and a printer.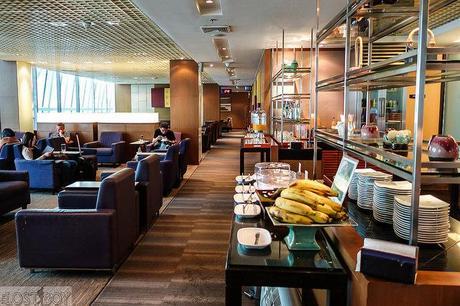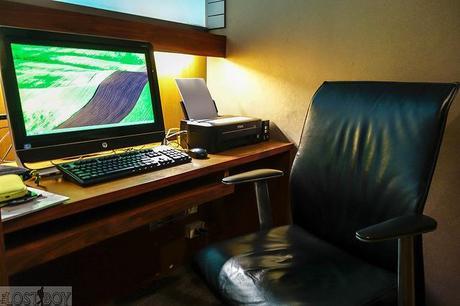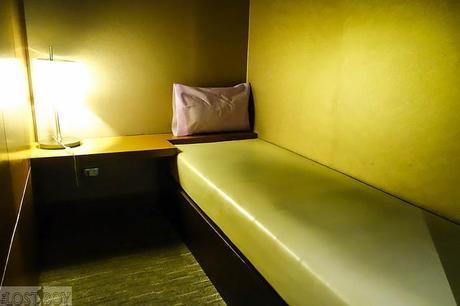 The food selection included pad Thai, dim sum, a salad bar, canapés, pastries, local snacks, and fruits. The beverage choices, both alcoholic and non-alcoholic, were extensive.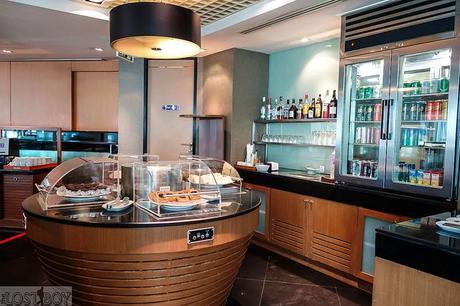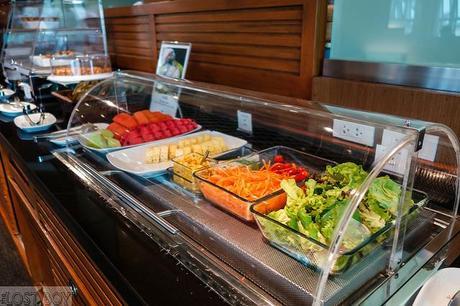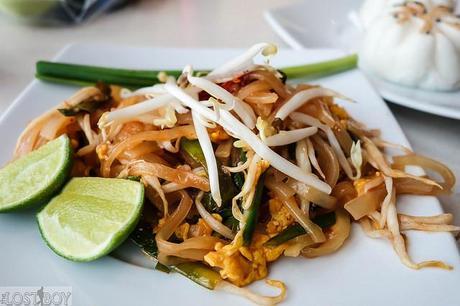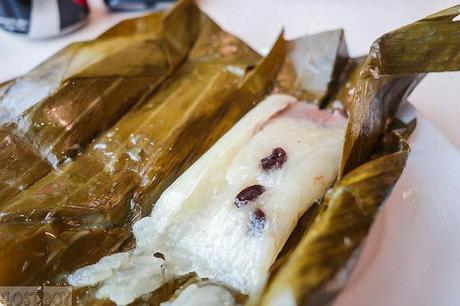 BOARDING
The THAI lounges, although on the same concourse as the usual Philippine Airlines gate, is still a five minute walk. I did, however, purposely arrive late, so I can settle when everyone has already done so. As it was a widebody flight, boarding had to really be done by groups, as indicated in the boarding pass. Business class passengers were, of course, prioritized.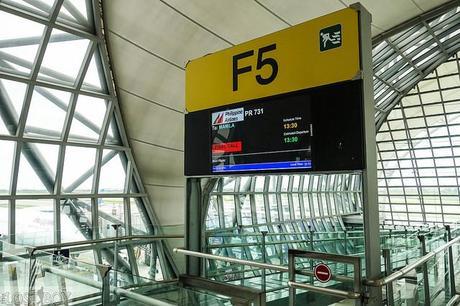 INFLIGHT EXPERIENCE AND SERVICE
The business class seating configuration of the particular Airbus 340-300 I took was eight abreast in a 2-4-2 arrangement, with the last five rows spaced six abreast in a 2-2-2 arrangement. There were a total of 44 recliner seats with generous 54" pitch and 21" width. The aircraft, based on its flight history, is usually used for Sydney, Honolulu, and Osaka.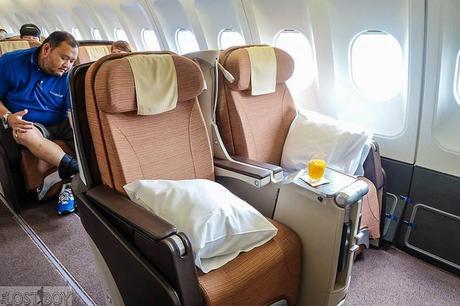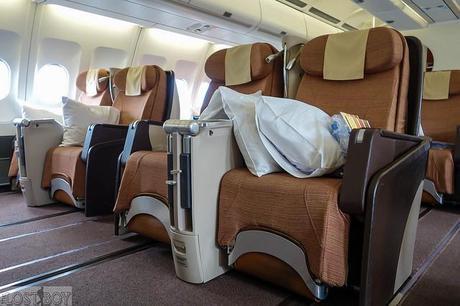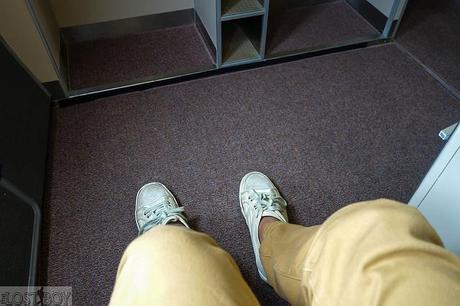 The seat's controls has both preset and custom seat positions, reclining to an almost lie-flat bed. As for comfort, the seat back can be adjustable for back support, and there even is a light massage function. Lastly, slots for extra stowage and a separate cup holder are available.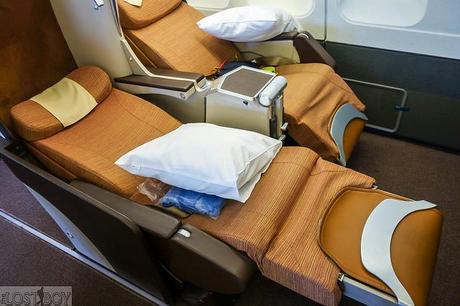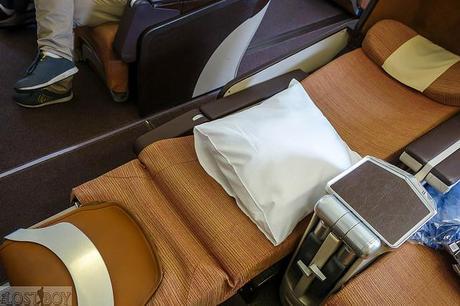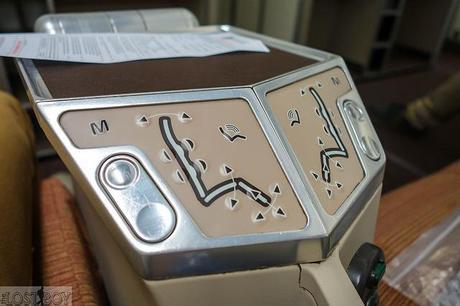 I found the seat to be comfortable most at its semi-recline position, for the lie-flat bed needed a little getting used to—perhaps because of the seat's width. Of course, I was very pleased that my 5'11" frame was able to stretch out and recline to my heart's content.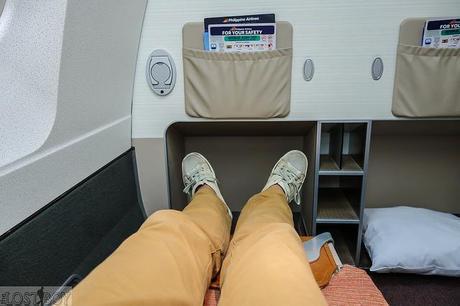 Although the aircraft has been on service for a long time, it still felt new from the inside, and the cabin temperature was comfortably cold and not frigid.
The business class cabin was understandably reserved for airline's senior crew serving the flight. The attendants, in our section serving six guests each, kept a balance of warmth, refinement, efficiency, and attentiveness—hallmarks of outstanding premium service. They made sure throughout the journey that passenger needs are met without us even asking.
MEAL AND BEVERAGE SERVICE
Prior to takeoff whilst sipping our welcome drinks, our meal orders have been taken already, so while waiting, we were offered a packet of premium nuts and a round of beverages.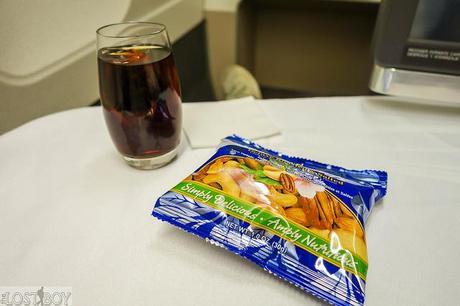 Philippine Airlines' Master Chef Series, exclusively for business class, showcases some creations from their experienced bunch of chefs de cuisine. For that flight, as it was inbound Manila, offerings from said selection were few, prompting me to select a dish outside of it.
The starter was a hefty Thai-style seafood salad that consisted of shrimp, squid, fish, and peppers doused in a vinaigrette. It was good and refreshing, but the dressing was generous on fish sauce—presumably to fend off the fishiness—making it a little too salty for my liking.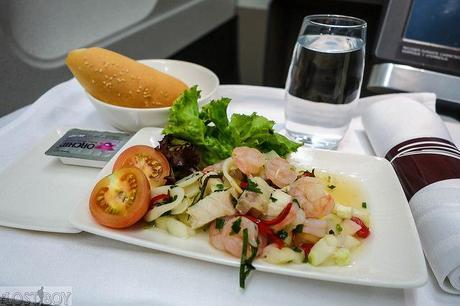 My entrée, duck curry with steamed vegetables and fried rice, came in ceramic platters hot from the galley ovens. The duck was cooked right and tender, the sauce was tasty and aromatic, and the vegetables were nicely fresh and crisp. Overall, it was a great premium dish.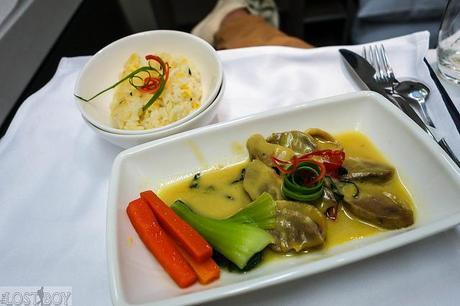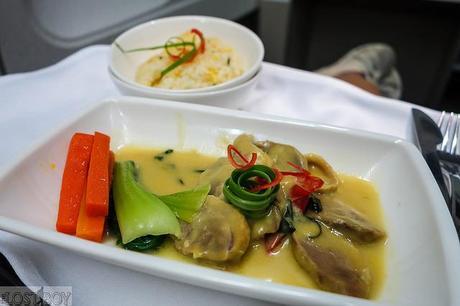 The sweet ending was a cup of Haagen Dazs ice cream, which may be small for a business class meal but is nonetheless foolproof and delicious. We were afterwards offered a selection of premium coffees and teas, and the beverage service continued throughout the flight.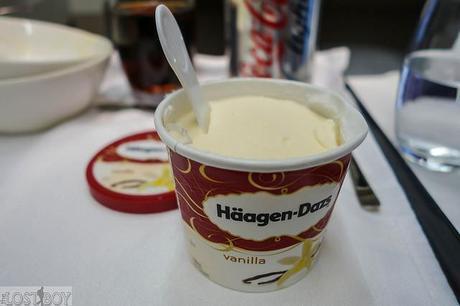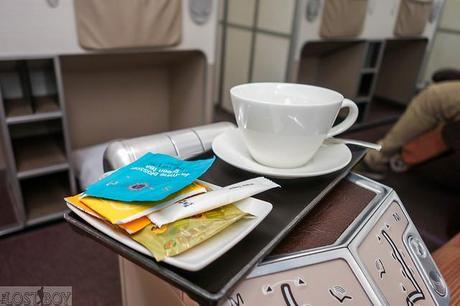 INFLIGHT ENTERTAINMENT
Each seat in business class has a sizeable interactive AVOD screen that is provided with a respectable selection of the latest movies, TV shows, and music. Alternatively, passengers in business class may also request for an iPad for even greater entertainment options. I found both inflight entertainment units to be easy to operate and navigate.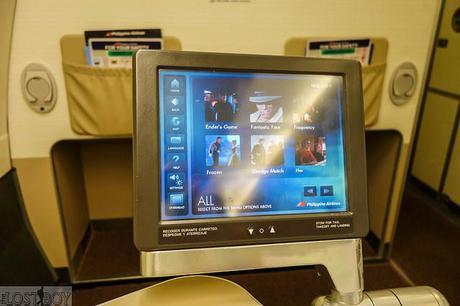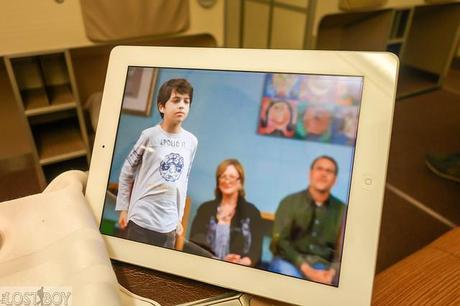 BAGGAGE RECLAIM
Because of the sheer number of flights arriving at the same time, it took a while for our bags to go around the conveyor. Surely, the ground crew of Philippine Airlines endeavored to handle our bags immediately, but they are working in an airport with insurmountable issues.
VERDICT
I found the entire experience to be commendable—the airport lounge, the comfortable seat, the tasty food, and impeccable service were all great. However, it still leaves some room for improvement, especially perks and amenities that may translate to a much improved product for business class flyers. I trust fully, though, that with a few tweaks, Philippine Airlines can trail behind or go beyond the region's forerunning carriers.
Philippine Airlines flies twice daily from Manila to Bangkok and back. Book your flights at www.philippineairlines.com. Follow them on Facebook and Twitter for updates.