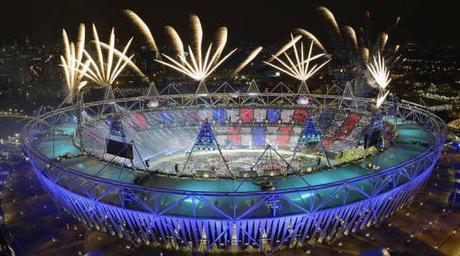 Opening Ceremonies at the Rio 2016 Summer Olympics on Aug. 5, 2016, at Maracana Stadium (AP Photo/Mark J. Terrill, File)
Countdown to Show Time
Winning and losing. That's life in the Olympic fast lane. They are also part of every Brazilian's daily grind.
For Brazil, becoming the Top Dog — whether in soccer or beach volleyball, in Formula One racing or the fast-paced world of international athletics — has proven to be a self-deluding pipe dream.
You may recall that the country had stumbled mightily (or, should we say, crashed and burned?) at the 2014 World Cup Soccer Tournament. But for two full weeks in August 2016, Brazil would be given the opportunity to redeem itself — a do-over, such as it was, to enjoy the rapt attention of sports fans, along with a fair share of global viewership and a complement of positive press coverage, for its lavish opening ceremony.
Many in the world media would describe a country's opening ceremony as its first line of defense — its premier showcase — to show inquisitive viewers (and incredulous skeptics) that Brazil, or any other nation, was made of sterner stuff.
Several individuals were involved as creative directors in the planning and execution of this Olympic pool-sized project: Fernando Meirelles, a noted filmmaker and director/producer of City of God and The Constant Gardener; set designer Daniela Thomas, a screenwriter, stage actor, and ex-wife of writer-producer and theater director Gerald Thomas. Two additional collaborators were also employed: director, producer, and screenwriter Andrucha Waddington (The House of Sand) and choreographer Deborah Colker, known for her work with Cirque du Soleil, as well as hundreds if not thousands of eager volunteers.
Catchphrases for the opening ceremony, which commenced on the evening of August 5, 2016, included such hyperbolic assertions that audiences were in for "a sixteen-day Carnival," and that "Rio 2016 [was] going to be entertaining." No need to downplay it, fellas!
As show time neared, a beaming Cristo Redentor (or Christ the Redeemer), the reinforced-concrete symbol of a hospitable host city, stood imposingly upon its base at Mount Corcovado ("The Hunchback"). The towering ninety-eight-foot-tall-figure glowed with a bright green, yellow, and blue light — the colors of the Brazilian flag, calling the world's athletes to attention in the sporting event of the season.
Cristo Redentor (Christ the Redeemer) statue (Photo by Buda Mendes/Getty Images)
Paradoxically, since the seasons are reversed below the Equator, the quadrennial summer competition took place during Brazil's winter of political discontent (see the following link to Part One of my piece: (https://josmarlopes.wordpress.com/2016/09/03/flames-over-rio-2016-brazils-president-burns-as-the-world-watches-the-summer-olympic-games-part-one/). Even though disgraced Brazilian President Dilma Rousseff was suspended from office early in May, she declined an invitation by the International Olympic Committee (IOC) to attend the opening ceremony. Her former vice president and soon-to-be-interim president, Michel Temer, had been chosen to represent Brazil in her stead.
Immobile and stone-faced, with bribery scandals of his own to agonize over, Temer sat in stern silence in the grandstand area, unintentionally mimicking the stoical gaze of Rio's Redeemer (or perhaps needing a savior of his own).
Our Country, 'Tis of Thee We Sing
Music, theater, and dance, in as much as they could be viewed or heard in a stadium of the massive proportions of the two-hundred-seat-capacity Maracanã, started the 2016 opening ceremony off with the unassuming, nondescript vocals of a veteran sambista, the Rio-born singer, actor, and songwriter Luiz Melodia (Luiz Carlos dos Santos, who sadly passed away on August 4, 2017, almost a year to the day of the opening festivities).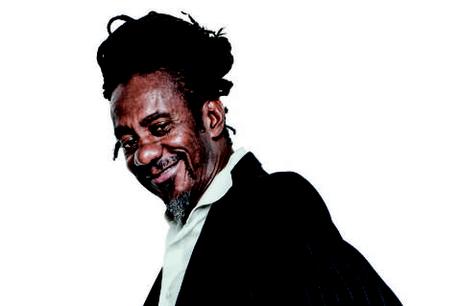 Luiz Melodia (Photo: Daryan Dornelles)
Waves hugging the city's shoreline, swimmers approaching the water and diving headlong into the tide; surfers riding the crest of the ocean current; men playing soccer atop a building's roof; a skateboarder on a deserted street, a golfer swinging his five iron, a biker winding down a treacherous path; rock-climbing, roof-hopping, jogging, and volleyball;  and, of course, the thrill of hang-gliding and wind-surfing, and strolling along Rio's characteristic mosaic-laden streets — all to the strains of Gilberto Gil's "Aquele abraço" ("That Big Embrace") and breathtaking overhead shots of Marvelous City.
"That Rio de Janeiro is still gorgeous," went the lyrics. "That Rio de Janeiro continues on / That Rio de Janeiro during February and March / Hello, hello, Realengo, that big embrace. / Hello you fans of Flamengo, that big embrace."
 O Rio de Janeiro continua lindo,
O Rio de Janeiro continua sendo,
O Rio de Janeiro, fevereiro e março,
Alô, alô, Realengo, aquele abraço.
Alô torcida do Flamengo, aquele abraço.
 Chacrinha continua balançando a pança,
E buzinando a moça e comandando a massa,
E continua dando as ordens do terreiro.
Alô, alô, seu Chacrinha, velho guerreiro.
Alô, alô, Teresinha, Rio de Janeiro.
 Alô, alô, seu Chacrinha, velho palhaço.
Alô, alô, Teresinha, aquele abraço.
Alô moça da favela, aquele abraço.
Todo mundo da Portela, aquele abraço.
Todo mês de fevereiro, aquele passo.
 Alô Banda de Ipanema, aquele abraço.
Meu caminho pelo mundo, eu mesmo traço.
A Bahia já me deu régua e compasso.
Quem sabe de mim sou eu, aquele abraço.
 Pra você que me esqueceu, aquele abraço.
Alô Rio de Janeiro, aquele abraço.
Todo povo brasileiro, aquele abraço
Clearly, Rio "abides." The song played as a salute to Cidade Maravilhosa, a city that, much like Chicago, New York, and Los Angeles, never truly sleeps. Alive with activity, Rio de Janeiro (translated as the "River of January") is a place with style and purpose, and a reason for being.
The old adage that São Paulo, the hemisphere's most populous (and prosperous) state, carries Brazil on its back has a basis in economic fact. That may well be, but what gives the country its rhythm and pulse is Rio, the heartbeat of a nation.
But to insist this pleasant-sounding number was little more than an easygoing sambinha, addressed to unwary international audiences, is to deny the Brazilian producers the profound depth of knowledge they possessed apropos of Brazil's tumultuous past.
Tropicália co-founder and songwriter Gilberto Gil (born Gilberto Passos Gil Moreira) wrote "Aquele abraço" in 1969, during Brazil's most repressive period and close to the eve of his forced departure from his native soil to a two-and-a-half-year exile in Merry Olde England. After seventy days in prison, Gil had just been released (along with close friend and fellow musician, Caetano Veloso) from a military detention center in the district of Realengo, which Luiz Melodia mentions above.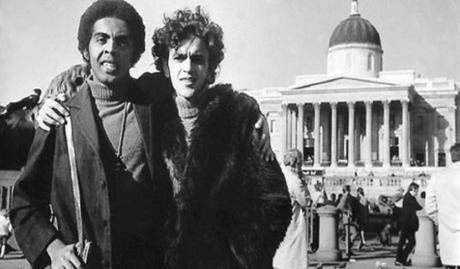 Gilberto Gil & Caetano Veloso in London, 1969-1972
Gil stepped outside to freedom. His lungs took in Rio's air and warmth. Upon seeing the still-festooned city, he resolved to express both relief and indignation at his forced captivity in the wistful, bittersweet manner familiar to all Brazilians: in words and song. The date was February 19, 1969. Ash Wednesday, the day after Mardi Gras (or Fat Tuesday), which marked the end of Carnival and the beginning of the Lenten season — a time of reaffirmation and renewal.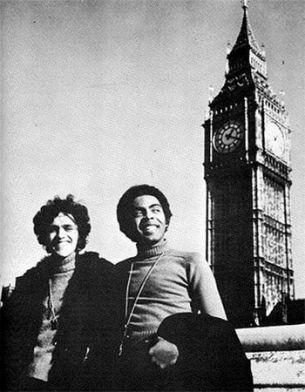 Caetano Veloso (L) & Gilberto Gil (R) posing next to Big Ben, London
He and Caetano had paid the price for their supposed "transgressions," which, according to Brazilian authorities, involved subversive activities such as outright protests, civil disobedience, and criticism of the military. They were placed under house arrest and taken to Salvador da Bahia, where they were required to report daily to the chief of the federal police. Four months later, they received an "invitation" to leave the country, an offer neither artist could refuse.
Both men had been part of a growing artistic trend that incorporated music, words, images, sounds, and nonsense syllables into their work, in an attempt to convey one's hostility toward the current state of things — an anything-goes, kitchen-sink-style approach to protesting.
This trend (or movement, if you prefer) acquired the exotic-sounding label of tropicalismo, itself derived from "Tropicália," a term originally used to describe an installation piece by the carioca visual artist, Hélio Oiticica. Caetano took "Tropicália" (a name he much admired) for the title of a song, a raucous blend of verbal representations invoking the modern capital of Brasília, the French Nouvelle Vague, birdsong, Carmen Miranda, Dadaism, concrete poetry, Che Guevara, indigenous forenames, the films of Glauber Rocha, and so on.
Unfortunately, false rumors had been circulating that the tropicalistas had defamed Brazil's national anthem in this musically-dishonored manner. This served as the flimsy justification for Caetano and Gil's arrest and their being whisked off to Europe, comparable to riding backwards on a donkey while wearing an ill-fitting dunce cap.
Other pop culture references alluded to in "Aquele abraço" paid respect to two polemic TV personalities of the era (the "clown" Chacrinha and the fictional Teresinha), the city's largest and most influential soccer team (Flamengo), a girl from the poor slums of Rio (moça da favela), one of its local samba schools (Portela), and the month of February (o mês de fevereiro), in that order.
Gil concludes the number with a few short phrases: saying goodbye to the samba band from Ipanema, a Guarani word with the distasteful connotation of "bad water" (which, if the Olympic rowers and swimmers had advance knowledge of, may have elected not to participate in those events); and, with middle-finger raised in the direction of the ruling regime, statements about his personal philosophy of life:
I'll make my own way in the world
Bahia provided me with slide-rule and compass
Who better than I know what's best for me?
For those who don't remember me, that big embrace
Hello, Rio de Janeiro, that big embrace
To the people of Brazil, that big embrace
Don't think for a moment that Gil had lowered his head in penance. Not long after "Aquele abraço" was recorded and performed (in a show, given at Teatro Castro Alves in Bahia, to raise money for their "trip" abroad) Caetano and Gil left their old haunt, not knowing whether they would ever see the country again.
Obviously, the number was much more than a how-do-you-do. "Aquele abraço" became an expression, in Caetano's words, of "its wound of love and loss, and above all the direct address to Rio de Janeiro, the city to which I feel so intimately connected … The irony of this song — which seemed a kind of valediction to Brazil (represented, according to tradition, by Rio) but without the least rancor — is that it made us all feel up to the difficulties that lay ahead" (Caetano Veloso, Tropical Truth: A Story of Music & Revolution in Brazil, pp. 266-267).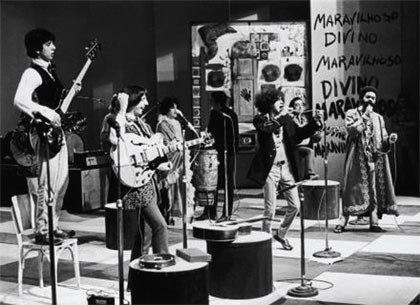 Caetano (center right) & Gil (far right), with Os Mutantes, Gal Costa & Jorge Ben, on the program Divino Maravilhoso (1968)
His companion-in-exile Gil was far less circumspect. Turning down the prestigious Golden Dolphin (Golfinho de Ouro) Prize, from the Museum of Image and Sound, for the best-selling record of the year, Gilberto Gil wrote an incendiary piece, "Recuso + Aceito = Receito" ("Refuse + Accept = Acquiesce," a less-than-veiled play on words), in the Brazilian periodical O Pasquim, explaining the reasons he declined the dubious honor:
"If the MIS [Museum of Image and Sound] thinks that with 'Aquele abraço' I was going to plead forgiveness for what I had done, they were mistaken. And let it be clear to those who thought my mind had changed with 'Aquele abraço,' that it does not mean I have been 'regenerated,' that I have become 'a good black samba-player,' as they want all blacks to become who seem to 'know their place.' I do not know what place that is and I am no place at the moment. Even far away I can understand what's going on. Even in England, the Brazilian Embassy has declared to news agencies that I am persona non grata. No prize will make this situation disappear."
And this was but the opening salvo, the first of several Olympic broadsides. To these ears, the playing of "Aquele abraço" could only have meant one thing: as a reminder to fellow Brazilians, by the producers of the opening ceremony, that they were mindful of their country's past and present ills.
Their subtlety may have gone over the heads of everyone else watching the program. But it could not have escaped the notice of those Brazilians who lived through the harrowing military-dictatorship years.
(End of Part Two)
To be continued….
Copyright © 2018 by Josmar F. Lopes
Advertisements
&b; &b;