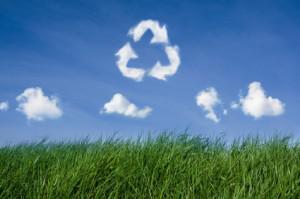 Green is the new black – isn't that the way fashion-speak goes? Every day people are looking for ways to live a greener, more environmentally friendly lifestyle.
Contrary to popular belief, going green doesn't mean you have to develop a liking for woolly hats and hugging trees. There are plenty of ways to live a more eco-friendly life every day. Here are some suggestions.
Green Food
One of the first places you can make changes is in the food you eat. Cut down on food miles by buying locally grown produce – or go a step further and grow some of your own. Once you have a greenhouse, it's not hard to grow most of the veg you need year round. For the items you have to buy, consider Fairtrade products (which means that the producers get a fair share of the profits) or organic produce (which means you're not contributing to those pesticides pumped into the earth).
Green Living
A good start in greener living is to follow the 3Rs – reduce, reuse and recycle. Your council probably has a complicated system of collections in place for different types of household and garden waste. Use this system and you'll be doing your bit for the environment. Consider having a compost heap for the peels from your organic vegetables – it will reduce the rubbish you product and will help your plants to grow too!
If you want to make a bigger financial commitment to green living, then build an eco-friendly house with solar power, wind generation and the best environmentally sound materials. It may be costly up front, but you might get a grant to help with the project and in the long run you will make big savings.
Greener Clothes
If you've got this far, then you can make changes in the clothes you wear. Organic clothing is produced from organic cotton, jute, silk, ramie, bamboo, or wool grown without genetically modified seeds or the use of pesticides. There's also Fair Trade clothing, which involves local material sourcing, eco-friendly production methods and the use of natural and recycled products. This beautiful clothing may be a bit pricey, but you'll feel great knowing you've done your bit for the environment.
Green Your Transport
While walking is about as green as you can get when it comes to transport, it's not always practical. However, there are lots of other green transportation methods you can use, especially if you live in an area with great cycle paths and pedestrian walkways. Bikes, recumbent bikes and electric bikes are a great option to help you cover the distance you need fast – and for longer trips consider a green hybrid car like the Toyota Prius.
Go Even Greener
Finally, you can help others to go green by joining an organisation or campaign to spread the eco-friendly message far and wide. Visit the London Green Fair or check out charities such as the Earth Education Project, War on Want, Greenpeace, Healthy Planet or Population Matters. There are dozens of groups working to better the environment – and you can help.
As you can see, it's easier than ever to go green – why not start today?
Sharon Hurley Hall writes for Eden Springs, the UK's No 1. office water cooler supplier and the first in the UK to provide certified carbon neutral water. Eden Springs is supporting the London Green Fair.