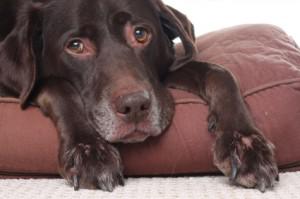 Just as we humans have a tendency to age, so do our pets. This is not a problem per say, but as your dog grows older, he or she will have different dietary and nutritional needs than when he or she was a puppy. Furthermore, the ways in which an elderly dog needs to exercise are also different than those of a puppy or younger dog. Essentially, as your dog gets older, their needs change. Still, this is nothing to fear as long as you are fully clued up as to how these changes need to be implemented. Here are five helpful tips which will help keep your pet happy and healthy for a very long time to come.
Firstly, and this might seem like an obvious pointer, but we really cannot stress the importance of knowing and using a well respected veterinarian. Though this is not something which only applies to older dogs, as your pet ages, he or she will no doubt require more frequent trips to the vets than they did as younger, healthier hounds. Knowing and building a relationship with a vet who you trust is integral as not only will you find that the financial burdens are eased, your vet will also become accustomed to the specific needs of your pet.
Secondly, and this is something which again can apply to a dog of any age, try not overfeed her or him. An older dog might appear as if they need more in the way of food but obesity in a dog of any age can be seriously damaging.
Third up on our list is quality of dog food. As a dog ages, it may need further assistance in terms of diet and to ensure that your beloved pet has all the minerals and vitamins that it needs, it can be useful to seek out better and more age-related food products. These are easy to find and shouldn't cost you the earth either.
Fourth up is increased vigilance where fleas and ticks are concerned. The comfort of your pet is directly related to their health so make sure that you check for these unwanted visitors often.
Our last tip is again diet-based. Supplements can have a huge effect on the health of your dog so, much like you would for a human being, ensure that your dog has everything he or she needs in terms of minerals and the like by considering additional supplements.Make sure there is always plenty of water available for a dog no matter what age they are. Dehydration can be seriously harming toward any dog.
If these simple and easy to understand tips are adhered to, there is no good reason why you and your dog won't have plenty more years of fun together.