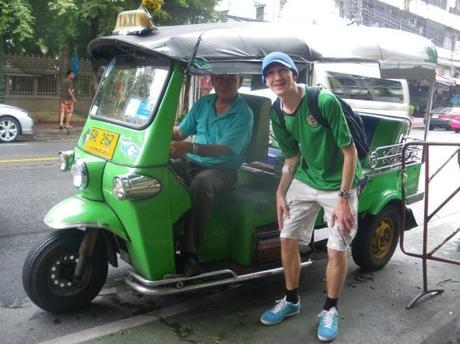 Five Tips for Travelling to Phuket Thailand
Phuket, Thailand has it all: affordable accommodations, incredible beaches and sights, and an awesome culture. These features make it the ideal travel destination for adventurous couples and solo travellers making the best of it.
Here are some of the best tips for traveling to Phuket, including how to get around and what to see when you get there.
Do a Road Trip
There are plenty of ways to get around Phuket, but nothing beats having your own wheels. First and foremost, renting a reliable automobile is easy and affordable using https://www.phuketwheels.com/. Secondly, doing so gives you the freedom to go where you want, when you want, without being subjected to someone else's itinerary.
Before you rent a car, be sure that you have the proper licensing in place to drive internationally. You should also note that automatic transmission isn't commonplace and that cars drive on the left-hand side of the road as they do in Europe, which can be challenging for North American travellers to get used to.
Avoid Peak Season
November through March is the general tourist season in Thailand, with the peak around January and February. This is when prices skyrocket and crowds make it difficult to enjoy the beauty of the area. The ideal time to travel to Phuket is during the shoulder season in April and May or September and October. The true low season is often too hot to be enjoyable and offers fewer options for accommodations as many places shut down.
Avid travelers often travel during the rainy season to get away from the crowds. The obvious con of this approach is that it rains almost every day during the rainy season, though it tends to happen in bursts and can be planned around.
Honor the Culture
Phuket has more to offer than sunny beaches. The temples and sanctuaries are a cultural and architectural wonder to behold. However, they're also holy places that hold a lot of value to the local culture. As such, it's important to be respectful when visiting these sites.
When visiting the villages and temples, wear conservative clothing. For women, a beach cover-up that covers the shoulders down to the knees is sufficient. For men, it's important to wear a shirt when venturing to these areas. Pack accordingly for the transition from beach bumming to temple visiting.
Be Street Savvy
Like many places in the world, Phuket is safe to travel to as long as you're sensible and aware of your surroundings. Take some time to learn where not to go and when you should avoid certain areas. Tuk Tuk and taxi drivers can be pushy and there are some travel guide providers that are not to be trusted. If you're not driving yourself, be sure to book travel guides and taxis through your accommodations or well-reviewed providers.
Bangla Road is a common party destination for travellers, with a rich nightlife and affordable drinks. Be mindful of pushy salespeople along this road. Don't hesitate to ignore them or give a stern "no" rather than being pulled into their narrative out of politeness and etiquette from your homeland.
Make a To-See List
Phuket is action-packed, with lots to see and do. The best way to make the most of your trip is to make a list of must-see things to do in Phuket and plan accordingly. Find that balance between planning to see specific things and leaving time for relaxation and spontaneity. Take in some of the most beautiful beaches and write a list of local foods that you must-try. Using this priority list can help you shape the trip of your dreams.
Phuket is one of the best places to visit in Thailand. With the right balance of planning and open-mindedness, you can have the adventure of a lifetime.
Join 15,017 Monthly Readers! If you enjoyed this article and LOVE travel and SAVING money, get e-mail updates from Don't Stop Living – a lifestyle of travel! (It's Free) 😉 Jonny