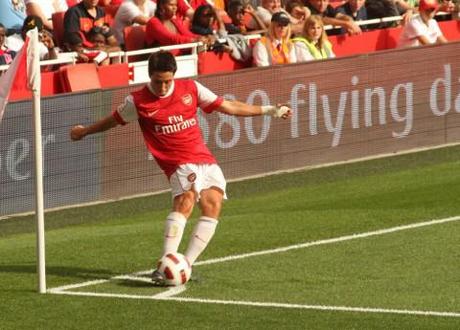 Arsenal's Samir Nasri takes a corner kick. Photo credit: Ronnie Macdonald http://www.flickr.com/photos/ronmacphotos/4867642480/sizes/l/in/photostream/
Barclays Premier League
The Periscope Post
Title headed for Manchester (again)? Both Manchester clubs have made a strong start and it's very possible it could be a race between City and United for the Premiership title this year. Both clubs have added real quality over the summer and look the two teams to beat. Title-winning teams need prolific striker partnerships and both clubs boast that. City's little-and-large partnership of Sergio Aguero and Edin Dzeko has looked particularly potent in the first two fixtures. And if they must turn to the bench, City have Carlos Tevez and Mario Balotelli waiting not very patiently in the wings. The red half of Manchester will be hoping the partnership of Wayne Rooney and Javier Hernandez will light up the league.
Who do you think will win the league? Do Chelsea have a chance?
Arsenal in turmoil. The departure of captain Cesc Fabregas to Barcelona and the imminent departure of Samir Nasri to Manchester City have rocked Arsenal to the very core. Manager Arsene Wenger arguably has the weakest squad he's had under his rein and there are very real fears amongst Arsenal fans that the gunners will struggle to gain a top four finish. Arsenal ground a gritty draw at Newcastle on opening day but were beaten 2-0 by top four rivals Liverpool in their second game. The injury-ravaged squad travel to Italy this week for the second leg of their crucial Champion's League qualifier against Udinese. Although they take a one-goal lead from the first leg, there are whisperings that they could crash out.
Is talk of crisis at Arsenal premature?
Wolves biting back. Last season, Wolverhampton Wanderers were mired in a grim relegation struggle. But they're won their opening two games and look far less likely this season to be fighting for their Premiership lives come May. Manager Mick McCarthy's acquisition of ex-Birmingham centre-back Roger Johnson, who he immediately installed as skipper, already looks one of the savviest off-season moves. Wolves were shaky at the back last season but Johnson has the ability and leadership qualities to shore them up.
Could Wolves pull of a top ten finish?
Fernandes' QPR should prove competitive. Queens Park Rangers opening game of the season was a baptism of fire. Their first game back in the top league, after 15 years in the lower leagues, saw the Rs trounced 4-0 by Bolton Wanderers. The rout knocked the stuffing out of QPR fans but the arrival of new majority shareholder Tony Fernandes and a gutsy-as-hell 1-0 win away at Everton has lifted spirits no end in the blue-and-white hooped corner of west London. QPR are undoubtedly set for a tough season but should survive if Fernandes opens his wallet and allows wily manager Neil Warnock to sign some quality players such as Scott Parker to complement maverick talisman Adel Taarabt.
Just Premiership survival would be wildly celebrated by QPR fans. Can they avoid the bottom three?
Rovers are rooted. Spearheaded by Alan Shearer, Blackburn Rovers once won the Premiership. But they'll be lucky to stay in the league this season if the opening fixtures are anything to go by. The club's foreign owners seem reluctant to re-invest the transfer fees recouped for Phil Jones (who departed for Manchester United in the summer) which spells a season of struggle for under-strength Rovers. The squad lacks quality or depth and Steve Kean looks to be a manager well out of his depth. Blackburn's plight is not helped by the fact that the three promoted clubs – QPR, Swansea and Norwich – all look capable of making the step-up to the big time.
Are Blackburn really worse than the three newly promoted clubs?