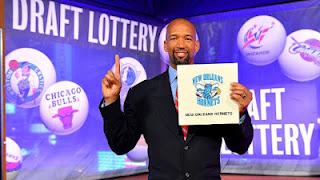 Photo: Getty Images - Jesse D. Garrabrant
- Adam Parker
This is part one of a twelve part-installment of a Beard and Stache special where we'll be breaking down the top things that each lottery team needs to accomplish this offseason in order to improve heading into the 2012-13 campaign.
We'll update the series daily with a new team in advance of our soon-to-be released NBA Mock Draft.
We begin with the New Orleans Hornets, the team who beat the odds and won the rights to the top overall pick in the NBA Draft taking place on June 28th.
It's awful funny how this one worked out.
For the conspiracy theorists out there, the outcome of the NBA Draft Lottery couldn't have turned out better. This proves once and for all that David Stern has his hand in the cookie jar and fixes these things every year.
Okay, probably not, but you get the point.
Here we go!
1. Draft Anthony Davis -
The Hornets were fortunate enough to have their ping pong ball selected and the league -- who previously owned the Hornets before agreeing to sell them to team to Saints' owner Tom Benson -- killed a trade that would have brought Lamar Odom, Kevin Martin, Luis Scola and Goran Dragic to New Orleans in return for Chris Paul.
Now, after sending CP3 to the Clippers for what many people thought was a worse overall deal for New Orleans, the league and the Hornets can now enjoy having the last laugh. All that's left to do is the obvious -- draft Anthony Davis.
Just like Andrew Luck to Indy and RGIII to D.C.,
The Brow
 to the Big Easy is already a forgone conclusion.
2. Re-sign Carl Landry and Eric Gordon -
Despite Davis' immense talent, he alone can't get New Orleans back into playoff contention in a ridiculously tough Western Conference. No, the former Kentucky Wildcat is going to need some help, and it all starts with convincing Landry and Gordon to take their coats off and stay awhile in New Orleans.
The value of having both guys under contract long-term is obvious. Landry is comfortable whether he's in the starting lineup or coming off the pine, and at age 28, he's entering his prime. Landry is a high energy, gritty, low post defender and rebounder and also has an underrated offensive repertoire. He, along with Emeka Okafor (and Chris Kaman if he re-signs) would be great teachers for Davis.
As for Gordon, you can never underestimate the value of a guy who can average 20 points a night. Unfortunately, the Hornets didn't get to see much of Gordon, who was out with an injury for most of the condensed season. They would be wise to bring the 23-year-old back however, as his offensive versatility and improving playmaking skills would be invaluable to a Hornets team that's in transition.
3. Let Chris Kaman Walk in Free Agency -
This might not be popular considering how talented and consistent Kaman is, but the fact of the matter is that the Hornets will still have Okafor under contract next season and would be better served long-term to let Kaman and his $14 million cap number ride off into the sunset.
4. Use the Team's Second First-Round Pick (10th overall) on a Point Guard to Pair With Davis -
This, again, seems like an obviously wise move. Jarrett Jack and
General
 Greivis Vasquez simply are not good fits at point guard position for the future of this franchise. Time to draft a second impactful rookie to pair with Davis as the team tries to rebuild.
The only question, should it be North Carolina's pass-first floor general Kendall Marshall or the electrifying combo guard from Weber State -- Damian Lillard? We personally like Lillard.
5. Be Patient -
Be patient. Let it simmer. Allow your young team to mature. I have a hard time believing that, even with Davis, this team will become a playoff team overnight. No, instead, the fanbase needs to continue to be patient and trust the Bensons as they try to return this team to prominence. After all, Rome wasn't built in a day.
Be sure to follow Beard And Stache on Twitter 
@BeardAndStache
, 
and also Adam 
@Adam_Parker43
, Like our Facebook page 
HERE
!