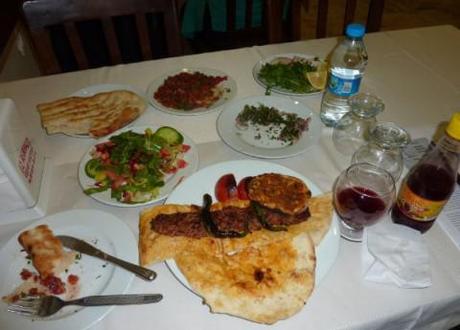 Photo credit: Gabrielle Jackson
In Turkey, I traveled five hours in one direction to travel 19 hours in the other less than a day later for this kebab. The Adana kebab. THE Adana kebab. The spicy, minced lamb shish that you eat in Turkish restaurants all around the world.
And it was worth it.
The colleague of a friend, Ezgi, had told me that people in Adana were 'crazy about kebabs' and I could see that just walking down the street. You couldn't go 20 metres without encountering another kebab joint. Omer, from Ali Baba in Dalston London, had told me that when you walk past a kebab shop in Turkey the smell takes you away, and so it does in Adana.
The döners spinning on the rotisserie in the morning are fat and juicy and you can still see whole peppers bursting out between the layers of marinated chicken breasts. Even though you've just eaten breakfast, you want a taste, even a little bite and I want to say, "Can you just cut me off a little taste please?" But the men spinning their pride and packing it down are oblivious to my wonder.
And so I came to sit down for my first Adana kebab with high expectations and girlish enthusiasm. I had not come for döner, but it was döner that had impressed me on the streets. I was happy to be in Adana, I was overwhelmed by the people of Adana and I was bloody starving. But would it live up to my expectations?
That's when I discovered that sitting down to kebab in Adana is not just a meal; it's a ritual. If you order Adana kebab, or kebap as they call it there, you don't just get your meat and bread. First, you are brought a huge bunch of parsley and slices of radish with some lemon wedges. Second, you are brought two more plates of salad: tomato esme, which is a minced tomato dish, and an onion salad. The owner of my hotel warned me that I must eat the onion salad, despite the effect it may have on my breath (that plate of radish and parsley suddenly makes sense). He was right to tell me this and I ate it all up. Oh yummy! Rings of brown or white onion are tossed with chopped parsley and a good sprinkling of sumac to create a palate's paradise. I'll say it again: "Oh yummy!" Somehow this little plate of onion salad had my heart racing and I forgot about the giant bunch of parsley because, frankly, the bad breath would be worth it. There are times when traveling alone has its rewards.
There are times when traveling alone has its rewards.
Of course, there was the obligatory overdose of bread brought to the table as well. In Adana, it's always the bread we know as 'Turkish bread' in London and Sydney. It's served warm and sprinkled with sesame seeds.
Then came the piece de resistence – or was that the onion salad? – the Adana kebab. It is served on long flat pieces of Turkish bread, moist from the meat's juices; charcoaled tomatoes and peppers on the side. The Adana kebab is minced and cooked on a skewer, but the result is fairly long and flat, not round and fat like meatballs or kofte. The spicing was excellent – there was enough to provide heat without drowning out the flavor of the lamb, which was succulent but not fatty. It barely required chewing.
I drank sogrum – a drink ubiquitous in Adana. Ezgi and a man from Adana I met in Göreme both told me I had to try it. It was OK. I drank most of it but I would have preferred the yoghurt-based Ayran (which I had the following day instead).
I'm afraid this dull little review doesn't do my mood justice. I sat at that table, all by myself, enjoying the experience with the excitement of a puppy dog. As the ritual was performed at other tables I watched with perhaps too much eagerness to see what they did with each plate of food. Was I doing it right, I wondered, but I didn't really mind because I was enjoying myself so very much.
The last time I awarded five chillies I said a great meal is always about more than the food. And so it is the case again. I had arrived in Adana with trepidation and had been quickly rewarded with joy. If that doesn't deserve five chillies, I don't know what does. Five big, fat, joyous, juicy chillies (and they go to Adana itself as well).
Venue: Öz Asmaalti Kebap & Döner Salon, Adana, Turkey
This post first appeared on Gabrielle's KebabQuest blog.