Shadows of the Past by Carmen Stefanescu
My rating: 5 of 5 stars
Shadows of the Past
The Abbess Curse
Shadow of The Past involves witches,legends and cursed places from medieval England.
Hundreds years later strange things start happening to a young couple,Neil and Anna who find unexpected connection with the past in this frightening and in the same time warmhearted novel by Carmen Stefanescu.
They decided to go in a few days holiday after a two years separation and give themselves a second chance by trying to reinvigorate their relationship.
On their journey they get lost in a forest and discover the ruins of St.Mary's Abbey,humans bones and find out about a love story between a young nun and the priest who were cursed by the Abbess when they gave up the monachal life and tried to follow their heart.
Could the curse of the Abbess be true?Has the evil returned?Who will protect Anna and Neil and will their love story last?
http://www.amazon.com/dp/B00AK2D9I8
View all my reviews
I was born in the same country as Carmen,Romania, known by many people abroad for Dracula story,vampires and superstition.For me it was intriguing to read Carmen Stefanescu's book, and took me back in my childhood when I have been listening these kind of stories from my neighbors or from my grand parents.So I can assure you that if you like paranormal and these legends you will find Shadow of The Past a great read for the summer.Try not to be alone and not to read it at night! :)
About Carmen Stefanescu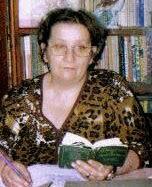 Carmen Stefanescu was born in Romania, the native country of the infamous vampire Count Dracula, but where, for about 50 years of communist dictatorship, just speaking about God, faith, reincarnation or paranormal phenomena could have led someone to great trouble – the psychiatric hospital if not to prison.
English teacher in her native country and mother of two daughters, Carmen Stefanescu survived the grim years of oppression, by escaping in a parallel world that of the books.
She has dreamt all her life to become a writer, but many of the things she wrote during those years remained just drawer projects. The fall of the Ceausescu's regime in 1989 and the opening of the country to the world meant a new beginning for her. She started publishing.
http://shadowspastmystery.blogspot.gr/p/blog-page.html
Filed under: reviews, spotlight authors, spotlight books, Thoughts Tagged: advertising books, Authors PR Madi Preda, Authors PR Revies, authorspromotion, book marketing, Carmen Stefanescu, five stars reviews, Madi Preda reviews, must read books, online marketing, Shadow of The Past, spotlight authors, spotlight books