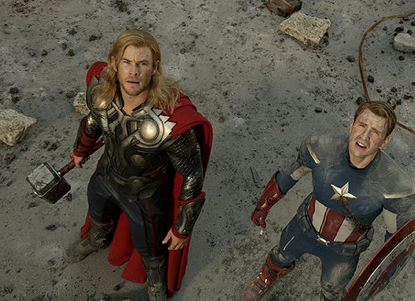 The Avengers. Photo credit: Disney Pictures/Marvel Studios
The background
The Avengers, or rather Marvel Avengers Assemble as it is being touted in the UK to avoid confusion with the 1960's TV series, has broken box records on its opening weekend, with a $200.3 million debut in the US, "shooting past the previous record" for the final installment of the Harry Potter saga. And it's not just in the US that the film has done gangbusters business; it took $151.5 million internationally in its opening weekend, and has risen to a whopping $641.8million internationally in the first week and a half. In short, it's nothing short of a mega blockbuster. So, what is it about this film that has captured the worldwide moviegoing public's imagination and sent the the box office tills into a frenzy?
Super cast
Critics have said that because The Avengers stars some of the biggest names in Hollywood at the moment, there is no way it could have failed to attract large audiences. CNN argued that Samuel L. Jackson, "the highest-grossing actor in the history of movies," meant that the film was always likely to be a big hit because no-one can "ever outgross Jackson." Match him up with Robert Downey Jr, the Hollywood villain-turned-good whose performance in 2008's Iron Man made $585million, along with some more "sexy girls [and] sexy boys" in Scarlett Johansson, Mark Ruffalo and Chris Evans, and you've made a super "celebrity ensemble cast'" of "Earth's mightiest actors themselves" that is sure to please. Critics have been keen to point out that its not just the simple appearance of the stars that has propelled The Avengers. They point to the strong performances. The Los Angeles Times especially praised the performances of Ruffalo as The Hulk and Jeremy Renner as Hawkeye as the 'linchpins' of the film and noted that both actors were previously better known for their arthouse work. The New Yorker's Richard Brody said that Ruffalo's performance brings a poignant self-awareness to The Hulk which "embodies a latent violence in American society" that has struck a nerve with audiences.
The movie combines the Marvel comic characters into one superhero superteam: Iron Man, Black Widow, Captain America, The Hulk, Thor, Nick Fury and Hawkeye.
Super appeal
Film writers have been quick to point out that the appeal of The Avengers hits the right note with multiple audiences. The Atlantic Wire said it is a story with "mass appeal … that can be understood on several different levels and by wide-ranging ages," whilst Variety quoted the film's producer Kevin Feige when he observed ''The Avengers' is appealing around the globe to both passionate fans and general audiences alike." The Los Angeles Times said the filmmakers had hit a home run by embracing the nerd appeal: "The Avengers didn't shy away from the geek … filling the screen with in-references and dense language about comic book items like the Tesseract."
Super effects
The special effects in The Avengers have been widely praised: The New Yorker called the movie "an impressive feat of cinematic engineering." Slashfilm's Russ Fisher said of the final battle sequence: "I'm often the first one to mentally and emotionally check out when film fights become a big splash of pixels, but I was caught up in The Avengers from beginning to end." MTV's Josh Wigler concurred that the balance of special effects and character was winning: "While story is a crucial component to the success of 'The Avengers,' spectacle cannot be downplayed as another essential ingredient."
Super human
The pointedness of the contemporariness of The Avengers have also been observed by critics as a key component of why the film has resonated with its audience. With the film featuring an attack on New York City and a mid-air highjack, Jen Doll suggested that audiences have a "post-9/11 understanding of the plot lines." Richard Brody in The New Yorker picked up on this fact that the film draws on contemporary political themes to enhance its appeal. He argued that the film "plays into the spirit of contemporary politics (namely, the expectation of military solutions to potentially apocalyptic problems)."