Chief of External Affairs Jo Ann Gillula posed these questions to Director Michael Heaston of the Domingo Cafritz Young Artists Program at Washington National Opera, who will be performing their annual semi-staged excerpts from operas on Thursday, April 9 at 7 p.m., at American Art in a free performance at McEvoy Auditorium.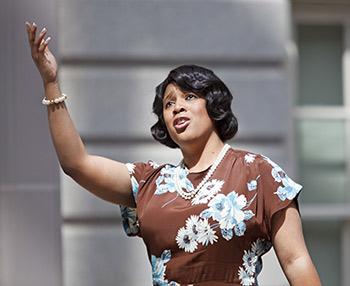 A performer from The Washington National Opera's Domingo Cafriz Young Artists. Photo by Ken Rahaim.
Eye Level: I understand this performance is entitled Faces of Love. I certainly understand why you are presenting the trio from Barber of Seville, but how does the final trio from Faust, surely one of the most wrenching scenes in opera, qualify?
Michael Heaston: Absolutely! In this famous scene we see the inevitable conclusion of a story that examines many facets of love. The story begins when Faust's narcissism (love of himself) drives him to make a deal with the devil to return to his youth. This then leads to his love affair with Marguerite.
EL: How did you select such a wide and varied repertoire to include Fidelio as well as Don Carlo?
MH: Again, not exactly the operas I would classify as highlights of love scenes. In the Fidelio excerpt, Marzelline has fallen in love with Leonore (who has taken on a male disguise as "Fidelio" in order to rescue the man she loves, her husband, Florestan). In Don Carlo, we examine an odd love triangle that features mistaken identity, passionate love, revenge, and finally brotherly love. Love is the driving force behind much of the operatic repertory, and we hope that featuring such a wide range of it will help our audience to realize that passionate love scenes are just one facet of love as presented in opera.
EL: So can you explain how you are characterizing these different faces of love?
MH: We have covered a lot of categories this evening: passionate, obsessive, new, tragic, illicit, brotherly, and the list continues. Love is truly a curious motivator for a lot of decisions in opera and, unfortunately, many of them seem to be poor!
EL: What are some of qualities you look for in a Domingo-Cafritz artist and how long do they apprentice with the company?
MH: The top two qualities are talent of the highest level and incredible potential for growth. The color of the voice, skill at the keyboard, and musical instincts must be world-class. Most artists are with us for two seasons.
EL: I see a love of ice cream in the Kurt Weill sextet that concludes the performance —from his Street Scene. Is there another kind of love represented, and why did you select this delightful piece?
MH: We are delighted to present this ensemble. Aside from the love of ice cream (which I imagine we all share) the scene displays a love of country and America. Through the eyes of an immigrant we see the wonder and amazement of a new life in this country. With the term "national" being firmly embedded in the name of our company, it is important to me that we find ways to celebrate this great nation through opera. I think this is a particularly fun way of doing so.
EL: What new technology will you be utilizing in this performance?
MH: We are pleased to bring technology from our opera house to the museum. For the first time, we are using supertitles to make this performance more interactive and appealing to the audience. The less people have to bury their noses in printed translations the more the performances can come alive. I hope everyone is as excited as I am about this!