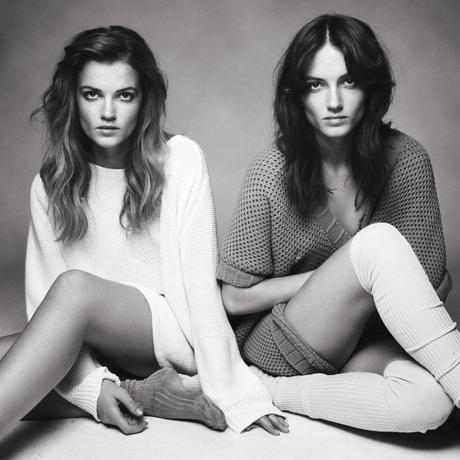 This article first appeared on The Daily Listening.
Anyone who has heard my music collection would assume that I just have a thing for Scandinavian indie bands. I swear that's not the case, but unless someone is planting them on me for the past year or so I seem to be randomly stumbling upon band after band hailing from those parts.
For those of you who were shithouse at Geography, Scandinavia is that part of the world that consists of those countries that are usually cold as hell, either rarely receive sunlight or get too much and are filled with the best looking people you've ever seen (according to popular culture). I'm talking about Sweden, Norway, Denmark and Finland.
You know what they're also really awesome at? Exporting epic indie bands. Here's why.
Say Lou Lou
Alright, so this first one is a half / half. Sisters Miranda and Elektra Kibley-Janssen make up the half Australian, half Swedish (based in Stockholm) electro duo Say Lou Lou. On the front line of the female indie stampede, they've just released the latest LP Lucid Dreaming this month and singles like "Games For Girls (feat. Lindstrom)" and "Nothing But A Heartbeat" have looked unstoppable.
Kid Astray
Norwegian five-piece Kid Astray are sounding more like an LA or Brooklyn based outfit than most guys from the deep north. Tracks like "It's Alright" and "Still Chasing Nothing" leave behind the cold, dark staples of the deep north and opt for a true summertime beat.
Urban Cone
Sweden's Urban Cone seemingly came out of nowhere, pairing up with the likes of Tove Lo in their most recent tune "Come Back To Me" and hitting airwaves more frequently by the minute. But they've been around for quite some time, and proving their long standing brilliance are older tunes like "Freak" and "We Should Go To France".
Kate Boy
Another Swedish sensation, Kate Boy is an electronic indie inspiration. Her music is scary powerful, filled to the brim with uniquely robotic soundscapes. In 2015, she released a self-titled EP with stupidly epic tracks like "Self Control", "Higher" and "Northern Lights" and she absolutely needs to be taken to the top.
Satellite Stories
Finally, from the lesser recognised part of Scandinavia, Satellite Stories are a group of indie-loving lads from Finland. They've just released their second LP entitled "Vagabonds" and have a bit of a Two Door Cinema Club vibe going on…sometimes. Super consistent indie tunes is their business and if you check out the latest album, it is shit-yourself-good.