It's been a while since I have posted a blog update. I really need to be more disciplined with my writing because I actual have a lot to say.
I frequently get asked about what I do at therapy, so I thought a play by play should be in order.
First of all, I have to say, I love therapy. Prior to this accident, I was in the gym religiously 3-4 times per week, but I can honestly admit, I never truly loved working out. I'm quite sure there are more people than not who share this same sentiment. I think most people are lying when they say they do. These are the people who have all of the latest workout gear, but you'll find them standing on the treadmill talking about how much they go to the gym. They move their mouths more than they move their bodies. I never understood how people became addicted to working out. After 15+ years in the gym, I'm still waiting on that runners high everyone talks about. Truthfully, my only driving force that kept my weekly schedule was the fear of getting fat, because I love to eat and I love couture. Lanvin has not launched a plus size line yet, and I don't like to throw up, so going to the gym was the next best option. I know my trainers at the Yellow Creek gym are reading this, so I guess the cat's out of the bag. Lynn and Cody, both of you made my workouts fun and tolerable!
This is why I find it oddly surprising that I love therapy. What I do at therapy is 20 times harder than the most intense workout that I've done in the past, but I still like it. Maybe it's the challenge that drives me, but truthfully, at the end of the day, my priorities are a little different now. I still have a fear of getting fat, and I'm still obsessed with runway fashion, but the fear of never walking again and being faced with being dependent for the rest of my life scares the shit out of me (and couture clothing never looks good while seated either).
I have been attending Miami Physical Therapy (in Coconut Grove) since September of last year. I feel comfortable and at home there, which I think is a particularly valuable factor in any recovery. The entire staff is not only positive, supportive and knows their shit, the Cuban coffee that they make there is delicious. I'm addicted to it and usually start bothering Omar, the Cuban coffee making PT attendant, to make some as soon as I get there.i think he gets a little annoyed with me because I really do nag him until he makes it. All of the attendants are PT students. I really enjoy having them around to shoot the shirt with.
If I had the stamina I would go to therapy Monday through Friday, but my body definitely needs some recovery time. As it is, I'm there 3x per week, and have increased my sessions from 3 hours to 4 hours per day, which is extremely aggressive. I'll get home around 6pm and will literally pass out. What I was able to do prior to September 2012 and what I can do now is undeniably night and day. Back then, I thought I was a bad ass at Jackson rehab when I was on NBC Miami news for the most pull-ups completed during the Jackson Memorial Olympics. That seems so long ago.
Today, Carla, my therapist, has presented me with new challenges that I hope gets me just a little bit closer to regaining what I have lost. I have wrote in the past about the stim bike and the standing frame, which are still an integral part of my therapy repertoire. In addition to those, I am doing something new and exciting. See the video below. I started doing this a few weeks ago, and the video is already obsolete. I can actually get up on all 4s with little or no assistance. This is quite an accomplishment since most of my core is still paralyzed.
The main reason I was able to progress to an advanced activity like this is because I regained a small amount of my core back. This includes obliques, flickers of the upper part of my rectus abdominis and a muscle in my back called the erector spinae. What is important to note about these muscles is that they correspond to the spinal nerves that are below my level of injury. My injury was at the cervical region (C6/C7) and these new flickers of muscle movement correspond to the thoracic region of my spine, meaning that there is some communication occurring down my spinal cord. Below is a good chart that shows the spinal nerves and corresponding muscles.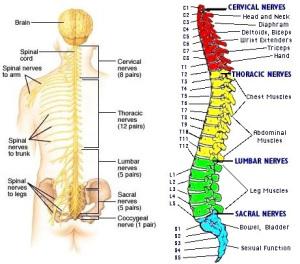 This is exciting but still not enough for me. I want tangible movement that I can see, which is why I go at so hard at therapy.  I have no choice…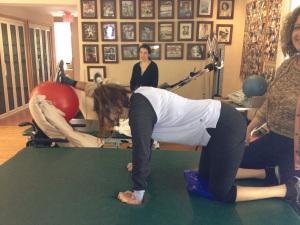 Me quadruped holding myself up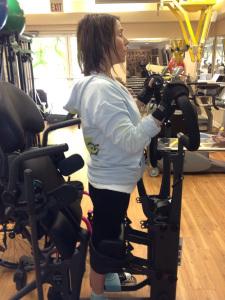 Sit to stand-holding myself up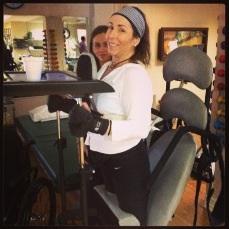 Sit to stand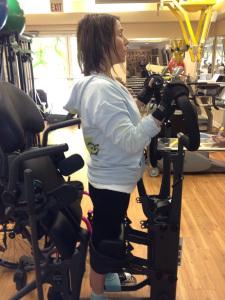 Sit to stand-holding myself up. Perfect posture.