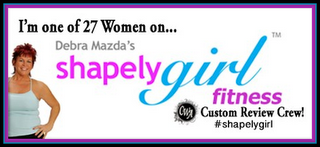 My husband has a saying that we repeat a lot in our household.  "All good plans are subject to change."
My plans were definitely rearranged this week due to illness.  Out of my planned 2 days at the gym and 3 days with ShapelyGirl Debra Mazda, only a total of 3 days made it.  1 at the gym and 2 working out with
Let's Get Moving! 2, Cardio Toning with Weights DVD.
It wasn't a total loss, but, obviously not what I had planned!
Eventhough I'm not keeping track of pounds lost, I can tell you that since I've added the DVD to my workout schedule, I feel stronger and have more endurance.  Plus alternating workouts has kept getting into shape fun!
The reason why I asked to be on the crew for this particular review was not only for the fitness aspect of it, but, to be with a group of ladies who encourage one another on a daily basis.  Encouragement and fitness go hand in hand in my book.  With four kids, the last one coming after the age of 40, I need all the encouragement I can get!
Join me next Friday for a VICTORIOUS update!


Disclosure: I received a free copy of this DVD to review. I was not required to write a positive review nor was I compensated in any other way. The opinions I have expressed are my own. I am disclosing this in accordance with the FTC Regulations. I am part of 

The CWA Review Crew

SPECIAL OFFER FOR Homeschool Circus SUBSCRIBERS through October 31: Use code LISAtips for a $19.99 discount when you buy any curriculum CD Library plus Spanish Empire library. This post written and property of Homeschool Circus and can be found at: www.upatdawnreadytowork.com.