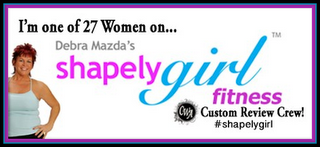 It's the end of my first week incorporating Let's Get Moving 2 - Cardio Toning with Weights into my workout schedule.
I have to admit that it was a challenging, but doable, week.  Previously I was getting about 2 workouts a week in at the local YMCA.  That was mostly cardio and leg press machines.  If I added upper body on those same days, I just felt drained afterwards.  Having 4 kids and feeling drained is not a good mix.
The plan was to alternate YMCA workout days with toning exercises .  That rarely panned out.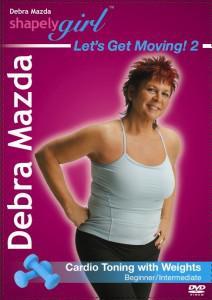 That's one of the reasons why this video has been such a blessing.  Founder Debra Mazda is very motivating.  Thank goodness she believes "Fitness Comes in Many Sizes"  Because of this, I enjoy working out to her videos as I do not feel the added stress of trying to  look like a barbie doll or being able to do ridiculously difficult routines in order to 'get my sweat on'.  I can definitely see how this video would be a blessing to those seriously overweight or had 'tender' legs as it is all low impact.
The workout in Let's Get Moving 2 is approximately 56 minutes.  Happily, it's 56 minutes that leaves you feeling 'worked-out' without the 'I've been hit by a truck' feeling.  After a warm up, Debra alternates arm exercises with light weights and plain low impact cardio.
Hurrah!  I can function using this DVD on opposite days from my workout at the gym!
Join me next Friday for another update plus why I asked to be included on this particular review.


Disclosure: I received a free copy of this DVD to review. I was not required to write a positive review nor was I compensated in any other way. The opinions I have expressed are my own. I am disclosing this in accordance with the FTC Regulations. I am part of 

The CWA Review Crew

SPECIAL OFFER FOR Homeschool Circus SUBSCRIBERS through October 31: Use code LISAtips for a $19.99 discount when you buy any curriculum CD Library plus Spanish Empire library. This post written and property of Homeschool Circus and can be found at: www.upatdawnreadytowork.com.