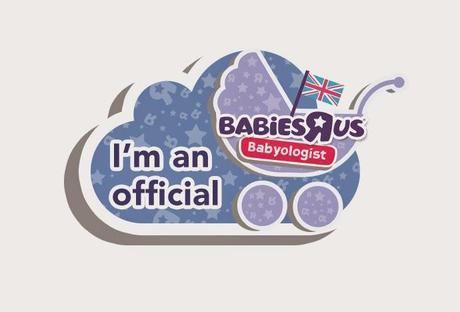 Precious Little Worlds Are
 Official Babies R Us Babyologists!
If you had seen our previous post on being selected as Babies R Us Babyologists, I did say on
our next post will be reviling what is inside our special delivery of goodies!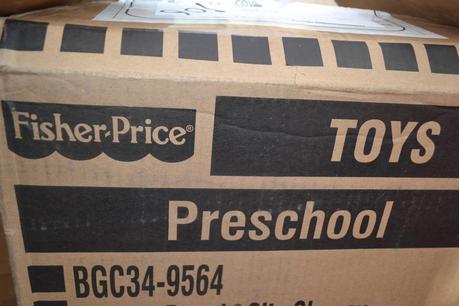 Some of you have been guessing what might be inside this box and I now can tell you all if was
Little People® City Skyway - Fisher Price
Price RRPof
£
39.99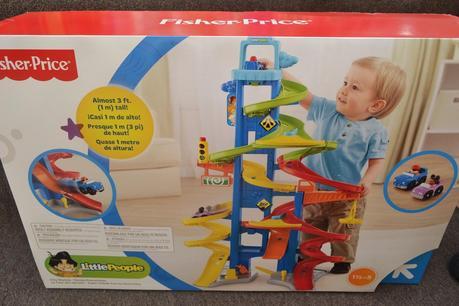 Standing over three feet tall, this play set ramps up the zipping, zooming racing fun! Your little racer sends a vehicle down the ramp at the top, then waits for the surprise finish as the car comes out at the bottom in one of three spots.
Will it speed out one of the two side exits or jump off the middle ramp? It's different every time! The creative play is revved up even more with a realistic crane, stop sign, petrol pump and parking meter.
First up Packaging - 
You will notice it does come packed in a big box but this is necessary as their are lots of track 
parts involved with this toy.
Might sound off but loved the design from the box as the may see in the picture an arrow on 
opening this you will find ....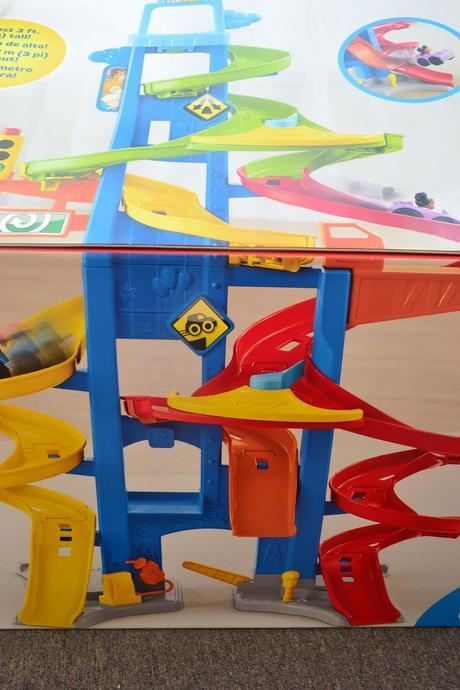 A large picture showing you what the item looks like
When my son Alfie saw this all he could say is build 
build
!
Age range on of the City Skyway you are looking at 
1 ½ – 5 years so you can get plenty on play out of this toy.
On opening box you will find lots of pieces for the track I would pop them on a carpet to see what you have and to familiarise your self with the parts.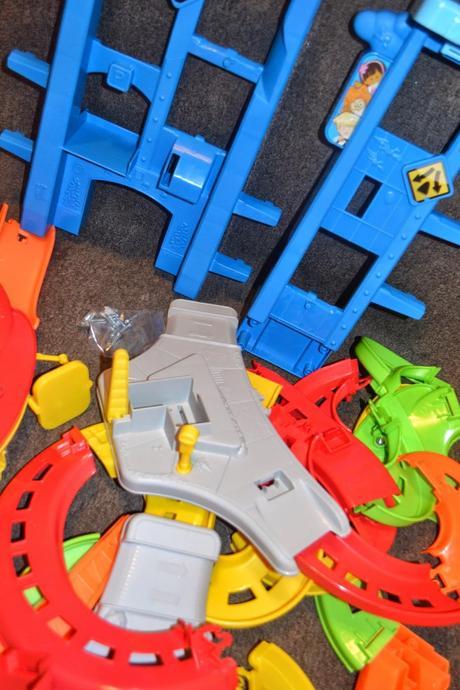 You will also find enclosed two cars plus screws for facing together.

Putting the City Skyway together   I sure cant take all credit for this it was my partner and I who gave it ago. If you are anything like me I have to follow the 44 step-by-step instructions that do come in the box.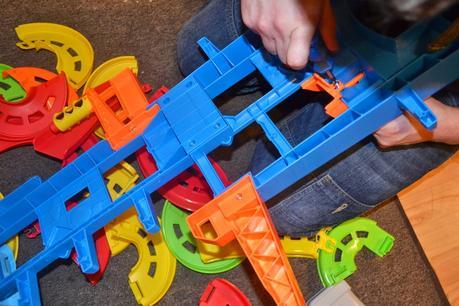 I personally was getting into a mess but when Jonathan (my partner) started off we soon got going. It took around 30 to 45 minutes to complete the full set up and have it ready.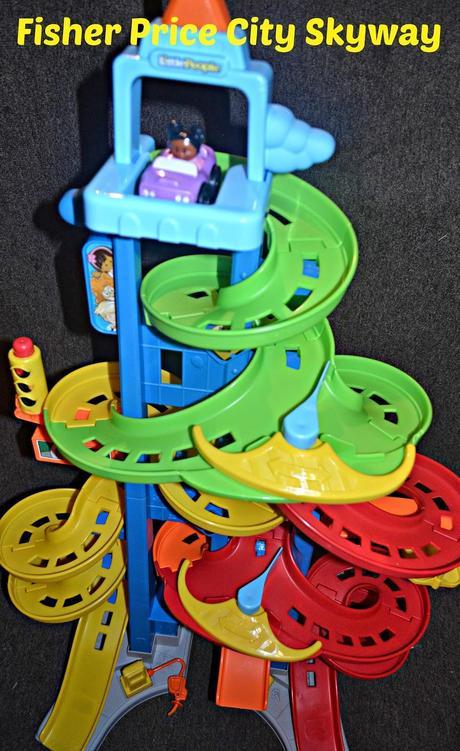 Key Features
Stands over 3 feet tall (92 cm)
One point of entry on top with three exits on the bottom, one of which is a jump
Flip different switches to make cars change paths
The kid-size vehicles fit perfectly in little hands
Comes with City Skyway play set, working crane, traffic signal, gas pump, parking meter, gate that opens and closes, and Koby and Tessa cars
For ages 1 ½ – 5 years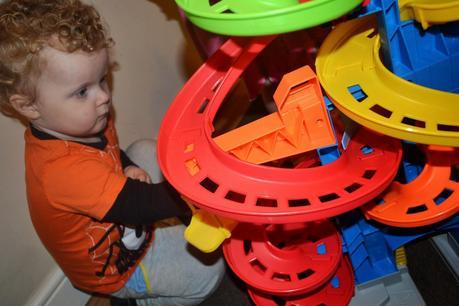 Alfie taking it for a test drive 
I have been very impressed how sturdy the base and structure of the City Skyway is as at first thought it was going to be a bit flimsy been plastic but was proven wrong.
The appearance is fantastic so bright and colourful very eye-catching can see why kids would go for this. Age range is spot on and even younger then my son will keep them entertained even watching the cars spin down the tracks.
Play value well I have two kids and can say even my daughter loved it, my son even more just love that he comes down in a morning and after we have given Alfie his breakfast, he will go straight to this and say "play"  so no worries around kids not going to play with an products you just got because with this they sure will.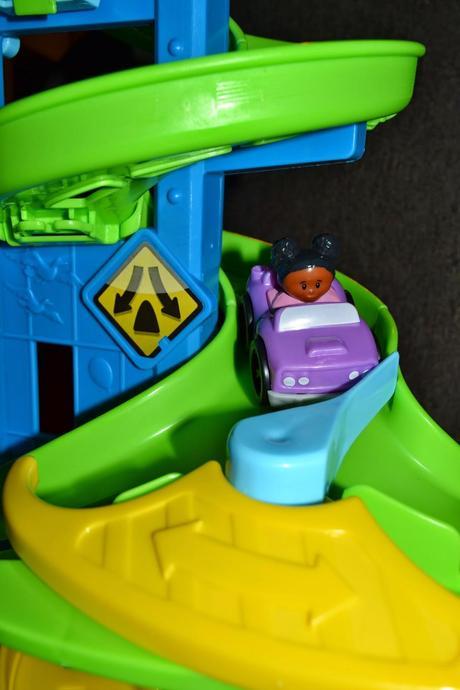 Very happy that you get two cars provided as in our house my kids can have one each, they only thing I was a little disappointed with that the City Skyway did not have an option on the items that provided sounds such as when they cars are rolling
 down I do think that would of been good to have added to this item.
You will also find that looks can be de-sieving as you might be thinking "well that looks heavy to carry as its so big"  the answer to that is NO its very lightweight.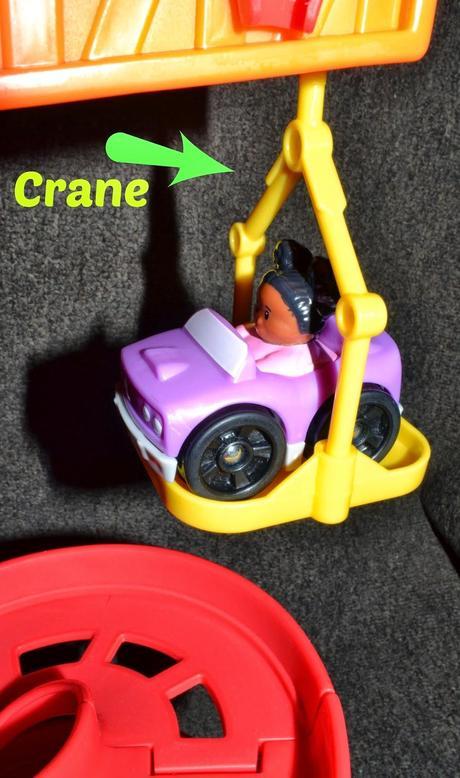 As you can see in the picture above you can place one of the cars in its own little crane.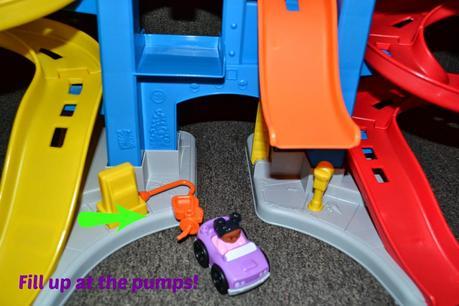 Pop on over to the fuel pumps to fill up or even with the 
"light" signal (you can change it to red, yellow or green) so many features with this item.
Only Cons I would find is that it is a larger toy and the hight of of can be abit tricky if you don't have much stare space plus as I previously said no sound effects.
All in all I think The City Skyway is a fun filled play and entertaining super adventure toy for young kids.
I would recommend to friends and family and dare I say "Christmas" yes perfect gift.
So good for 
Imaginative Play and fine motor skills.
Item can be found over on - http://www.toysrus.co.uk/Toys-R-Us/Toys/Cars-and-Trains/Cars-and-Playsets/FisherPrice-Little-People-City-Skyway(0129845)
#
Babyologists 
Thank You ever so much to the PR team of 
 Babies R Us  for letting our little 
family report back our findings.