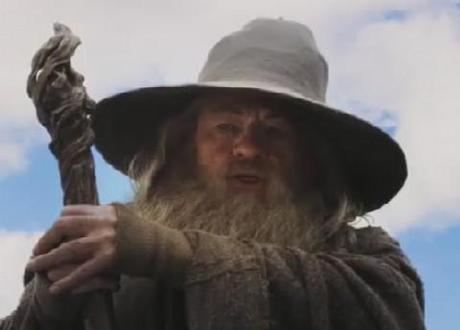 Gandalf: He's back!
The Twitterverse is buzzing with the news that the first official teaser trailer has been released for Peter Jackson's hotly anticipated The Hobbit: An Unexpected Journey. The movie, due to be released in December 2012 in the US and UK, is a prequel to the wildly successful Lord Of The Rings trilogy, based on the books by J.R.R. Tolkein. Stars of the previous films including Cate Blanchett, Orlando Bloom, Andy Serkis and Ian McKellen reprise their roles, while Martin Freeman plays a young Bilbo Baggins.
The trailer gives little away, but shows McKellen's Gandalf enticing Bilbo on an adventure and gives viewers a glimpse of Serkis as Gollum. The Hobbit teaser also offers a brief introduction to the company of dwarves set to accompany Bilbo on his journey, as well as a few brief battle scenes and a visit to elf kingdom Rivendale.
Watch the first Hobbit trailer below.
Jackson almost wasn't involved in The Hobbit after an apparent legal dispute with New Line Cinema, with Guillermo del Toro at the directorial helm at one point. However, the dispute was resolved, and it looks like nine years after the last Lord Of The Rings film was released, fans will finally see a return to Middle-earth.
Does The Lord Of The Rings leave you cold or are you already clearing your diary for back-to-back Hobbit viewings in 2012?