Facebook
1
Twitter
2
Google+
5
Spark Your Imagination with
Your First Look at FIGMENT #1!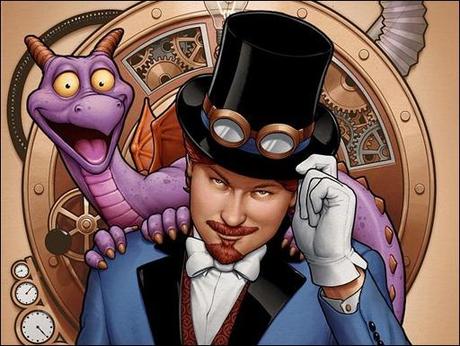 Newest Disney Kingdoms Series to Focus on Epcot® Theme Park Mascot
Your first look at the newest Disney Kingdoms series, Figment #1 by Jim Zub & Filipe Andrade with a cover by John Tyler Christopher, courtesy of Marvel Comics – on sale June 11th, 2014.
Press Release
This June, journey into the exciting depths of your own imagination with the newest Disney Kingdoms series. Today, Marvel is proud to present your first look at FIGMENT #1 – from rising star writer Jim Zub (Skullkickers), fan-favorite artist Filipe Andrade (Captain Marvel) and blockbuster cover artist John Tyler Christopher! Created by the unique collaboration between Marvel and Walt Disney Imagineering, this all-new five-issue series delivers an exciting steampunk fantasy adventure that reveals the never-before-told origin of the inventor known as Dreamfinder and his inquisitive dragon companion, Figment!
A mainstay of Epcot® Theme Park at Walt Disney World, Figment and the enigmatic inventor Dreamfinder have captivated visitors of Epcot's Journey Into Imagination attraction for decades. Marvel and Disney Kingdoms are proud to continue the spirit of the famous attraction by revealing the origin of two of its most famous characters!
"Expanding the story of Figment has been intimidating, but I'm genuinely enjoying it," says writer Jim Zub in an interview with Marvel.com. "I want to do right by Disney fans and new readers alike, creating an entertaining story and that comes from working with engaging characters. Digging a bit deeper into Figment and Dreamfinder has been a fun challenge. In so many ways this story really is a 'Journey Into Imagination', in both word and deed."
"After years of requests from Figment fans for new content starring their favorite purple dragon, the Imagineers suggested we expand upon the story told in the Journey Into Imagination attraction," explained editor Bill Rosemann. "Aiming to surprise them with an adventure they thought they'd never experience, we're traveling through the mists of time – and from Victorian-era London to the Nightmare nation and revealing how one intrepid inventor became the hero known as Dreamfinder…and also created his famous friend."
Imagination is inside all of us, waiting to be unlocked. All it takes is one little spark to let yours take flight and make our wildest dreams come true!  This June, let your imagination take flight when one of the most popular Walt Disney World attractions comes to life in the exciting FIGMENT #1!
FIGMENT #1 (OF 5) (APR140657)
Written by Jim Zub
Penciled by Filipe Andrade
Cover by John Tyler Christopher
Disney Figment Variant by Andy Gaskill (APR140659)
Walt Disney Imagineer Variant by Tom Morris (APR140658)
Elements based on Figment © Disney
FOC – 05/19/14, On-Sale – 06/11/14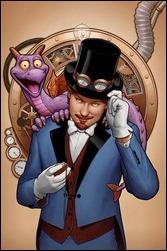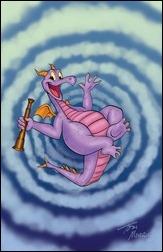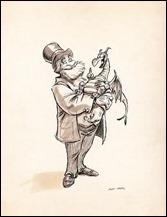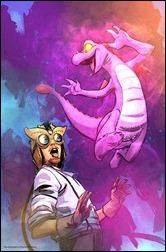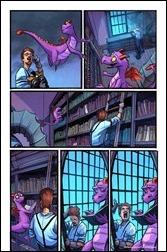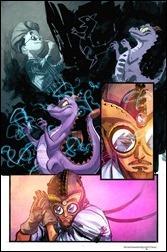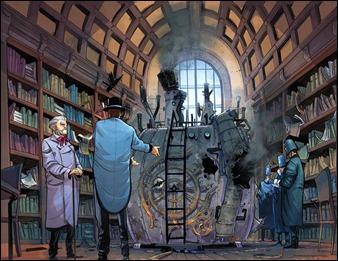 - The Comic Book Critic
You may also find these interesting:
Preview: Captain Marvel #10 by Kelly Sue DeConnick & Filipe Andrade

Dark Horse Ends 20+ Year Run Of Star Wars Titles as Marvel Takes Over In 2015

Preview: Samurai Jack #1 by Jim Zub and Andy Suriano

Preview: Shadowman #11 by Jim Zub and Miguel Sepulveda

First Look at Amazing X-Men #8 by Kyle, Yost, and McGuinness
First Look at Figment #1 by Jim Zub and Filipe Andrade
was last modified:
May 8th, 2014
by
Carlos Rodrigues