Wet n Wild has a trio of new palettes that are exclusive (I think) to Wal-Mart. I happened to be browsing the cosmetics section and I noticed the display. Sadly, they were sold out of the other two.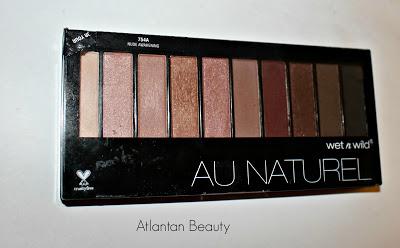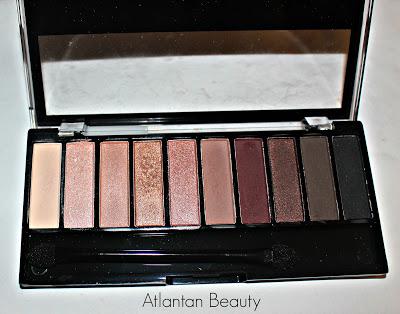 Nude Awakening consists of matte and shimmery warm toned neutrals. There are ten eyeshadows in the Au Naturel palettes and they lean more on the warm side.
matte beige that you cannot even see. 
shimmery light pink
shimmery light peach
shimmery copper
shimmery rose gold
satin tan
matte wine
shimmery warm toned brown
matte dark taupe
matte black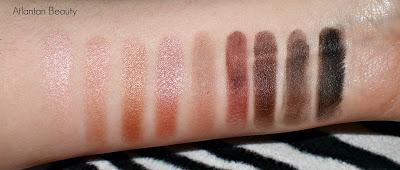 No primer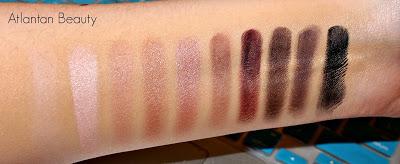 Swatched over primer
I have used this palette four times so far, and I am not too impressed with it. It isn't a bad palette, but I have tried better shadows from Wet n Wild and other budget friendly brands. The pigment is okay, but it isn't great. Applying a good primer or base underneath helps a lot. These shadows, especially the shimmery ones, are more sheer.  The mattes are a bit patchy and can be a slight challenge to work with.  The texture is pretty good. It isn't the smoothest. There is some graininess, even in the matte shadows. This is not a palette you reed to run out and buy by any means.
They did wear pretty well, though. I noticed some minor fading and creasing, but it wasn't bad at all. I haven't had any issues with fallout, either. I did do a pretty, soft pink look with this palette that would be great for Valentines Day. I would like to do an FOTD post for it, but right now I am not sure if I will get it done in time. Per usual, there is a lot going on right now.
I did find these at Wal-Mart and they were $5.62. Weird price, right? I may get one of the other palettes if they happen to be in stock when I go back just to make comparisons.
That's it for now. I just wanted to do a quick post about this palette in case you were thinking about getting it or maybe didn't know of its existence.
See you soon!