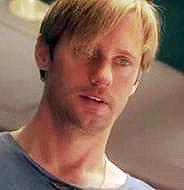 True Blood's Alexander Skarsgård kept himself busy last summer filming several films in New York City.  We remember seeing all the "on the set" photos at that time, specifically for one of the films he did then called "What Maisie Knew".
It sure appears as if we're going to get to see the "softer side" of Alexander Skarsgård in this film and it looks like it will be work the viewing.
The official synopsis from one of the production/distributor companies website is as follows:
WHAT MAISIE KNEW, a contemporary adaptation of the Henry James novel, which recently completed filming on location in New York. Scott McGehee and David Siegel (THE DEEP END) are directing the touching comedic drama starring Julianne Moore, Alexander Skarsgard and Steve Coogan and produced by Daniela Taplin Lundberg and Riva Marker (THE KIDS ARE ALL RIGHT).
Darkly comic and emotionally compelling, the film centers on Maisie, a six-year-old girl enmeshed in the bitter divorce of her mother, a rock and roll icon, and her father, a charming but distracted art dealer. As Maisie is shuttled back and forth between them, she comes to rely more and more on her parents' respective new partners who begin to see how selfish and damaged the girl's parents really are, while finding themselves falling in love with one another.
See the trailer below:
 
source: skarsgardnews.com