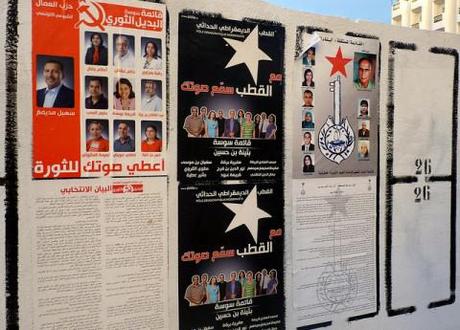 Election posters in Tunisia. Photo credit: Bellyglad, http://flic.kr/p/au9XjA
Tunisia has held the first free election in the country's history – and the first free vote of the Arab Spring.
Setting an example. According to a Washington Post editorial, Tunisia is once again setting an example: having been the scene of the first uprising of the Arab Spring earlier this year, the country is now "creating a model for a transition to democracy" through the elections. The editorial said that Middle Eastern countries should take note: "Egypt's ruling military council, meanwhile, would do well to imitate some of the procedures that made Sunday's vote a success."
Victory for moderates? Adrian Lewis reported for the BBC that moderate Islamist party An-Nahda (or Ennahda) has claimed victory in the elections. Lewis said that the party, led by Rachid al-Ghannouchi, has been at pains to emphasise its moderate stance, with leaders stating that they accept gender equality and embrace democracy.
Coalition. Writing for The Wall Street Journal (£), Matt Kaminski said that should An-Nahda succeed at the polls, the party plans to form a coalition with secular parties: "This kind of outreach is unusual for an Islamist party—a label, incidentally, that Nahda leaders dislike," he wrote.
Secular fears. However, writing for The Daily Beast, Ursula Lindsey said that some secular Tunisians may find the rise of An-Nahda a cause for concern: "The success of the Nahda party will reverberate across the region and unsettle many of Tunisia's secularists, who fear that the Islamists' moderate stance is disingenuous and that their victory will undermine the country's tourism sector, its liberal social mores and women's rights," she wrote.
Western fears unfounded. Writing for Time's Global Spin blog, Tony Karon suggested that the victory for An-Nahda may unsettle those in Washington who believe Islam and the West are at war – but that these fears are not necessarily well founded. "There's no inherent contradiction between Islam and democracy — the range of political parties in the Muslim world claiming to be guided by Islamic values ranges from Turkey's moderate, modernizing AK Party to the radical fundamentalist Salafis," he wrote.
Investment needed. Henry Porter argued on The Guardian's Comment is Free that western governments must "find ways of providing stimulus and investment" to countries such as Tunisia and Egypt, where repressive regimes have recently been overthrown.