The 'Great American Novel' is a redolent term that reviewers tend to use towards a certain kind of book: a thick doorstep of social realism, wide in scope, ambitious in theme and literary in style. We're talking Jonathan Frantzen, Philip Roth, John Steinbeck, Don DeLillo. The essential quality of the novel is that it must capture the spirit of the age, and say something significant about the experience of being American in the contemporary world and the present moment.
Funny, then, that I should find myself thinking about the possibility that the great American novel has an unusual cousin, a long-lost relative from the backwaters who has a quirky, some might even say, eccentric take on American life that might be every bit as truthful and potent as those fat mainstream novels. The ones I've read have all been written by women, they concern themselves with the fraught dynamics of family life and they contain a heady dash of magic realism.
For a nation that disapproves of the passive voice, magic realism with its essential unaccountability, its bright-eyed embrace of the fantastic, is always going to be a hard sell. You won't find the challenging extremes of Gabriel Garcia Marquez here, or the brash playfulness of Angela Carter. But when it appears, it often salutes rural wisdom, the inherited knowledge of generations, or a simple but vivid case of altered perception. I'm thinking of Alice Hoffman, basically, and the candy-sweet voice of Sarah Addison Allen, and further back in that lineage, closer to its mainline and altogether darker, Toni Morrison.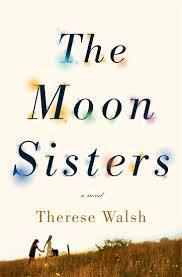 Therese Walsh's new novel,
The Moon Sisters
, lies somewhere on the spectrum between Alice Hoffman and Sarah Addison Allen. It's a simply told tale of two warring sisters, who must find a way to come to terms with the recent loss of their mother, despite their differences. Jazz, the elder, is rational, distrustful of sentiment and pragmatic. Her response to the sudden loss of their mother under disturbing circumstances is to get herself a job at the funeral home. Olivia, by contrast, is the flighty, dreamy one, homeschooled, imaginative and synaesthetic. Her response is to stare at the sun for so long that she just about blinds herself. And then, in this debilitated condition, she decides that the only way to assuage her grief is to make the long trip to the Monongahela glades and see the will-o'the-wisp phenomenon her mother longed to witness. A failed writer, their mother could never manage to finish her novel until she'd seen these fairy lights, something that was always unlikely to happen, given her depressive state. When she is found dead in the family kitchen, Olivia believes it was just an accident with the gas stove; Jazz has no doubts it was suicide.
An so off Olivia goes, infuriating Jazz, who finds herself once again obliged to protect her ditzy younger sister and embark on a trip she has no desire for herself. In no time at all the sisters run into trouble and fall in with a group of train-hoppers, whose motives for helping them are distinctly unclear. Told in alternating chapters, the narrative whistles along smoothly, the trick of inhabiting each sister's viewpoint brings the urgency of their desires into relief alongside the vexatious nature of each sister's response to the other. Olivia can't bear Jazz's anger and contempt, her insistence on attempting to lay down the law which makes her react subversively against it. And you cannot help but feel for Jazz who does not understand her sister's emotions at all and sees only reckless self-harming behavior. It's a very good, convincing portrait of the love/hate that binds siblings together, pushed to an extreme because of a family crisis that no one knows how to deal with. A variation on the buddy road trip narrative, they will eventually be forced to come to terms with their differences and understand that what binds them together is stronger than the characteristics that pull them apart.
And what of the spirit of the age embodied in such a narrative? For me it was tied up in a throwaway remark that Oliva remembers her mother saying, when Jazz has spoiled her belief in Santa Claus: 'my mother pulled me onto her lap and reminded me of one of her life truths: It was okay to believe in things that others didn't believe in. It was okay not to believe, too.' When the parameters are set so wide, what couldn't fit in there? A few will-o'the-wisps are nothing. Olivia's synasthesia is hardly radical. Yet in the very battle between straight-minded Jazz and hippy-dippy Olivia there's a nation's struggle at work between logic and liberality. Between the puritan pursuit of hard work and the desire for self-fulfillment and freedom of expression in whatever form it may take. That's why this kind of fiction intrigues me: beneath its easy-read surface lies a complicated tangle of ideology. No wonder a little magic is needed to make it all come right.