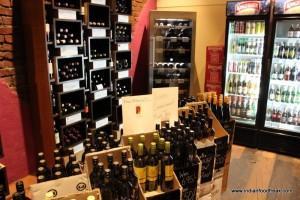 The Wine Boutique
A few years back I had helped a close friend with a presentation on wines and the research took us to understand that wine was called the drink of the gods "Sura" and those who didn't drink Sura were obviously known as "Asuras"!
Over the years, archaic laws, asinine labelling regulations, marketing restrictions and above all 160% of excise duties have ensured that not only this segment has lost its past glory, but also suffered immensely by being segmented in the same category as the hard spirits like Whiskey and Vodka.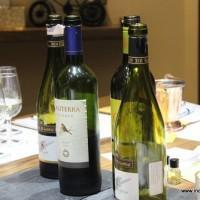 The tasting flight
In such a challenging scenario, it is quite heart-warming to see an exclusive wine showroom and tasting room come up in the western suburbs of Mumbai.
One of the principal wine importers of India, Fine Wines and More has taken upon itself to create a one of its kind wine boutique and tasting room where they have a good selection of wines from their existing portfolio and a few from the local Indian producers in a tastefully done décor in the posh shopping area of Laxmi Industrial estate in Andheri west.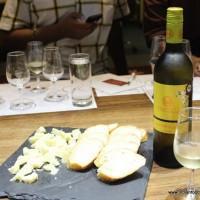 Tasting of Fratelli Chenin Blanc
The corporate office of the company is right behind this store, where they have also created a tasting room in which they hold corporate event, wine trainings and tasting sessions for connossieurs and public alike.
Over a tasting of some Chilean, French and Indian whites and reds last week, we got a chance to interact with the CEO Craig Wedge where he conducted a master class and explained the eager patrons the finer nuances of Chenin and Sauvignon Blancs, Merlot and Shiraz. Over the master class, Mr. Wedge explained how one could distinguish between a good wine and cloudy wine and also gave a discourse on the distinguishable characters of each wine.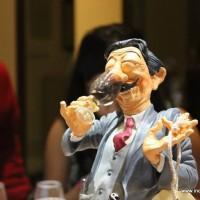 Quirky decor in the tasting room
In India, though there is a decent range of wines available on the shelves, it is quite sad to see that the level of education amongst the public is limited only to a select few. Furthermore, heavy taxes, lack of proper warehousing and direct competition with hard spirits, ensures that the wine reaches to your table at an exorbitant price to the extent that wines that you may have to shell out close to 15 dollars for a wine that you can possibly buy overseas for around a dollar.
In this bleak scenario, I am glad that Fine wines and more has taken the initiative to showcase wines as their primary product and are taking steps in the right direction to popularize the wine culture in India through competitive pricing and educative tasting sessions. I congratulate them for this effort and wish them all the best in future and hope to see more and more varietals being displayed on their shelves in the time to come.
Sales on Chilean wine
The French connection
The wine boutique