Better late than never! 
The topic in context today just again proves how proverbs are immortal and are applicable to various situations!
You all must be aware that India recently took a stance to completely ban "animal testing" during & after manufacture of any kind of products in India. It also banned import of beauty products that are tested on animals abroad and then being sold in the Indian market! This was widely welcomed by the animal loving and vegan community.
Animal testing is banned? Awesome! But are we still safe from harmful or hazardous chemicals in our beauty products?
We all know there are a lot of harmful chemicals like formaldehyde, parabens, SLS/SLES, hydroquinone, etc. in the products we use day-to-day that can cause a range of skincare & health issues, including cancer too! But since there is no clear law, directive or regulation on the addition of such ingredients, product manufacturers continue to add these in the products citing there is no concrete evidence yet on whether these chemicals are harmful after all!
And then there are other brands that do not list the entire list of ingredients used and only mention the key ingredients added, leaving you to guess the rest!
The Indian Government has set out now to bring awareness on this sensitive & sensational topic as well....
Take a look at this ad placed in The Times of India recently by the Indian Ministry of Consumer Affairs -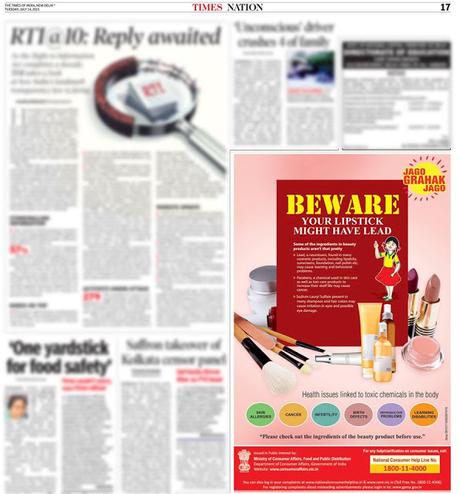 I would love to see the government to go ahead and list all these harmful chemicals in their website and take a step further to ban them as well in the near future.
I would also want them to make it mandatory that all beauty product manufacturers list the complete set of ingredients with amount/percentage used.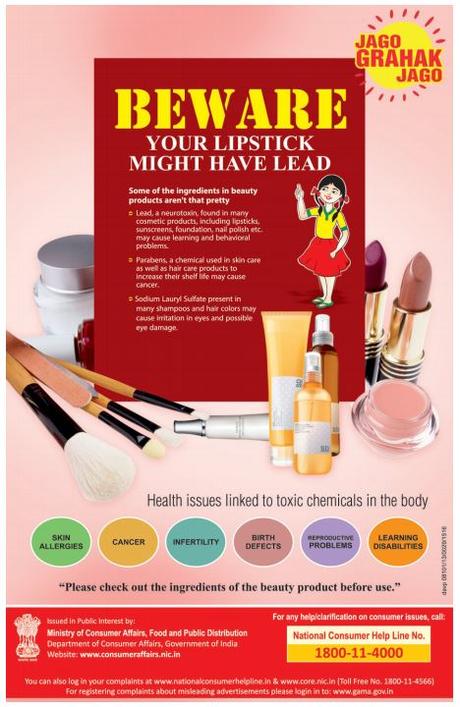 There are a lot of brands that are devoid of these harmful chemicals, a number of them "made in India"!
We should be aware and look out for such brands and products next time we set out for some beauty shopping! I shall soon do a post on a list of brands that are natural and do not use harmful chemicals!
Until then, Jaago Grahak Jaago!
Not an affiliated post.