Summary:
The Woman in the Fifth begins well and makes for a fascinating mystery but it loses itself in the final third.
More DetailsAbout The Woman in the Fifth (2011)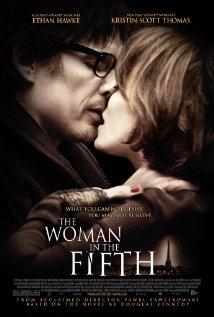 A writer stranded in Paris falls into a strange relationship with a mysterious woman in this drama from writer and director Pawel Pawlikowski. Tom Ricks (Ethan Hawke) is an American novelist who has been wrestling with writers' block since the publication of his first book. Tom is married to Nathalie (Delphine Chuillot) but their relationship has taken a turn for the worse, and after she goes home to France with their daughter Chloe (Julie Papillon) in tow, Tom flies there in hopes of reconciling with her. However, Tom is robbed shortly after arriving, and is stuck with no money and nowhere to go. He is befriended by Sezer (Samir Guesmi), who gives him a job as a night watchman and a room in a cheap hotel, but for all his generosity, Tom isn't sure he trusts his benefactor. He then meets Margit (Kristin Scott Thomas), a beautiful woman with a literary bent, and ends up spending the night with her. But what begins as a passing fling takes on a more sinister cast as Margit sends Tom through a series of increasingly bizarre experiences in the interest of reawakening his muse.
Starring: Ethan Hawke, Kristin Scott Thomas, Joanna Kulig, Samir Guesmi, Delphine Chuillot
Directed by: Pawel Pawlikowski
Runtime: 85 minutes
Studio: New Video Group
Review:  The Woman in the Fifth 
Based on the novel by Douglas Kennedy, The Woman in the Fifth tells the story of writer Tom Ricks (Ethan Hawke) who heads for Paris to see his daughter and ex-wife who suggests a violent past given that she has a restraining order against her ex-husband. After his bags are stolen, Tom finds a room at a run down cafe owned by Sezer (Samir Guesmi) and his wife Ania (Joanna Kulig). Tom has to leave his passport with Sezer in exchange for a room and is promised he will have it back once he earns the money to cover his bill. Tom ends up working for Sezer while becoming closer to both Ania and a woman he meets at a literary gathering, Margit (Kristin Scott Thomas.)
Tom's job for Sezer involves being locked in a room and watching a screen, buzzing in anyone that asks to see a particular individual. Tom asks no questions. He is able to write while doing this work and earns a reasonable sum even though he suspects nefarious activities around him. Tom begins a relationship with Margit after meeting her at a party though she stipulates she can only see him at a certain time a couple of occasions each week. Hers is a dark past, her husband having been a writer but now passed away. Tom is smitten but he also finds Ania is drawn to him as well and she proves hard to resist despite her husband Sezer being close by. When Tom's neighbour, who never flushes the toilet, is found dead in the toilet with a brush in his mouth, the police suspect Tom for the murder but he tells them of his alibi in the form of Margit. When the police go to her apartment they make a shocking discovery.
Falling short of 90 minutes this film is crying out to be longer. It is an intriguing mystery in the early stages but the concluding segments make things very complicated. The sudden revelations thrown in are undeniably surprising but what should have been a clever plot twist feels completely underdeveloped. The characters never feel fleshed out enough to truly shock us and the film begins with questions and ends with so many more. I understand the book is supposed to ambiguous in the final pages but something is painfully lacking here.
The Woman in the Fifth begins well and makes for a fascinating mystery but it loses itself in the final third. The lack of character development and the sudden twists and turns thrown in seem wrong and by the end many people will be left scratching their heads.
Verdict: 3/5
(Film source: reviewer's own copy)

About the Author:
I was born in Barnsley, South Yorkshire, England and have always been a bookworm and enjoyed creative writing at school. In 1999 I created the Elencheran Chronicles and have been writing ever since. My first novel, Fezariu's Epiphany, was published in May 2011. When not writing I'm a lover of films, games, books and blogging. I now live in Huddersfield, West Yorkshire, with my wife, Donna, and our six cats - Kain, Razz, Buggles, Charlie, Bilbo and Frodo.