About The Girl Who Played With Fire (2009)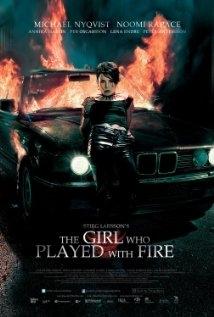 Hot on the heels of the 'Girl with the Dragon Tattoo' comes the sequel, 'The Girl who played with Fire'.
The new film sees Lisbeth Salander (Noomi Rapace) and crusading journalist Mikael Blomkvist (Michael Nyqvist) once again caught up in a brutal murder investigation. Having served his prison sentence, Blomkvist returns to Millennium intent on exposing a billion dollar sex trafficking ring.
When two of his researchers are murdered, Salander is framed for the murders and emerges as the police's chief suspect.
Unconvinced, Blomkvist attempts to track her down and find out the truth, but secretive hacker Salander goes on the run and soon stumbles upon secrets of her own past.
Starring: Michael Nyqvist, Noomi Rapace, Lena Endre, Sofia Ledarp, Peter Andersson
Directed by: Daniel Alfredson
Runtime: 129 minutes
Studio: Music Box Films Home Entertainment
Amazon US
Amazon UK
IMDB
Review: The Girl Who Played With Fire (2009)
I've still to read Stieg Larsson's Millennium trilogy but saw The Girl With The Dragon Tattoo some months back which was superb. Naturally, I couldn't wait to see the other two films and finally got my heads on the second installment – The Girl Who Played With Fire which would surely be excellent if it retained the essence of its predecessor.
The film picks up some time after the first with Lisbeth Salander (Noomi Rapace) returning to Sweden and reuniting with Miriam (Yasmine Garbi) who is given Lisbeth's old apartment for free on condition that Miriam will forward her mail. Meanwhile, Mikael Blomkvist (Michael Nyqvist) is continuing work for Millennium magazine and has taken on a new journalist Dag Svensson (Hans Christian Thulin) who is working with his girlfriend Mia Bergman (Jennie Silfverhjelm) on a report to expose prostitution and sex trafficking in Sweden. Blomkvist is happy to help but things become serious when he finds Dag and Mia murdered. The gun that killed them is traced to Lisbeth's abusive guardian Nils Bjurman (Peter Andersson) but when he is also found murdered it is Lisbeth that becomes the murder suspect. While Blomkvist follows leads left by Lisbeth, she is on a mission of her own that will lead her towards a surprising reunion.
The Girl Who Played With Fire sees a welcome return for Lisbeth and Blomkvist. Sadly, in this sequel they work together only online, maintaining the faintest of contact as Lisbeth eludes the authorities following the three murders that take place early in the film. Lisbeth pleads her innocence to Blomkvist and he is more than happy to follow her suggestion to go in search of a mysterious individual known as Zala. An even more fearsome adversary stalks the shadows throughout the film – Niedermann (Micke Spreitz). This tall, blonde-haired killing machine barely utters a word but when he appears there is always trouble. An added complication is a condition he is afflicted with that renders him incapable of feeling pain! Is this the man responsible for the killings? That I can't say, but what isn't without doubt is he is dangerous and has Libseth in his sights.
As good a character as Blomkvist is, this film is at its best when we're in the company of Lisbeth. One of her earliest actions is to visit her guardian Bjurman after hacking into his computer and discovering he is trying to arrange removal of the tattoo Lisbeth gave him in the first film, revealing him as a misogynistic rapist. Watching Bjurman squirm once again when faced with Lisbeth is a pure delight but when he is suddenly found dead things become very precarious for our heroine. We're given more of an insight into her past and the film's title becomes ever clearer as we approach the final reels. I'll warn you now that
The Girl Who Played With Fire
ends on a bit of a cliff hanger so be sure to have the third film within easy reach otherwise it's a frustrating wait.
The Girl Who Played With Fire is undoubtedly good but in comparison to The Girl With The Dragon Tattoo it falls a bit short. The sex trafficking plotline that engages us early on soon dissipates and as interesting as the respective paths of Lisbeth and Blomkvist are, they can't match up to the murder mystery of the first film, a story I found utterly gripping from start to finish. The good news is our two leads are on fine form once more. Nyqvist is great as Blomkvist, the journalist that will risk everything to get a good story, but it is Rapace as Lisbeth that is the most striking presence throughout the film. The impending American remakes seem even more insulting given how good the performances are in these films from our two leads.
The Girl Who Played With Fire doesn't dazzle as much as its predecessor but it's still a tense and exciting thriller, aided greatly by the two leads. That cliff hanger at the end is a bit frustrating but certainly hints at exciting things to come in the final installment – The Girl That Kicked The Hornet's Nest. I intend to have a review of that one for you very soon so watch this space.
Verdict: 4/5
(Film source: reviewer's own copy)
Film Review: The Girl Who Played With Fire | Thank you for reading Tweedle Dee and Tweedle Dave