About The Diving Bell and the Butterfly (2007)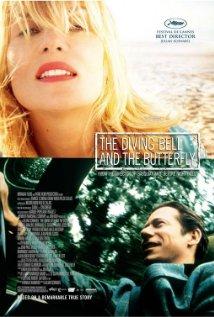 Director Julian Schnabel's acclaimed film about the remarkable life of Jean-Dominique Bauby. Based on the best-selling memoir of the same name, the film tells the story of Bauby (Mathieu Amalric), editor of Elle Paris, who, after a stroke at the age of 45, was left paralysed and unable to speak or move a muscle. Trapped in what he saw as a 'diving bell', a prison from which he was unable to escape, Bauby's only lifeline became the temporary release, or 'butterfly', of his memories and imagination. With his physical movements so restricted, Bauby's only way of communicating with the outside world lay in the blinking of his eye, a tool he developed to such an extent that he was able to develop a code to represent letters of the alphabet, enabling him to, in turn, complete his memoirs.
Starring: Mathieu Amalric, Emmanuelle Seigner
Directed by: Julian Schnabel
Runtime: 113 minutes
Studio: Echo Bridge Home Entertainment
Review: The Diving Bell and the Butterfly 
There have been many remarkable writers in history. I remember reading something about Kerouac writing On The Road in a week but then we have ELLE Magazine editor Jean-Dominique Bauby who managed to write a novel following a stroke which left him paralysed save the use of one eye! The Diving Bell and the Butterfly, which takes its name from Bauby's book, recreates his life following that stroke and the path that led to him writing an acclaimed novel.
Bauby suffered a stroke in 1995 when aged 42 and as a result he suffered with "locked-in syndrome," the ability to still think and be aware but paralysis preventing the ability to express anything through verbal communication. Bauby wakes after his stroke to hear doctors surrounding him and discussing how best to treat him. He begins with the use of both eyes but the right one wasn't working properly and consequently it was sewn close to avoid drying out and possible infection. Bauby was left with the use of just his left eye and remarkably he was able to communicate with people by blinking his one eye. The letters of the alphabet are read to him and he blinks whenever the appropriate letter is reached, each turn painstakingly written down so Bauby can communicate. The film deals with the aftermath of Bauby's stroke initially, but then changes between the present and past as Bauby decides to write a book about his life and condition and we see flashbacks of the handsome journalist in his prime amidst a relationship with the mother of his children and in the arms of a mistress.
The film begins from the first person perspective of Bauby as he first opens his eyes and finds himself in hospital. We hear his thoughts expressed but, of course, no can hear him. A speech therapist is called in to help Bauby express his thoughts and the film soon changes so we move out of Bauby's mind and into the outside world where we can see him properly for ourselves. It's an intriguing opening designed to help us feel and understand what it must be like for people who have been struck down by "locked-in syndrome." Bauby's girlfriend is by his side from the start though he doesn't wish to have his children see him the way he is. It seems a good relationship but as the film progresses we learn a lot about Bauby who is an editor for Elle Magazine and prior to his stroke had been contracted to rewrite The Count of Monte Cristobut with a female protagonist. After a self-defined period of wallowing, Bauby decides to get on with life and write a book about his experience.
During the lengthy writing process we bear witness to Bauby's memories, his poignant relationship with his father, a fractious affair with another woman and there are even some fantasies thrown in as his mind and imagination remain very active. The title of the film and indeed the book are beautifully conveyed here. Bauby provides the image of a man in a deep-sea diving suit with a brass helmet hanging on the end a wire in the water, completely immobile and helpless, and this becomes the "Diving Bell" of the title. The "Butterfly" refers to the spirit and mind of Bauby that is alive and well and manages to overcome his prison and express himself through words. It was a long process for Bauby to write his book but the film is never monotonous in its depiction of Bauby's journey to publication.
The Diving Bell and the Butterfly was fascinating throughout and you have to have nothing but admiration for Bauby's achievement. This is not to say he was a good man. In one of the most uncomfortable moments you'll ever see in film history, a telephone call comes to Bauby's room from his mistress with only his girlfriend present to relay his response. After asking her to leave the room for a minute, Bauby hears declarations of love from his mistress before having the mother of his children write his response. Bauby's message is an equal declaration of love for his mistress and the promise he will wait for her even though she has said she can't see him in his current condition. The film concludes with the depiction of Bauby's stroke and the moving moment he learns that the publication of his book has been met with great success and acclaim. Sadly, Bauby died just ten days after his book's release from pneumonia and has planned to write another.
The Diving Bell and the Butterfly is an absorbing depiction of the life of Jean-Dominique Bauby. While his achievement is without question and his plight very sad, the film never tries to portray Bauby as a hero and saint. His flaws are all revealed and this makes for a more realistic film. Very moving in places, this is an excellent drama that really makes you feel like you're living in Bauby's powerful mind that managed to overcome the paralysis of his body. Highly recommended.
Verdict: 5/5
(Film source: reviewer's own copy)
Film Review: The Diving Bell and the Butterfly | Thank you for reading Tweedle Dee and Tweedle Dave