Seeking a Friend for the End of the World (2012)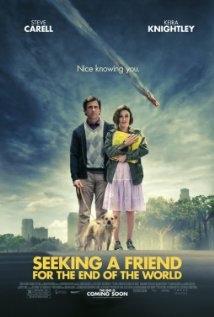 There are 21 days left until the end of the world. Meek salesman Dodge (Steve Carell – The 40 Year Old Virgin) has been suddenly deserted by his wife and now has no idea how to spend his last remaining days. When a riot breaks out around his building, Dodge escapes in the car of his extraverted neighbor Penny (Keira Knightley – Pirates of the Caribbean). Seizing the moment, they embark on a hilarious road trip to reunite with their loved ones – Dodge with his long lost high school sweetheart and Penny with her family. On the road together, the unlikely traveling companions' respective personal journeys accelerate, and their outlooks – if not the world's – brighten.
Starring: Steve Carell, Keira Knightley, Adam Brody
Directed by: Lorene Scafaria
Runtime: 101 minutes
Studio: Universal Studios
Review:  Seeking a Friend for the End of the World
What would you do if you had 3 weeks left to live? That is the problem facing the world in Lorene Scafaria's Seeking a Friend for the End of the World. Dodge (Steve Carell) listens to the news in his car at the outset that efforts to stop an asteroid hitting the earth have failed and that everyone is doomed. Dodge's wife immediately runs away and leaves her husband behind. He continues life as normal to begin with, going to work but soon thinks of a former girlfriend, Olivia, who he still regards as the love of his life. Dodge ends up in the company of his neighbor Penny (Keira Knightley) who has a letter from Olivia she has failed to pass on. Dodge decides to set out to find Olivia and Penny agrees to let him use her car if he will help her get to her family in England. Penny had hoped to take a plane to find her family but with the world ending all flights have now been grounded. Dodge and Penny begin a road trip, meeting some fascinating characters along the way and striking up an unlikely friendship.
How people respond to the end of the world varies. Some carry on with life as normal, while others overindulge with alcohol, drugs and sex, the barriers are down and everyone seems to want to live fast. Dodge and Penny, who have been neighbours for a long time, but never really interacted begin to grow closer as their journey continues. They are accompanied by a dog that Dodge has inadvertently taken charge of after passing out in a park after one too many drinks and Penny has brought along her favorite LPs, the only keepsakes from home. Both have lived unfulfilling lives with their respective relationships back home giving them more sorrow than happiness. The question is can Dodge get to Olivia in time and rekindle an old romance and will Penny make it to her family?
I've been looking forward to this one though did have reservations, especially with Knightley taking a starring one. Though not a bad actress, I haven't seen many films where I would laud her acting. In this case I felt Knightley and Carrell made a good double act. Carrell gives a quiet and withdrawn side to Dodge, a completely lost soul, while Knightley's Penny is quirky and fun though tainted by sorrow at the same time. Other notable appearances include William Peterson as a trucker who has hired a hit man to kill him and Martin Sheen pops up at the end as well. I'd heard mixed reviews about the film with some criticism of the ending. I found myself disagreeing to be honest. Carrell and Knightley carry the film well, veering from some fun incidents and exchanges to a more serious turn as the end of the world looms. The conclusion wasn't what I was expecting and although somewhat abrupt it is also entirely apt.
Seeking a Friend for the End of the World is a thought-provoking look at how people may spend their final weeks knowing that the end is inevitable. Such a scenario is not out of the question of course and it was interesting watching how different people reacted. Carrell and Knightley made a good team for me, their characters being complete opposites but in the long hours spent alone on the road they somehow find a connection with each other as the clock runs down and the deadly asteroid homes in on the earth. Well worth considering.
Verdict: 4/5