About Night of the Living Dead (1968)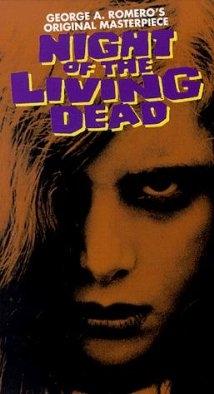 George A. Romero's low-budget horror classic. One quiet morning, Barbara (Judith O'Dea) and Johnny's (Russell Streiner) visit to their father's grave is interrupted when Johnny is killed by a flesh-eating stranger. Barbara escapes to a nearby farmhouse, meets up with a few other desperate individuals, and prepares to do battle with the zombies who gather outside.
Starring: Duane Jones, Judith O'Dea, Karl Hardman, Marilyn Eastman, Keith Wayne
Directed by: George A. Romero
Runtime: 96 minutes
Studio: Gaiam – Entertainment
Amazon US
Amazon UK
IMDB
Review: Night of the Living Dead
George A. Romero's groundbreaking horror from the late Sixties begins with Barbra (Judith O'Dea) and Johnny (Russell Streiner) driving to Pennsylvania to visit their father's grave. They haven't been there long before Barbra is attacked by one of the locals. Johnny tries to help but ends up being killed in the process, leaving Barbra to flee to a farmhouse where she takes refuge. She is not alone for long though. Ben (Duane Jones) also comes to the farmhouse in search of sanctuary and the pair soon uncover in the cellar a couple – Harry (Karl Hardman) and Helen (Marilyn Eastman), as well as their daughter, Karen (Kyra Schon). There is also a teenage couple, Tom (Keith Wayne) and Judy (Judith Ridley). The group of seven are forced to barricade themselves inside the farmhouse to escape a horde of zombies that descend on their location and prevent them from escaping.
The local zombie horde are possibly the result of some radioactive contamination but the scientists are not certain of the origin. What isn't in doubt is that the virus is spreading throughout the east coast of America at a frightening rate. The zombies are eating anyone that gets in their way and those that are bitten are also joining the army of the undead. This poses something of a problem for the group hiding in the farmhouse as Harry and Helen's daughter, Karen, is ill in the cellar having been bitten by one of the zombies! Ben leads the defence of the farmhouse but as more zombies become visible outside it becomes clear that they can't stay there forever. Someone will have to head outside, brave the zombie horde, and find the means for the group to make a getaway.
Considered by some to be the first zombie film,
Night of the Living Dead
deserves many plaudits for its influence alone. Some elements are surprisingly graphic for a film as old as this, with images of the zombies happily feasting on flesh still able to turn the odd stomach. Romero filmed this in black and white, presumably to minimise the impact of the images, and this doesn't hinder the overall experience. Many of the zombies are clearly just people moving slowly with no groundbreaking make-up effects in sight but it is easy to overlook those aspects given the budget limitations and that Romero would have been very much finding his feet with this genre. A decent cast are well led by Duane Jones as the group's resourceful leader and there are suitably fierce differences of opinion within the farmhouse that threaten to destroy any equilibrium before the zombies have even broken down the doors.
Night of the Living Dead may be showing its age but it remains an impressive effort from Romero and its significance for the zombie genre is without question. For a film this old, some elements remain unnerving and there is some gore in there that not even black and white can minimise greatly. Perhaps one of the film's great strengths comes with that shocking conclusion as normality is seemingly restored on the east coast of the U.S. but only when the group at the farmhouse have paid a heavy price.
Verdict: 4/5
(Film source: reviewer's own copy)

About the Author:
I was born in Barnsley, South Yorkshire, England and have always been a bookworm and enjoyed creative writing at school. In 1999 I created the Elencheran Chronicles and have been writing ever since. My first novel, Fezariu's Epiphany, was published in May 2011. When not writing I'm a lover of films, games, books and blogging. I now live in Huddersfield, West Yorkshire, with my wife, Donna, and our six cats - Kain, Razz, Buggles, Charlie, Bilbo and Frodo.
David M. Brown – who has written 824 posts on Tweedle Dee and Tweedle Dave.
---