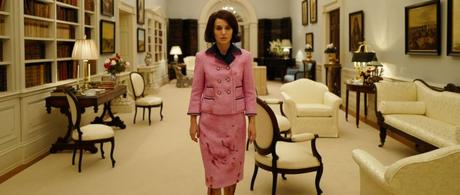 On film and TV, we've seen President John F. Kennedy's assassination from just about every point of view possible, from that of conspiracy theorist attorney Jim Garrison ( JFK) to an aging secret service agent ( In the Line of Fire) to an ordinary hairdresser ( Love Field) to the staff of the hospital where Kennedy was taken ( Parkland) and even to time-travelers (11.22.63, Quantum Leap). Lost across almost all of these depictions, apart from a little-remembered 1991 NBC mini-series (A Woman Named Jakie), has been any consideration for what this must have been like for the woman sitting next to the President when a chunk of his skull was blown off by a bullet.
Enter director Pablo Larrain's Jackie, a non-traditional depiction of a woman in extreme distress, glimpsing as we do through an overly avant-garde lens the life of Jackie Kennedy in the week after the assassination. Framed through a free-wheeling interview she grants to an incessantly sniping journalist (Billy Crudup), we watch as Jackie (Natalie Portman) wanders through her hours and days in a shell-shocked daze, more resembling Dickens' Miss Havisham than the First Lady in the way she flatly refuses to change out of her blood-stained pink dress (at least for that first day). Matters of national security and governmental procedure gradually combine to conspire against her grieving process and continued insistence upon cementing her husband's legacy by granting him a funeral procession on par with Lincoln's, yet she eventually finds strength in tragedy and stands up to those men in power who seem to be content with killing her with false kindness.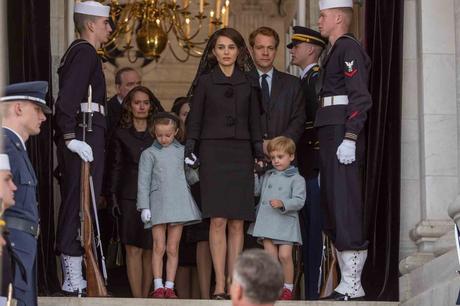 Whereas Hidden Figures (another prominent awards contender this year) shines a spotlight on the important contributions three unknown black women made to the space race Jackie highlights the mostly unknown contributions of a very well-known white woman to one of the most memorable moments in US history, i.e., President Kennedy's funeral march in Washington. However, Hidden Figures comes to its story with mostly typical Hollywood movie sensibilities while Jackie 's outsider footprint is all too evident.
Noah Oppenheim's script defies linear storytelling to its own detriment. Larrain edits certain conversations as if he has no patience for watching actors walk, such as, hey, wasn't Crudup standing up a second ago but now he's sitting down in a different room carrying on the conversation as if nothing has changed? Furthermore, his camera (wielded by cinematographer Stephane Fontaine, pictured below) too often attempts to create intimacy through extreme close-up (sometimes recalling Les Miserables' oft-criticized close-ups). Not surprisingly, Jackie ends with an actor staring straight into the camera as an emotional exclamation point on the end of the movie's sentence, likely striking some as a fitting end to an engrossing portrait of an emotionally devastated woman and others as a deeply pretentious close to an overly pretentious movie.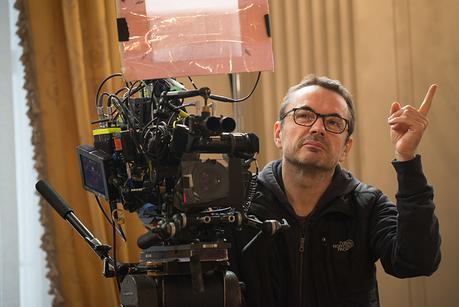 I side more with the latter than the former. The intent is clearly to visualize Jackie's psychological descent, emphasize her extreme isolation in The White House and push in on her whispered conversations in room corners with those she trusts as post-assassination paranoia sets in. However, this doesn't need to be told through a tired framing device and the type of camerawork and editing which draws more attention to itself than is necessary for the story.
That being said, there are large stretches of Jackie which are truly quite affecting. For example, it's hard to look away from Portman's Jackie during her late-night, drunken fashion show in which she tries on outfit after outfit and traipses around the mostly empty White House as if everything's normal, the Camelot soundtrack blaring away in the background. Similarly, the whole film might be worth the price of admission just to see the late John Hurt deliver a brilliant swan song performance as a wise, old priest offering counsel on morality and mortality to the grieving, possibly suicidal First Lady.
Oppenheim's script is certainly flawed in some areas, containing as it does not one but two framing devices (the conversation with Hurt turn out to be taking place after the interview with Crudup). However, its efforts to juxtapose the Stepford Wifes-esque version of Jackie the nation knew from a 1962 CBS Special with the incredibly intelligent, passionate woman running roughshod over Crudup's newspaper interviewer in the wake of the assassination has its moments. The Jackie we knew was being coached when to smile and sure wore pretty dresses, but the true Jackie, the one she became after the assassination, would not be told what to do.
This all adds up to something we are all too familiar with in awards season: the flawed, but adequate movie which is only really notable for its central performance. Upon premiering at the Venice Film Festival last year, Jackie was thought to have all but guaranteed Portman her second Oscar (first being for Black Swan). After all, there are very few things the Academy loves more than awarding actors for playing famous people, except, of course, for awarding actors for playing actors. As such, Emma Stone's La La Land has been crashing Portman's Jackie coronation, especially as the latter has been reduced by the various leading awards bodies as having little to celebrate beyond its solid central performance (except for maybe its costume design and musical score).
Drawing conclusions based upon awards show batting averages, so to speak, is a fool's game, but in this case I'm in agreement with how this has played out thus far.
THE BOTTOM LINE
There are two movies here. One is a boringly standard "a week in my life" biopic with snippy back and forth between a guy we don't and shouldn't care about and Jackie. The other is a portrait of a woman in the midst of a potential psychological breakdown. In the latter movie, Jackie Kennedy is forced to deal with her private grief in a brutally public way, struggling to remain standing while the ground beneath her feet keeps disappearing. That's the more interesting movie, even if some of Larrain's choices as director undercut rather than enhance. Combine those two parts, though, and you get something which frustrates more than it delights.
THE VOICE
Did Portman truly nail Jackie's distinctive speaking voice? Or is it a distractingly poor imitation? Or is it just so jarring because many of us never even knew what the real Jackie sounded like?
ROTTENTOMATOES CONSENSUS