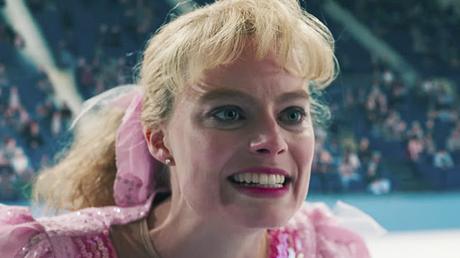 "I mean, come on! What kind of friggin' person bashes in their friend's knee? Who would do that to a friend?"

 Starring: Margot Robbie, Sebastian Stan, Allison Janney
Written By: Steven Rogers
Directed By: Craig Gillespie
Release Date: December 10, 2017
America has had a long history of fascination with scandal and the wrongdoings of others, (see: the increasing popularity of true-crime narratives/documentaries like American Crime Story, Becoming JonBenet, Making a Murder) but behind every headline, there's a person with a story to tell; one that we're more than happy to devour up mindlessly without a second thought otherwise until we're forced to make a choice about that character based upon the evidence we're given. 
The protagonist in this comedic reimagining of the great American ice skating scandal is none other than Tonya Harding herself, played impeccably by Margot Robbie, who shines at depicting both Harding's hardened resilience and charming determination simultaneously thought out the disjointed recollection of her rise to fame. Tonya Harding was a spectacle of a woman, born looking for love and acceptance in all the wrong ways. Physically beaten into her at an early age by her mother, LaVona (Allison Janney) Tonya was a girl bred to win. Heckled by men her mother paid and forced to skate covered in her own urine, LaVona did everything she could to make her daughter a star, even at the cost of Tonya's mental health. She acknowledges this very fact as she relays what she believes to be the psychology of her abuse to us as it occurs at the hand of her then-husband, Jeff Gillooly (Sebastian Stan). However, Tonya not only interrupts the scenes of her abuse by breaking the fourth way directly in the scene, but she also finds a way to interject her bitter commentary even further by drawing attention back to herself and cutting the scene back to her being interviewed years later. While this makes us question the legitimacy of her experiences as we, too, are being jolted back-and-forth with contradictory claims, the point of it all is to allow the audience a chance to make a choice on who to believe. "I never hit her," Jeff says, "But boy did she hit me." The scene then cuts to Jeff being shot at by Tonya, who then turns to the camera and denies it ever happening.


So, where is this elusive "truth"? Tonya likes to believe that it doesn't truly exist. "It's bullshit," she states, "Everyone has their own truth and life just does whatever the fuck it wants." This is further reiterated by the inconsistent shuffling of both the camera and the commentary of the film as each character chimes in their take on the story. For example, after Tonya's relays her experience in landing the triple axel and the eventual success that came with it, the screen splits to reveal both her and Jeff being interviewed separately on the matter. Though they both state simulations that it changed everything, it's obvious that these statements evoke very different connotations and it's up to us to make a choice.

Tonya's life off the rink dominates the film just as much her skating does, but they do not drive the film singularly. Her abusive marriage, her abusive childhood, and the insecurities that she has about her background are what all push her to skate, but unbeknownst to her, they're also what holds her back. Though she wishes her scores just reflected her skating and nothing more, the inkling that we get of the industry's bias against her self-proclaimed redneck personality due to what they call her lack of "presentation" prompts the idea that she never even had a chance. However, the film shifts from this dynamic far too early on for the sake of reminding the audience why they're there in the first place – to witness the assault of Nancy Kerrigan.
Skating is not only the film's driving force but it's ultimately an unconscious backdrop to Tonya's transformation into the slightly deranged woman that the audience knows she will become due to prior news coverage. Thankfully, this time around, we're given an explanation for it. To Tonya, a win in figure skating also wins her hearts of everyone watching, which ultimately results in her achieving the love she was denied at home as a child and as an adult. Though this love only lasted a while, it was love that the millions of Americans watching her willing to dish out at a moment's notice to whoever was in the spotlight that drove her to do what she did. And ultimately, it's the reason for Tonya's claim to fame after being villainized for the attack years later, which she throws rightfully back in our faces towards the end of the film."It was like being abused all over again, only this time it was by you," she states. "All of you. You're all my attackers, too." Meaning: her downfall just as much as our fault as it is hers all because it was up to us whether or not she was the villain and while she is capable of being excused from her actions depending on how we read the film, we can not for making them excusable in the first place.