About Farce of the Penguins (2006)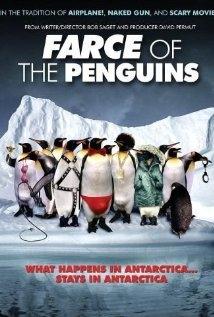 Latest penguin film exposes the raunchy side of the seemingly innocent, flightless, monochrome birds. After March of the Penguins and Happy Feet, this latest penguin-starring comedy evokes different emotions all together. Taking live nature footage of penguins in the wild and adding voice-overs by big stars, director Bob Sagett (America's Funniest Home Videos) offers a comical alternate look at the Antarctic winter. With raunchy subject matter and some colourful language, this one is plainly not aimed at the family or children's markets. If live footage of the flightless favorite doing the 'what comes naturally' with oohs and aahs provided by Samuel L. Jackson and Christina Applegate is what floats your kayak, then 'The Farce of The Penguins' is for you.
Starring: Samuel L. Jackson, Jason Alexander, Christina Applegate, James Belushi, Jason Biggs
Directed by: Bob Saget
Runtime: 80 minutes
Studio: Velocity / Thinkfilm
Amazon US
Amazon UK
IMDB
Review: Farce of the Penguins
I've yet to see March of the Penguins but I'm pretty sure it won't be as bizarre as this comedy from Bob Saget. A group of male penguins set out on a 70 mile journey to the breeding grounds where they can look forward to mating and then having to look after an egg for several months while the females make their own journey to feed. This isn't a nature programme of course. As the title says this a parody full of innuendos with the narrator being Samuel L. Jackson, surely the next best thing for a wildlife documentary after David Attenborough.
The story is divided between Carl (Bob Saget) and Jimmy (Lewis Black) on their journey and Melissa (Christina Applegate) and Vicky (Mo'Nique) who are waiting for the males. Carl is lacking in confidence and has had some tough relationships while Jimmy is more assertive. At the breeding grounds Melissa and Vicky discuss potential mates and it seems inevitable that Carl and Melissa will get together or will they? We also get an insight into the thoughts of various other penguins and even a philosophical snowy owl (Jonathan Katz) who sounds a bit like Marlon Brando in The Godfather and has some useful advice for Carl.
This is an amusing if somewhat limited comedy. The penguins seem to have a lot more to worry about than just eating and sex, though those topics do pop up, the latter in pretty much every scene. There are various notable actors and actresses that lend their voices to the penguins and it is fun trying to pick some of them out. Samuel L. Jackson's narration is the undoubted high point. Though many of the gags are funny you will be left with the feeling that it could have been funnier.
Farce of the Penguins is a silly, amusing but in the end unspectacular spoof. Some good vocal talent is worth your time but given the limited storyline the jokes are around the same small circle of topics. Worth watching for Jackson's narration though I wouldn't recommend him as a replacement for Mr Attenborough just yet.
Verdict: 3/5
(Film source: reviewer's own copy)

About the Author:
I was born in Barnsley, South Yorkshire, England and have always been a bookworm and enjoyed creative writing at school. In 1999 I created the Elencheran Chronicles and have been writing ever since. My first novel, Fezariu's Epiphany, was published in May 2011. When not writing I'm a lover of films, games, books and blogging. I now live in Huddersfield, West Yorkshire, with my wife, Donna, and our six cats - Kain, Razz, Buggles, Charlie, Bilbo and Frodo.
David M. Brown – who has written 816 posts on Tweedle Dee and Tweedle Dave.
---