About Book of Shadows: Blair Witch 2 (2000)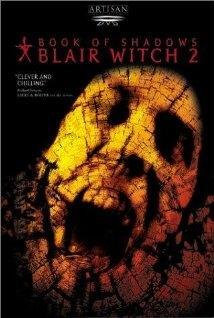 Jeffrey Donovan, Erica Leerhsen. The eagerly awaited sequel to The Blair Witch Project ! A group of students fascinated with the curse of the Blair Witch go camping in those storied Maryland woods. But after they awaken with no memory of the previous night, an evil force begins to overtake them.
Starring: Jeffrey Donovan, Stephen Barker Turner, Erica Leerhsen, Kim Director, Tristine Skyler
Directed by: Joe Berlinger
Runtime: 90 minutes
Studio: Lions Gate
Amazon US
Amazon UK
IMDB
Review: Book of Shadows: Blair Witch 2
The sequel to The Blair Witch Project follows the popularity of the first film as fans descend on Burkittsville, Maryland to search for the Blair Witch. This does not go down well with the locals as you can imagine. Our focus is on one local in particular, Jeff (Jeffrey Donovan), who acts as tour guide for Stephen (Stephen Barker Turner) and his pregnant girlfriend Tristen (Tristine Skyler). They are also joined by a wiccan, Erica (Erica Leerhsen) and a Goth who is also a psychic, Kim (Kim Director). One hell of a crew, right? Their first stop is deep in the woods at Rustin Parr's house where footage from the first film was discovered. When the group awake one morning they discover they have no knowledge of the night before and it isn't just because of the alcohol.
After Tristen suffers a miscarriage and is briefly in hospital, Jeff takes the group to his home in an abandoned factory in the middle of nowhere. Recorded footage from their time in the woods begins to shed some frightening revelations and when the group begin to have a series of strange hallucinations all hell breaks loose. The question is whether these sightings have anything to do with the legend of the Blair Witch or are they simply down to the group's imaginations? Even worse, is a member of the group not who they say they are?
I wasn't one of the fans that embraced the first 
Blair Witch 
film and I have to say the sentiment has not changed here. In many respects this is a better film than the first one. There isn't any seemingly endless wandering around the local forest but that doesn't mean this is good either. For some reason I was expecting the group to encounter the Blair Witch and for us to get a good luck at this local legend. Sadly, the encounters in the woods are brief at best and what follows may maintain the interest for a while but it's a pretty pointless experience by the time the end credits roll.
Book of Shadows: Blair Witch 2 is arguably better than the first film but that's no great achievement. The investigation into the mystery of the Blair Witch soon takes a back seat and we are left with a group of people isolated and under siege by spectral beings. There are no great surprises or shocks by the end and the only hope you will be left with is that a third film in this series is not attempted.
Verdict: 1/5
(Film source: reviewer's own copy)

About the Author:
I was born in Barnsley, South Yorkshire, England and have always been a bookworm and enjoyed creative writing at school. In 1999 I created the Elencheran Chronicles and have been writing ever since. My first novel, Fezariu's Epiphany, was published in May 2011. When not writing I'm a lover of films, games, books and blogging. I now live in Huddersfield, West Yorkshire, with my wife, Donna, and our six cats - Kain, Razz, Buggles, Charlie, Bilbo and Frodo.
David M. Brown – who has written 795 posts on Tweedle Dee and Tweedle Dave.
---