Food Fridays:
In our home, Christmas cheer has been replaced with coughing, aching and runny noses... However, we aren't going to let it slow down our NYE festivities (at least not for the meantime.) 
Considering I have a household of people who find cabbage (the symbol for money) and black-eyed peas (the symbol for good luck) to be completely distasteful, I have to work hard to mask the foods while still ensuring we get in all the opportunity for money and good luck as we can get (can you tell I'm superstitious?) 
So I'm sharing one of the best ways to make black-eyed peas acceptable on New Year's Eve with this family recipe for Texas Caviar. Best of all, there's no cooking involved, so you can't mess it up AND your kids will be sure to like it (as long as you don't tell them it's made with black-eye peas.) 
TEXAS CAVIAR
1/2 onion, chopped
1 green bell pepper, chopped
1 bunch green onions, chopped
2 jalapeno peppers, chopped
1 tablespoon minced garlic
1 pint cherry tomatoes, quartered
1 (8 ounce) bottle zesty Italian dressing
1 can black beans, drained
1 can black-eyed peas, drained
1/2 teaspoon ground coriander
1 bunch chopped fresh cilantro
2 avocadoes, peeled, pitted and diced
Directions:
In a large bowl, mix together onion, green bell pepper, green onions, jalapeno peppers, garlic, cherry tomatoes, zesty Italian dressing, black beans, black-eyed peas and coriander. Cover and chill in the refrigerator approximately 2 hours. Toss with desired amount of fresh cilantro to serve.
One of the other must-haves at NYE are a little adult cocktails! Even if you can't imagine trying to sip your "so-sophisticated martini" with two kiddos running around the house, consider taking down a few Cosmopolitan jello shots courtesy of Shannon at "Milk and Cuddles." I can attests she made these a few weeks ago and not only were they delicious and easy to devour...making it possible to have a little adult beverages without keeping them around the house with the kids! The best part was the orange zest on top.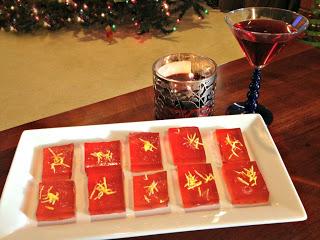 Get the recipe for Cosmo Jello Shots on MilkandCuddles.com.
Clink, Clink! Slurp, Slurp!