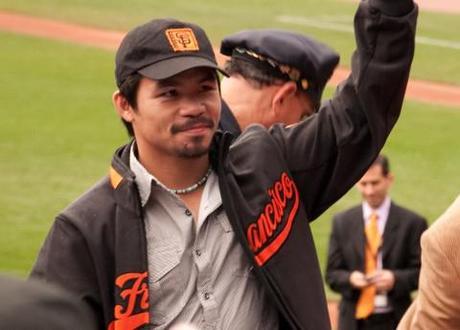 Manny Pacquiao, boxer and man of the people. Photo credit: Ben de Jesus, http://www.flickr.com/photos/bendjsf
Boxer and politician Manny Pacquiao gets to keep his WBO welterweight title after Saturday's closely watched and hotly contested match against Juan Manuel Marquez – for now, at least.
Pacquiao, 32, was awarded the majority decision in his third bout with the 38-year-old Mexican boxer, but just barely; media outlets, including The Associated Pressand The Telegraph's boxing correspondent scored the match a draw. The decision enraged the Marquez camp, which claimed it a "robbery", and his excitable fans at Las Vegas's MGM Grand arena, who hurled insults and water bottles into the ring after the decision was announced.
Their ire is perhaps understandable: The first match between the two fighters was ruled a draw and the second a split decision awarded to Pacquiao. But after a third match that again came down to controversial points, a fourth fight is likely – puttingPacquiao's $100 million fight against Floyd Mayweather, Jr. next May in jeopardy, The Mirror reported.
Boxing's credibility took a hit. Lawrence Donegan, writing at The Guardian, sniffed that both "conventional wisdom" and "boxing's credibility" took a beating at the MGM Grand on Saturday, after Pacquiao, who went long stretches in the match without landing a punch, was awarded the decision: "On balance Pacquiao won the final four or five rounds, but was that enough to make up for Marquez's good work over the first seven or eight? Hardly."
Pay attention, Mayweather. If Pacquiao and Mayweather do meet in May, Mayweather would do well to take some tips from Marquez: Despite squeezing out the win, Pacquiao seemed ill-equipped to handle the Mexican boxer's counter-punch style. "If Floyd Mayweather Jnr, an exquisite counter-puncher himself, was watching, he will have been encouraged by the spectacle. Based on this performance, he would have to be seen as the clear favourite in a showdown the boxing world has been desperate to see for over two years," reported Gareth A. Davies in The Telegraph.
Pacquiao defeated? "This was not the look of victory; it was the despair of lost mystique," judged The Los Angeles Times' Lance Pugmire, reporting from ringside. Pacquiao may have won, but his battered visage and head bowed in prayer in the corner of the ring spoke more of "defeat". Pacquiao had problems with cramping in his legs and couldn't deal with Marquez's devastating counterpunch style. "Now Pacquiao has to figure out something else complex: What to do next." Pacquiao's promoters were more than happy to promise Marquez another fight – but after one draw and two controversial wins, does Pacquiao really want to face the Mexican fighter again?
Pacquiao takes it to the bank. "Pacquiao, the only boxer to earn world titles in eight weight divisions, will earn $25 million (£15.7 million) for this fight, with a further $10 million expected from an anticipated 1.5 million pay-per-view television sales," reported The Telegraph. "Marquez earned $5 million (£3.1 million)."
Pacquiao, the man. In the Philippines, Pacquiao is much more than just a boxer: When he fights, the Philippines Army calls a truce with the various insurgents its fighting, crowds gather in the streets, crime drops. In fact, Pacquiao, a reservist in the Philippines Army, was recently promoted to the rank of lieutenant colonel on the strength of his boxing skills; he's also a congressman representing Saragani province. His likeness has appeared on postage stamps, in several boxing video games, and to promote everything from beer to Nike; a semi-professional basketball player, he's an honorary Boston Celtic; and he regularly tops media lists of influential people. But with all that going on, can he still be a champion boxer? Maybe not, some critics say: Veteran boxing analyst Ed Tolentino told ABS-CBN News, "You can't be a part-time boxer. He has to fix his priorities because in boxing, your opponent is out to kill you. You can't be a fly-by-night boxer and a congressman full-time… He has to get back the eye of the tiger."