File Under "Genius Moves": Tyrese Is Threatening To Quit The Franchise That Brings Him Lots Of Coins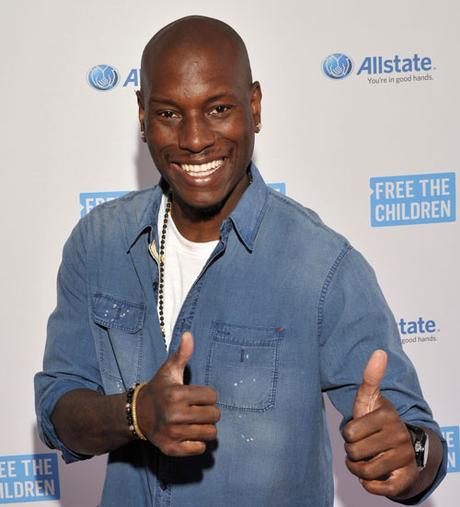 Tyrese's life is a dried diarrhea-encrusted wreck on many levels. Tyrese is currently neck deep in shit from his shit-throwing custody fight with his ex-wife Norma Gibson. Tyrese is also in a one-man (since The Rock isn't really fighting back) shit-throwing feud with The Rock over the Fast and the Furious franchise. And he's been going off about both situations on Instagram.
Tyrese is apparently going broke from defending himself against his ex-wife's accusation that he abused their 10-year-old daughter Shayla, and he also threatened to quit the Fast and the Furious franchise if The Rock stays on. So, Tyrese needs money and yet he's threatening to quit the job that brings him an easy check? Hmmm… The next time your ass is dealing with a problem, ask yourself, "What would Tyrese do?" Whatever that answer is, do the direct fucking opposite.
Tyrese currently has a restraining order against him that keeps him from going near or contacting his daughter. Tyrese got bold and winked at that restraining order by finding creative (see: stupid) ways to contact her like hiring a plane to fly a message above her school and dedicating a re-worked not-right version of "Let's Get It On" to her during a show. Those smooth moves aren't doing well for Tyrese's custody case, I guess, because yesterday, he had a meltdown in an Instagram video (which he later deleted). Tyrese lost it over not seeing his daughter and having to pay $13,000 a month in child support. I sort of feel Tyrese's pain, because I've had a very similar meltdown while talking to a Capital One rep after they hit me with a late fee.
A post shared by The Shade Room (@theshaderoom) on Nov 1, 2017 at 11:03am PDT
Many of his followers and those close to him got very concerned about that video and reached for the 5150 application. But Tyrese tells TMZ that he's not having a nervous or mental breakdown. He's just having a tough time right now. Tyrese says that he let out all of his feelings, because he's desperate to see his daughter and his bank accounts are flat-lining from the legal bills. And contrary to what Vin Diesel said, Tyrese is still mad at The Rock for stalling the 9th Fast and the Furious movie by doing a Hobbs spin-off movie. Tyrese really could use the FatF check right now.
That led to Tyrese pulling an "It's The Rock or me!" move on Instagram by dramatically threatening to quit the franchise if roided-up "clown" The Rock is in the next FatF movie.
Hello world………. hello loyal fans and loved ones from OUR fast universe…….. I'm sorry to announce that if Dewayne is in Fast9 there will no more Roman Peirce – You mess with family and my daughters survival I mess with yours……… close your eyes dude you're a "Clown"…… #CandyAssBitchMade All my real one…. Men on integrity… my real ones out here stand UP…… folks that GP to the gym and get big naturally #NoJuice #NoOJ spin off huh? Spin off these nuts selfish champ…… pause notice who's got his arms around my shoulder and who's standing alone – #OurChildrenMatter

A post shared by TYRESE (@tyrese) on Nov 1, 2017 at 9:46am PDT
For those of us who don't really watch the FatF movies, let me put this into a perspective we can understand. Tyrese telling producers that it's him or The Rock is like the actress who played Liza Morrow on Dynasty (if you're staying "Who?", that's my point) threatening to bounce out of that bitch if Joan Collins isn't fired.
Oh, Tyrese, take it from a bitch who knows. That little trick never ever works. Whenever I have a fight with a boyfriend and I dramatically tell him it's over as I slowly pack up all my stuff (while waiting for him to beg me to stay), he usually helps me pack and presses the elevator button for me. So yeah, the FatF producers are probably pushing the elevator button for Tyrese right now.
Pic: Wenn.com
Source: File Under "Genius Moves": Tyrese Is Threatening To Quit The Franchise That Brings Him Lots Of Coins
1 total views, 1 views today