Leviathan Lab, an Asian-American professional creative studio invested in advancing the careers of Asian-American artists, presents its inaugural production, Shakespeare's "Twelfth Night," at the Arclight Theater at 152 West 71st Street, Level 1 between Broadway and Columbus Avenues, Manhattan, on November 3–19 (Thursday–Saturday, 8 p.m.; Sundays, 2 p.m.; Wednesday, 11.16 at 8 p.m.).
The production will be directed by Leviathan Lab Artistic Director Nelson T. Eusebio III (Assistant Director, "All's Well That Ends Well," The Public Theater/NYSF's Shakespeare in the Park 2011) with original music by veteran Broadway actor/composer Jason Ma ("The Sly Fox," "Miss Saigon," "Shogun, The Musical"), choreography by Dax Valdes, and sets and costumes by Maiko Chii (Oenslager Fellowship for Design, Elson Award for Design). The production will feature an all Asian-American cast from the Leviathan Lab acting company.
Tina Chilip, the show's lead actress (Viola), is Filipina; Nelson Eusebio III, the show's director, is Filipino. Other Pinoys in the cast/production team include Eileen Rivera (Olivia, Director of Social Media), Kurt Uy (Orsino, Fight Choreographer) John Roque (Sir Toby Belch), Jojo Gonzales (Feste), Andrew Eisenman (Malvolio, Artistic Advisory Board), May Nazareno (Development Director, Voice & Speech Coach), Ariel Estrada (Executive Director), Dax Valdes (Assistant Director, Social Media), Ramon Vinluan (Contributing Producer), Oliver Oliveros (Public Relations) and Precious Sipin (Intern).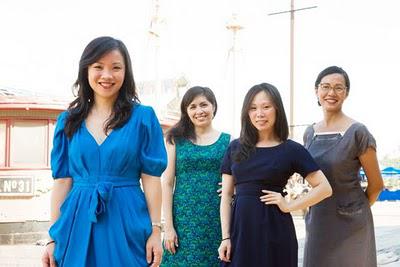 L to R: Tina Chilip (Viola), Eileen Rivera (Olivia), Ka-Ling Cheung (Maria, weeks one and three), Karen Lee (Maria, week two)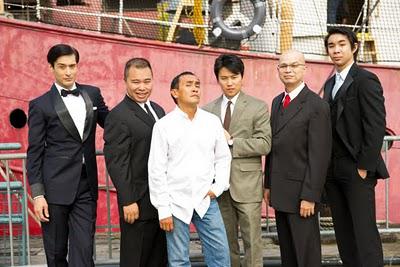 L to R: Marcus Ho (Sir Andrew), John Roque (Sir Toby), Jojo Gonzalez (Feste), Eugene Oh (Antonio), Andrew Eisenman (Malvolio), Roger Yeh (Valentine)
In "Twelfth Night," Viola, a young woman shipwrecked and stranded in the seaside city of Illyria, sets a series of events into motion that create a tangled knot of mistaken identities, bewildering desires, practical jokes, and ribald revelry that only time and fortune can untie.
Inspired by the films of auteur Wong Kar-wai, Leviathan Lab's re-imagining of Shakespeare's classic romantic comedy will be set in Hong Kong in the 1960's during the twelve days of Christmas.
"The lush sensuality and deep sense of nostalgia that permeates the Hong Kong depicted in Wong Kar-wai's films from the 1960's--'In the Mood for Love,' 'Days of Being Wild'--feels like the kind of Illyria that makes your heart swoon," says Eusebio. "That feeling of being drunk on love and romantic spirit seems perfect for the world of 'Twelfth Night,' a play very much about emotion grown to excess."
Eusebio adds, "The music of Hong Kong in the 1960's was a crazy mix of Chinese opera stars, Nat King Cole crooning in Spanish, and a lot of 1960's western pop imported by Filipino club musicians. This collage of musical styles provided Jason Ma with a feast of inspiration for Shakespeare's most musical play."
Leviathan Lab's "Twelfth Night" by William Shakespeare is an Actors' Equity approved showcase production. Tickets are $18 general admission, $15 students and seniors, with special prices for groups of 10 or more.
For reservations, please contact Oliver Oliveros at 213.344.8499 or email [email protected]