Fighting On Ice - A Sports Documentary, Directed & Produced by Mithun Bajaj and Co-produced by Chai Point.
Filmmaker Mithun Bajaj, who has been an ardent sports promoter, not just enjoys cricket but supports games across. In his opinion, Ice Hockey - a form of winter sport is something that is least spoken about. At best, it is not a known form of sporting event in the country to many.
The documentary Fighting on Ice is not an ordinary feature documentary on sports. It brings forth the true fight between passion and struggle of people. It brings for the rare appetite that many sportsmen both men and women possess for Ice Hockey which goes beyond money, fame and the closed doors of government.
It speaks volumes about the sports people and their struggle to keep not just the sport alive, but kindle the passion so that it may stay lit amongst the next generation as well. The documentary also features Indian cricketer Gautam Gambhir and India's winter sports hero Shiva Keshavan.
Without official support, sponsors, private corporate or individual funding the sport is still alive because of the genuine passion people have for this game. It is appalling that even sports companies have not come forth to sponsor the equipment or the tournament.
Mithun Bajaj, through this documentary, has brought forth the imminent need for the country to know about these fabulous sportsmen - their passion, true grit and positivity, to make the country make its mark in this exciting sporting event.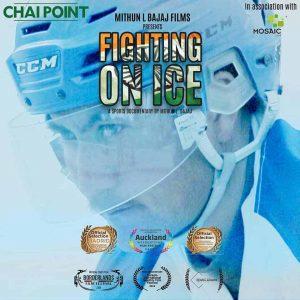 The film has made its mark in the international circuit with thumping approval from both the audience and critics alike. It won the Best Documentary at the Eurasia International monthly film festival. It has been officially selected at Auckland International film festival and Rome Independent Prisma Awards.
Filmmaker's Profile: Mithun Bajaj
Fighting on Ice is Mithun Bajaj's first independent documentary where he is the director/producer/cinematographer and aims to make a mark as a director with his content driven documentary on the Indian ice hockey team.
* Near Nazareth film festival, Israel
* Madrid Asia International Film Festival
* Rome Independent Prisma Awards
* Amsterdam international Filmmaker Festival
* Auckland international Film Festival
* Borderland Film Festival
* Eurasia international monthly film festival, Russia
Best Director at Eurasia international monthly film festival, Russia
Nominated for Best director at Madrid Asia International FIlm Festival & Amsterdam International Filmmaker Festival
Nominated for Best documentary at Madrid Asia International FIlm Festival