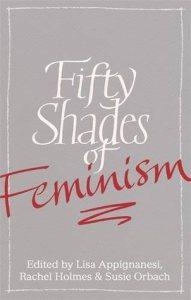 What's it all about?:
The antidote to the idea that being a woman is all about submitting to desire. There are many more shades than that and here are fifty women to explore them.
Fifty years after the publication of The Feminine Mystique, have women really exchanged purity and maternity to become desiring machines inspired only by variations of sex, shopping and masochism – all coloured a brilliant neuro-pink?
In this volume, fifty women young and old – writers, politicians, actors, scientists, mothers – reflect on the shades that inspired them and what being woman means to them today.
Contributors include: Tahmima Anam, Joan Bakewell, Bidisha, Lydia Cacho, Nina Power, Shami Chakrabarti, Lennie Goodings, Linda Grant, Natalie Haynes, Siri Hustvedt, Jude Kelly, Kathy Lette, Kate Mosse, Bee Rowlatt, Elif Shafak, Ahdaf Soueif, Shirley Thompson, Natasha Walter, Jeanette Winterson – alongside the three editors.
What did I think?:
I attended a meeting recently in London for The Fawcett Society which campaigns for equal rights for women in the UK on issues such as pay, pensions, poverty, justice and politics. The meeting featured talks by popular authors Kate Mosse and Lisa Appignanesi, both of whom were truly inspirational and we had an opportunity to buy their books afterwards over drinks and nibbles, obviously an opportunity I jumped at! Fifty Shades of Feminism appealed to me immediately as it features short essays from fifty women all from different cultures, religions and professions on what feminism means to them personally.
Generally speaking, the book was fantastic although certain essays spoke more to me than others, but they were all interesting and it was fascinating to read all their points of view. It was only after I finished the book that I realised that feminism and equality for women is still such a real issue today obviously enough for some developing countries where religion and culture may be an issue, but certainly still today in Western society. Equality is STILL a huge problem in certain industries, some of which may be a surprise like in the literary world, but others like law and politics perhaps less so and where women are sorely under-represented.
Unfortunately, there seems to be a bit of a myth or stereotype about feminism in that we are all butch, angry man-haters. Yes, there will always be extremes of the scale but this book proves the stereotype completely wrong. There's something for everyone in this book and it ranges in emotion from melancholy and serious to very humorous. Jeanette Winterson writes a very funny piece on the porn industry for example which had me chuckling and shaking my head in disbelief at the same time. Jane Czyzselska, the editor of Diva magazine wrote a wonderful piece about the stigma she receives for being a heterosexual-looking lesbian which proves that prejudice is rife even within the gay community. I was a bit shocked by this particular article and perhaps a bit naïve as I did not think that this sector (who are often subject to gross mistreatment themselves) would be so discriminatory.
Other favourites included Sandi Toksvig's essay which explored the reasons why women continue to wear high heels that cause them pain and rip their feet to shreds and the final entry written by Alice Stride who won a competition to write a short piece for the book. She wrote a short rant about how she convinced her younger sister not to shave off all of her pubic hair just to make it more appealing to men. It was hilarious, poignant and very, very honest and I challenge anyone to read it on public transport while maintaining a straight face. I failed miserably of course!
This is a book I will definitely be keeping and it's the sort of book that you can just dip in and out of at your own leisure. It was only after I had finished it that I realised that equality for women is still a contentious issue and we need to carry on fighting for the female sex not only here, but round the world so that we are no longer seen as "the second" and inferior sex. My only slight niggle is that I would have loved to see a few opinions from men for comparison and because I realize there are some wonderful male feminists out there who support the cause. Apart from that, it's a brilliant read that I would recommend to anyone interested in the topic and for all young girls everywhere as a must read.
Would I recommend it?:
But of course!
Star rating (out of 5):