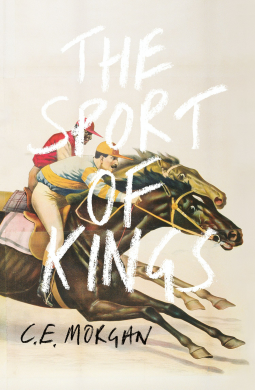 TITLE & AUTHOR: The Sport of King by C. E. Morgan
AUTHOR PROFILE: PUBLISHER'S WEBSITE

I was given a copy by the publisher via NetGalley in exchange for an honest review.
WHAT'S IT'S ABOUT
PUBLISHER: Fourth EstateEDITION: KindleOPENING
WHAT I THOUGHT
PUBLISHED: 3 May 2016
PAGES: 562
An American myth and a contemporary portrait of the scars of the past that run through a family, and of our desperate need to escape our history, to subsume it with pleasure - or to rise above it with glory.
'You and I are family. Blood and treasure. Listen to me, I created this world with my own two hands, and I am going to leave it all to you.'
Hellsmouth, an indomitable thoroughbred filly, runs for the glory of the Forge family, one of Kentucky's oldest and most powerful dynasties. Henry Forge has partnered with his daughter, Henrietta, in an endeavour of raw obsession: to breed the next superhorse. But when Allmon Shaughnessy, an ambitious young black man, comes to work on their farm after a stint in prison, the violence of the Forges' history and the exigencies of appetite are brought starkly into view. Entangled by fear, prejudice, and lust, the three tether their personal dreams of glory to the speed and grace of Hellsmouth.
A spiralling tale of wealth and poverty, racism and rage, The Sport of Kings is an unflinching portrait of lives cast in shadow by the enduring legacy of slavery. A vital new voice, C. E. Morgan has given life to a tale as mythic and fraught as the South itself - a moral epic for our time.
"Henry Forge, Henry Forge!"
The Sport of Kings didn't work for me. I'm not a huge fan of big, sprawling epics but I liked the premise and had heard good things about the book so thought I'd give it a try. Unfortunately, it just wasn't my thing. I found the pace of the book incredibly slow, almost painfully slow at times. It took me almost two months to read because I couldn't read more than a couple of chapters at a time. The novel covers a lot of big issues including racism, incest, inequality, entitlement and wealth. These are important issues and worth considering but I couldn't quite shake the feeling that the author was frantically cramming in every thematic fictional cliché in order to get a gold star or something. As I read the huge novel I had an overwhelming feeling of pretentiousness. This is a book written to appeal to literary snobs who'd rather be dead than be seen reading a Stephen King novel. Stephen King is way more fun. At no point did this book made me laugh or even smile. I was bored a great deal of the time. The Sport of Kings left me cold.