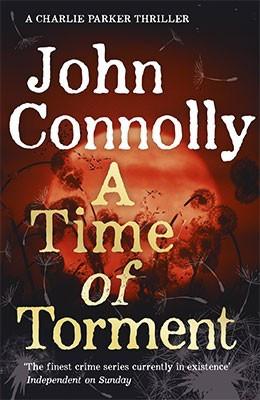 A TIME OF TORMENT BY JOHN CONNOLLYWHAT'S IT'S ABOUT
HODDER & STOUGHTON (HARDBACK), 2016480 PAGES
Jerome Burnel was once a hero. He intervened to prevent multiple killings and in doing so damned himself. His life was torn apart. He was imprisoned, brutalized.
But in his final days, with the hunters circling, he tells his story to private detective Charlie Parker. He speaks of the girl who was marked for death but was saved, of the ones who tormented him, and an entity that hides in a ruined stockade.
Parker is not like other men. He died, and was reborn. He is ready to wage war.
OPENING PARAGRAPH
Now he will descend upon a strange, isolated community called the Cut, and face down a force of men who rule by terror, intimidation, and murder.
WHAT I THOUGHT
All in the name of the being they serve.

All in the name of the Dead King.
They're circling now, then falling, descending in a slow gyre, dropping so gently that their approach can barely be discerned.
A Time of Torment completely blew me away. The latest Charlie Parker thriller is a yearly treat and I feel kind of sad I need to wait until 2017 to read the next one. This is one of my favourite books in the series. I've followed the series since the first book, Every Dead Thing and have never been disappointed. My favourite characters are Angel and Louis, they're mad and dangerous but sort of cool and awesome - the sort of guys you want on your side when you take on an isolated community built on the bones of corruption and the worship of an evil deity. The Cut reminded me a lot of a very similar community called Prosperous in book 12, The Wolf in winter. What is it with Parker and isolated communities full of crazies? He should take a trip to the big city more. The author continues to develop the mythology first created in Every Dead Thing. I cannot wait to see what happens in the next book. I loved the end of the books and all the possible questions it raises for Parker's next disturbing case. Oh, and Parker's daughter Sam is starting to really freak me out.